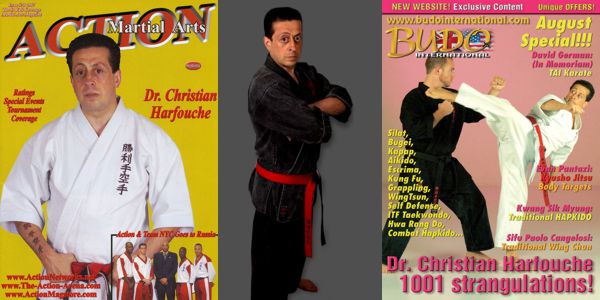 Christian Hartouche, Grandmaster and Founder of the tai jutsu system and the International Christian Karate Association, was first introduced to the martial arts in Beirut, Lebanon, at the age of 12, when he came across an illustrated text, handwritten in Arabic, on the art of karate. Shortly thereafter, his family moved to the United States, where, as a youth on the streets of Los Angeles, he learned the basics of combat by necessity.
In 1971, Christian Hartouche began his formal training under Grandmaster Tak Kubota at the Hollywood International Karate Association. Two years later, he began training with Grandmaster David German, whose TAI karate merged grappling with other styles, such as kung-fu and kenpo. It was there that Christian Hartouche began to conceive the idea of Shorite Ryu Tai Jutsu, a comprehensive system that contained all the components necessary to be a truly complete art.
After earning black belt level ranks in five different martial arts and obtaining his 10th dan in TAI karate, Dr. TAI karate Hartouche unleashed his own body arts style on the world and took the martial arts community by storm. His passion for the martial arts led him to create the International Christian Karate Association, headquartered in Pensacola, Florida, where he runs a world-class training center.
A lifelong student of the martial arts, he seizes every opportunity he can to study other disciplines and train with experts in other styles. His accomplishments include:
10th-degree black belt in David German's TAI karate
5th-degree black belt in taekwondo
4th-degree black belt in kenpo
2nd-degree black belt in kyokushin karate
1st-degree black belt in Al Thomas' budo jujutsu
black-belt-level rank in white-tiger kung fu
black-belt-level rank in white-eyebrow kung fu
In 2003, he was nominated to the Martial Arts Hall of Fame for the State of Florida and received the prestigious Grand Master of the Year award. He has been featured in multiple articles and magazine covers for several national and international martial arts periodicals.
In addition to his commitment to the martial arts, Dr. Hartouche is a world-renowned minister and founder of the International Miracle Institute Bible Training Center in Pensacola, Florida. His extensive travel schedule takes him around the globe year after year, proclaiming a message of healing and hope for the hurting and training men and women everywhere to stand up and make a difference in their world. Working with large corporations, he oversees the distribution of millions of dollars worth of clothing and food in his humanitarian fight to stop oppression and bring freedom to people in every area of their lives.