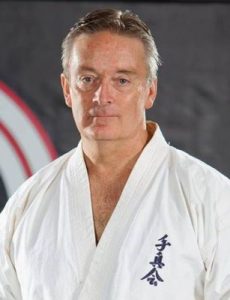 Acknowledged as a leader and authority in sports and martial arts education, Mr Barry Johnston is truly the "trainer's trainer". As a curriculum developer, lecturer, senior martial arts and sports educator he is recognized by professionals world-wide.
Mr Barry Johnston has been involved in the sport and fitness industry as a personal trainer and lecturer for most of his professional career and holds a 6th Dan in traditional Karate. As a lecturer Mr Johnston began his career as a lecturer at the local TAFE (Tertiary and Further Education) college in Bendigo Australia. In 1999 Mr Barry Johnston received a request to assist in the writing of nationally recognized curriculum for martial arts industry by the Australian Government industry body "Sport and Recreation Training Australia." The first training package for the martial arts industry was released soon after and has become a national standard for martial artists in Australia and is recognized as a benchmark for the industry internationally. Other curriculum and resources developed include the fitness, sport and security industries.
Mr Barry Johnston has frequently conducts lectures and workshops on exercise physiology, strength and conditioning, sport coaching and sport and law. He owns Coach Check, which he founded in 2013. Coach Check is a private organisation committed to improving the safety and well-being of the sports coaching industry. Coach Check is trusted by sports professionals and used and endorsed by parents and sporting institutions worldwide. Coach Check is the first fully-impartial vetting program for coaches in the world, ensuring that only fit and proper coaches are permitted to train others in the community.
Coach Check includes the following sport coaches: football, soccer, swimming, rowing, athletics, equestrian, surfing, cricket, cycling and most martial arts systems.
Mr Barry Johnston's counsel and input are sought across many industries for the development of training programs for sporting bodies. As a full time gymnasium and martial arts school owner of 35 years himself, Barry is no stranger to hands on instructing and coaching. Himself a national representative in 1981 in Jakarta for the South Pacific Kyokushin, full contact karate championships, he has gained extensive experience training at world championship level as well as training his own students to the same levels.