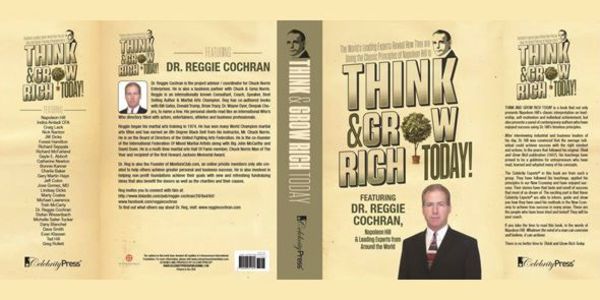 Dr. Reggie Cochran hit five Amazon.com best-seller lists with the new book, "Think and Grow Rich Today."
Orlando, Fla. – August 14, 2013 – Dr. Reggie Cochran recently joined a select group of the America's leading experts to co-author the book titled, Think and Grow Rich Today: The World's Leading Experts Reveal How They are Using the Classic Principles of Napoleon Hill to Think and Grow Rich Today! The book was released on August 8th, 2013 by CelebrityPress™ – a leading business book publisher.
Think and Grow Rich Today showcases Dr. Cochran and other experts who have followed Napoleon Hill's teachings, applied his principles in our new economy and have enjoyed success. Their stories have that taste and smell of success that most dream of. These Celebrity Experts® are able to inform, guide and show you how they have used his methods in the New Economy to achieve true success in many areas. Dr. Reggie Cochran contributed a chapter titled "Think and Grow Rich In All Areas of Your Life."
On the day of release, Think and Grow Rich Today reached best-seller status in five Amazon.com categories – reaching as high as #1 in the Direct Marketing category. The book also reached best-seller status in the following categories: "Marketing and Sales," "Marketing," "Small Business and Entrepreneurship," "Entrepreneurship" and "Business and Investing."
Dr. Reggie Cochran is the project advisor / coordinator for Chuck Norris Enterprises. He is also a business partner with Chuck and Gena Norris. Reggie is an internationally known Consultant, Coach, Speaker, Best Selling Author & Martial Arts Champion. He has co-authored books with Bill Gates, Donald Trump, Brian Tracy, Dr. Wayne Dyer, Deepak Chopra, to name a few. His personal clients read like an international who's who directory filled with actors, entertainers, athletes and business professionals.
Reggie began his martial arts training in 1974. He has won many World Champion martial arts titles and has earned an 8th Degree Black Belt from his instructor, Mr. Chuck Norris. He is on the Board of Directors of the United Fighting Arts Federation. And is the cofounder of the International Federation Of Mixed Martial Artist along with Big John McCarthy and David Dunn. He is a multi time martial arts Hall Of Fame member, Chuck Norris Man of The Year and recipient of the first Howard Jackson Memorial Award.
He is also the Founder of MentorsClub.com, an online private members only site created to help others achieve greater personal and business success. He is also involved in helping non profit foundations achieve their goals with new and refreshing fundraising ideas that also benefit the donors as well as the charities and their causes.
After such a successful release, Dr. Reggie Cochran will be recognized by The National Academy of Best-Selling Authors™, an organization that honors authors from many of the leading independent best-seller lists.
The royalties from this project will be given to Entrepreneur's International Foundation, a not for profit organization dedicated to creating unique launch campaigns to raise money and awareness for charitable causes.
For more information about Dr. Reggie Cochran, please visit www.reggiecochran.com
---