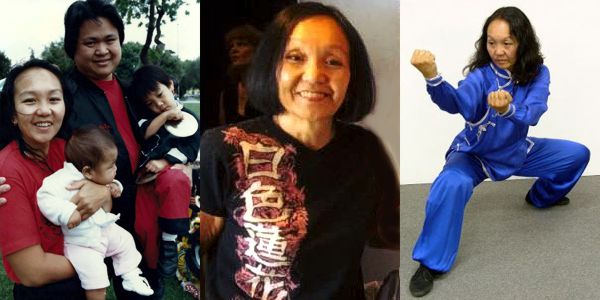 Carrie Ogawa-Wong is a highly respected and energetic mother, wife, martial artist, author, instructor, and competitor. She has managed to balance her heavy schedule to enjoy her love for the martial arts and her family. Carrie was initially involved in ballet, modern dance, and tap. After obtaining her brown belt in Karate, she started to explore the Chinese martial arts. Carrie relocated to Los Angeles, California, to study under Master Douglas L. Wong, a highly recognized international Kung Fu instructor and founder of the modern day White Lotus Kung Fu System.
Carrie Ogawa-Wong has also studied under:
Master Doo Wai White Tiger System
Master Wen-Mei Yu Taiji
Master Wilson Quan Five Animal Sil Lum Kung Fu & Yau Kung Mon
Tom Chan
Soon after studying under Master Wong, she earned a position on the Sil Lum Kung Fu demonstration team. In 1980, she competed nationally and was ranked as the number 2 female competitor in hand and weapon forms competition by the Star Rating System.
Carrie Ogawa-Wong retired in 1984, still ranked in the top ten nationally.
After starting a family, Carrie Ogawa-Wong returned to competition in 1991 at Tat Mau Wong's International Kung-Fu Championship in San Francisco. She competed in the Four Star Championship Competition which is comprised of four separate categories. 1) Long weapon. 2) Short weapon. 3) Hand form. 4) Sparring. Carrie placed fourth in the competition out of over 20 competitors. Majority of the competitors were much younger than her.
Carrie Ogawa-Wong continued to compete and her accomplishments include:
Nov. 1991 I.M.A.C.F. 1991 Championship Belt – Hand Forms
June 1992 International Chinese Internal Martial Arts Championships
1992 AAU Regional – Grand Champion Forms
Nov. 1992 I.M.A.C.F. 1992 Championship Belt – Hand Forms
(DEFENDING TITLE)
Nov. 1992 I.M.A.C.F. 1992 Championship Belt – Weapons
Mar. 1993 U.S. Open Championships – Grand Champion Forms
May 1993 I.M.A.C.F. Late Night Basketball Benefit – 1st Place Forms
June 1993 A.C.T. 1 – National Black Belt (NBL) – Grand champion Forms
June 1993 Tiger Balm International  Chinese Martial Arts Championship – 1st Place Weapons
July 1997 Long Beach Internationals – Master's Division – 1st Place Forms
Aug. 1998 Long Beach Internationals – Hand Forms – 1st Place
Aug. 1998 Long Beach Internationals – Grand Champion Weapons
Other interests and accomplishments of Carrie Ogawa-Wong include:
Performance in various stage shows in Los Angeles, Las Vegas, Lake Tahoe and Phoenix, AZ.
She has also instructed body movement classes and choreographed a production at Cal State University Northridge.
Film appearance in "Cyborg 2, The Glass Shadow"
Authored "Body Toning – New Directions in Women's Exercise" – Unique Publications
Training videos "Martial Arts Fundamentals" and "Shaolin Fighting: Theories and Concepts" – Unique Videos
Performed with her family at Wesley Snipe's "Tribute to the Masters in the Martial Arts" in New York and aired on HBO
Featured in "Inside Kung Fu" July 1999 issue, "Born to be a Champion" is Carrie Ogawa-Wong and Douglas's son, Travis Wong. Along with her husband, Douglas L. Wong, Carrie Ogawa Wong has trained:
Jason Scott Lee "Dragon: The Bruce Lee Story"
Kevin Sorbo "Hercules, the Legendary Journey"
Lucy Lawless "Xena: Warrior Princess"
Ryan Gosling "Young Hercules"
Currently Carrie Ogawa-Wong instructs the Children's, Adults, and Taiji classes at the family studio in Northridge, California. Carrie is available for group or private instruction.
White Lotus Kung Fu 19641 Parthenia St.
Ste. A-1 Northridge, CA 91324
(818) 993-WONG (9664) (818) 993-3426 FAX