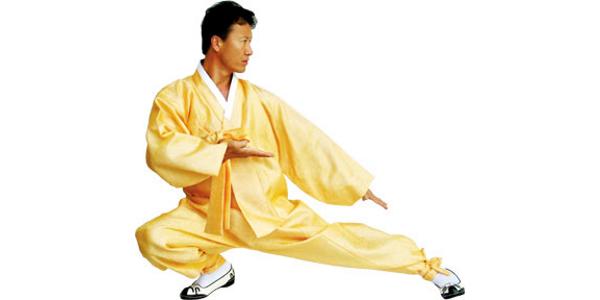 Grand Master Ho Sik Pak, 8th Degree Black Belt, began his study of Tang Soo Do Moo Duk Kwan at the age of 10 in Yong Mun, a small town in Kyung Ki province of South Korea. He was awarded Cho Dan at the age of 13 and continued his study there until 1977.
From 1977 to 1979, Grand Master Ho Sik Pak served in the Korean Army and taught combat and self-defense skills to his fellow servicemen. Following his discharge from the military, he was employed as an instructor of Tang Soo Do at the American Air Force Base in Kun San province, Jun Ra Buk Do, South Korea. There he taught those same techniques to U.S. Military Personnel until 1982.
In 1981 Grand Master Ho Sik Pak won the prestigious Korean body-building contest being nominated Mr. Kun San. In 1982, he was chosen as a member of the Korean Olympic Tang Soo Do team and traveled to the International Tang Soo Do Championship in Atlantic City, New Jersey, contributing to the team's victory. At this time, he decided to make the United States his permanent residence and moved to Southern California.
In addition to his teaching responsibilities, he has been featured in many martial arts motion pictures, such as Best of the Best. Most recently, he starred in the featured-length film, Hunt to Kill.
In 1997 and 1999 Grand Master Ho Sik Pak released a full line of Instructional Videos in traditional Tang Soo Do and other training techniques. In 2002 Grand Master Ho Sik Pak published the bestselling book Complete Tang Soo Do Manual, Vol 1 and in 2005 Volume 2. In 2003 he produced the book Self-Defense for Kids.
In 2003 Grand Master Ho Sik Pak become officially listed in the Kington's National Register of Who's Who for his expertise, and his outstanding achievements nationally and in the community.
In 2003 Grand Master Ho Sik Pak celebrated his 8th Dan at the Battle of LA, National Martial Arts Championship, in Woodland Hills, Califronnia. This annual event is hosted and promoted by GM Pak.
Linage:
Grand Master Pak Ho Sik
Grand Master Lee Hon In
Grand Master Lee Pal Young
Grand Master Hong Jong Soo
Grand Master Hwang Kee
Grand Master Yang Ku Chin