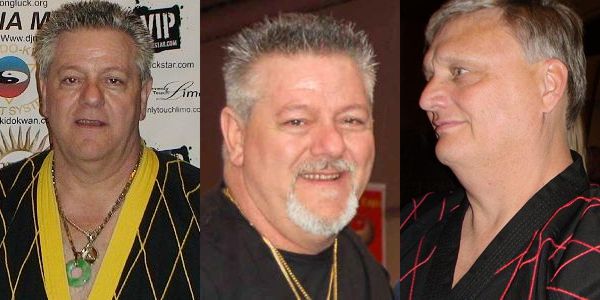 Chuck Platten was placed under the tutorage of Grand Master Tsurouka, the father of Canadian Karate, at the tender age of five years old, in 1959. This training, along with that of competition gymnastics, was instrumental in developing the dynamic kicking power and speed for which Grand Master Chuck Platten would become renowned.
In 1966, at the age of 12, Chuck Platten  was competing on the international gymnastics circuit, while still trying to keep up his Martial Arts studies. He then realized that this was not giving him what he needed, he felt empty, like something was missing. This was not enough for Chuck Platten , as any one who knows him will attest to. In 1967 he received his Black Belt in Judo and had a Jr. Black Belt in Chito-Ryu, and had started on his path to a life long dedication in Hapkido. Master Platten was about to find his passion.
This period in his martial arts life took a drastic turn in another direction. While competing in a Gymnastic competition in Berlin in 1969, he was amazed at the speed, agility and effectiveness of a demonstration by a monk named Jee Inn Pak at the intermission demonstration of the competition. It didn't take Grand Master Platten  Platten long to get himself accepted by the monk as a student in the Art of Kong Shin Ryu. Kong Shin Ryu is a Hapkido style comprised of over 3000 kicking, striking, and locking techniques, that Grand Master Pak was working on at this time.
After introducing himself to Grand Master Pak, the two agreed that Chuck Platten  (as we all know him as) would enter into training with Grand Master Pak, in 1969. With his normal, single minded dedication to task, that he has become known for, combined with his previous 3rd Dan in Tae Kwon Do, from Chung Kee Tae, he acquired his 2nd Dan in Judo and a 3rd Dan in Jujitsu, in order to round out his resume.
In the 1970′s, he traveled the world, updating his knowledge wherever he could. His most memorable periods came when traveling the Orient, where he had the honor to train for three months with Choi Yong Sul, the founder of Hapkido, and in Japan, with Masutatsu Oyama, who Master Chuck Platten thinks is the most dynamic martial artist he has ever met. Chuck Platten  also proudly says that he was very lucky to have spent a few weeks training with the Grand Master Bong Soo Han. Chuck goes on to say that, Grand Master Han is a Master of kindness, honour and respect that makes him an idol in the arts.
When asked, who was the single most significant influence in his Martial Arts life, he will tell you without hesitation, that it was Hapkido Grand Master Jee Inn Pak. In 1995, the world lost one the greatest founders of a Martial Arts Style in the world. Grand Master Pak passed away teaching inner-city kids in Tennessee.
During this period Grand Master Chuck Platten, who was now an 8th degree Grand Master in Kong Shin Ryu, in Hapkido, and the successor to Grand Master Pak as the head of the Kong Shin Bup association, completed work on Chu Ki Do Kwan Hapkido.
Chu Ki Do Kwan, literally means the house of silent energy and is a Combat Hapkido style combining traditional Hapkido and Chinese Kempo, and is combined with all the knowledge Grand Master Chuck Platten has collected over 40+ years in Martial Arts, into a highly effective and practical Martial Art.
Grand Master Chuck Platten has worked in his life, as a security specialist and has provided body-guarding services for the likes of Sophia Loren, Rod Stewart, Celine Dion, Rita Marley and many more dignitaries over the past 30 years.
Today, Grand Master Chuck Platten divides his time between his students, his Financial and Bullion Brokerage services and making World Black Belt the largest and finest organization of its kind in the world.
The most common question Grand Master Chuck Platten is asked is, what is his greatest accomplishment, and he will quickly answer that it is his humanitarian projects in Manila. Grand Master Chuck Platten has circled the globe over 100 times and has remained a laid back hopefully humble man "as he would say."
He also would like to thank a few people for their love, loyalty, respect, and dedication: Master Han, Master Scott Hogarth, the Great Chuck Norris for teaching us that there is a right path, Master Bob Wall for keeping it right, Master Tsuruoka for introducing Karate to Canada, Sensei Gilles Berthelot, Sensei Willy Lou, Sensei Brian Wall, Sensei Oscar Landry, Sensei Inis Cameau, Sensei Scott, Master Bill Pine, Ed, Eddy, Derrick, Peter, Adam, heavy duty Sperduti, M & M, and all the rest of his students for their hard work with World Black Belt. We can't forget Heather, Sam, or Bobbi and Terry.