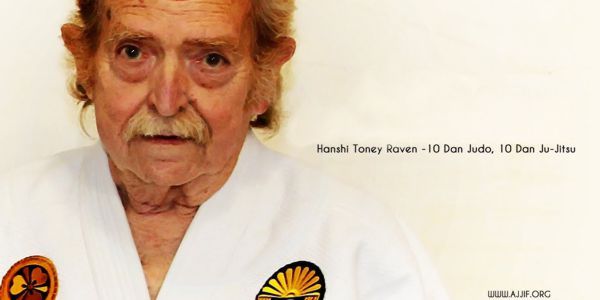 Hanshi Tony Raven was in the martial arts for more than 63 years. He ranked as a
10th degree: Kaiden Hanshi Judan Daito-Ryu Aiki-Ju-Jutsu
9th degree Hanshi Kudan Seishin Ryu Judo
9th degree Hanshi Kudan. Shorinji Ryu Ju-jutsu
9th degree Hanshi Senior Master Kudan
9th degree Kyu Sien-Ryu Aiki-Ju-Jitsu
7th & 8th degree Shichidan Hachidan USJA, USJF, USJI, USMA
He began martial arts training in 1942 after the beginning Of World War II, and didn't stop for more than 63 years. He  studied in Japan and throughout the USA. He competed in the USA, Japan, Canada, and in Armed Forces Judo. He took a Bronze medal in the 1993 Senior Nationals Masters. He won both the gold and silver medals in the 1998 1999 World Masters Judo Tournaments held in Canada.
Toney Raven trained with and taught with such greats as Tai Watanabi, Gene LeBell, Bob Wall, Gokor Chivichyan, Leo White, Benny "the Jet" Urquidez, Greg Fernandez, O Sensei Phil Porter, Al Thomas, Shihan Ken Penland, and Master John Denora.
Hanshi Tony Raven and the great Sonny Hughes shot some wonderful martial arts training films for Toraki Martial Arts Clothing and Equipment Company in Canada.
Toney Raven taught at Samurai Spirit School of martial arts in Simi Valley California with Sensei Anthony Calvino and Sensei Rebecca (Becky) Greenough, both three time National and World Karate champions.
Hanshi Tony Raven was a Master Examiner in Judo, Ju-Jitsu, and all his other arts. He loved teaching at Clinics and seminars. He did rank testing and certification at camp Budoshin for Master George Kirby many times, and the list of his involvement in the martial arts goes on and on.
Grand Master Tony Raven passed away on June 2, 2016 and left all who knew him with a great emptiness. You are missed Grand Master Raven.