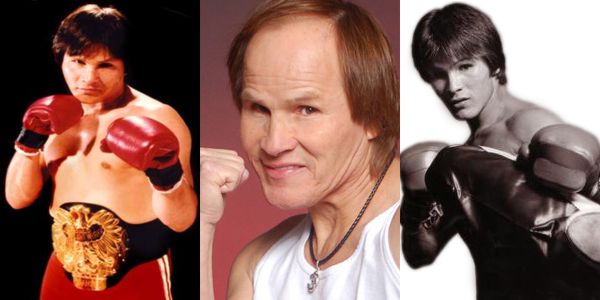 Benny Urquidez, Known as "The Jet", was born on June 20, 1952 in Tarzana, California. He is probably the most famous American kickboxer with 200-0 record according to his web site. He is also a martial arts choreographer and an actor. Urquidez began his career as a non-contact karate competitor and he is considered a pioneer of full-contact fighting in the USA. He made the transition from point sparring to full-contact karate in 1974, the year full-contact karate started in the United States. Benny frequently fought in bouts where the Benny Urquidez Fightrules were ambiguous and he fought against competitors of many different styles.
From 1974 to 1993, Benny "The Jet" Urquidez earned a record of 58 wins, 0 losses and 0 draws with 49 knockouts and three controversial no-contests (The Star System Computer Ratings listed Urquidez as 56-1-1, 47 knockouts in 1984 and 1985). Urquidez lists his fight record as 200 wins and 0 losses, and he says he had 63 wins and 0 losses, with 57 knockouts in title defenses. Prior to entering full-contact karate, Benny claims to have been undefeated in the "Adult Black Belt Division". He was voted "Competitor of the Year" in 1978 by Black Belt Magazine.
Benny Urquidez is the son of a wrestling mother and a boxing father, from Granada, Nicuagua. He is descended from Basque Spaniards and Amerindians. His sister Lilly Rodriguez was a pioneer in kickboxing for women and all his siblings were Black Belts.
He began competing in "peewee" boxing in Los Angeles in 1958, he was only 5 years old. He began taking martial arts at the age of 8. His first formal teacher was Bill Ryusaki, but he trained under Arnold Urquidez, his brother, Ed Parker, Sr. and many other Masters. Benny Urquidez received his black belt at the age of 14, an unheard of feat in the 1960s. He entered the point circuit in 1964, and earned quickly earned the reputation as a very "colorful" fighter.At the 1972 Santa Monica Kempo Open, Urquidez lost in the finals to Brian Strian. In the 1973 Long Beach Internationals, Benny fought John Natividad in what is considered one of the greatest non-contact bouts in history. In an unprecedented 25-point overtime match, Natividad won the match 13-12 using a technique that Benny taught him during practice the week before. John also won the Grand Title, earning a $2,500 purse. In May, 1974, at the PAWAK Tournament, Urquidez lost a 4-1 decision to Joe Lewis. Benny also competed in England and Belgium as a member of Ed Parker's 1974 US team. Also, in 1974, Benny began his move away from non-contact by entering and winning the World Series of Martial Arts Championship, a tough-man contest with few rules. Over the next two decades he fought under various kickboxing organizations (NKL, WPKO, PKA, WKA, AJKBA, KATOGI, NJPW and MTN) to earned a record of 58 wins with no losses. This undefeated record, though official, is controversial and disputed.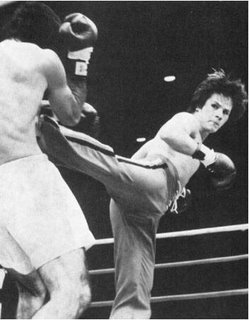 In 1977, Benny Urquidez traveled to Japan for the first time and fought under WKA rules which included leg kicks. IHis first fight took place in August of 1977 and he defeated Katsuyuki Suzuki in the 6th round with a knockout. To avenge this loss, the former All Japan Champion Kunimatsu Okau came out of retirement and challenged Urquidez. They fought in November of 1997 and Benny won this fight by a 4th round knockout. After 1980, fought less and less. and between 1981 and 1984 he fought only very sporadically. In 1984 he fought Ivan Sprang in Amsterdam using Muay Thai rules. He won in the 6th round by TKO. After 1985 he fought only two fights, one in 1989 against Nobuya Azuka, and one in 1993 (at 41 years of age) against Yoshihisa Tagami. Benny won both fights by decision. At this time, acting, teaching kick boxing and choreographing martial art took the forefront to his fighting. Benny's late brother Reuben was also a competitive martial artist and actor. Benny and Rueben appeared together in a 1982 training video "World Of Martial Arts" with Steve Sanders, Chuck Norris and John Saxon.
In 2000, Bennny Urquidez and Emil Farkas ("Sensei to the Stars") founded the Los Angeles Film Fighting Institute, to teach martial artists the intricacies of stunt work. This school was one of the first schools of its kind in the United States.
Benny Urquidez has earned Black Belts in nine styles: judo, kajukenbo, shotokan, taekwondo, lima lama, white crane kung fu, jujutsu, aikido, and karate and he is the founder of Ukidokan Karate. He continues to teach at "The Jets Gym" in North Hollywood, California and he teaches Ukidokan Kickboxing at Team Karate Center in Woodland Hills, and Karate at Santa Clarita Martial Arts. Urquidez has also authored various instructional books and videos.
Benny Urquidez fought in three bouts which were eventually ruled no-contest (NC). The first, in Los Angeles in March 1977, was a nine-round NC (WKA) against Thai boxer Narongnoi Kiatbandit. The second and most controversial fight was against another Thai fighter, Prayuth, or Prayoud, Sittiboonlert in August of 1978 in Tokyo, Japan. Thai and Japanese officials both state that this was a bout and a loss for Urquidez, who had difficulty with the aggressive knee and clinch strategy of the Thai fighter. Both the WKA and Urquidez state that it was a no-contest, becasue there was no weigh-in, and gloves used were not official size. Officially, the fight was ruled a six-round NC (KATOGI). In his final no contest bout fought on August 8, 1980, Benny Urquidez went against Billy Jackson in a seven-round NC (WKA) in West Palm Beach, Florida. The fight was first reported as a 7 round decision for Jackson; then was changed to a 7th round technical draw, and then to a no-contest. The no-contest status of these fights has been corroborated in print by Paul Maslak (Chief Administrator of the Star System). However, recent research has come up with new data which casts a shadow on Urquidez's "undefeated" record. In the November 1984 issue of Official Karate Magazine, on page 45, Paul Maslak in his Star System Ratings (for March 1984) lists Urquidez as the Star System World Super-Lightweight Champion with a record of 56 wins, 1 loss, 1 draw, with 47 wins by knockout, and 14 wins by kick-knockout. Then in the September 1985 issue of Official Karate (page 44), Benny Urquidez's record is still listed as 56-1-1, but In an article for Inside Karate Magazine, Urquidez's record up to November 1985 was listed as 75-0-2, 47 KO, 14 KKO (page 25).
Benny Urquidez has played leading roles in several martial arts movies. His first movie, Force: Five filmed in 1981, starred Joe Lewis and Bong Soo Han. He later made two movies with Jackie Chan: Wheels on Meals in 1984 and Dragons Forever in 1988. In tese movei he fights against the characters played by Jackie Chan, Sammo Hung and Yuen Biao. Benny Urquidez is the tough opponent who is defeated in the final fight scenes of both movies. Urquidez final fight with Jackie Chan in Wheels on Meals is considered to be one of the best fights of the action film, martial arts, movie genre. He has a cameo as a kickboxer in the Troma film Ragin' Cajun. The movie, filmed in 1988 and released in 1991, claims this is Urquidez' first film, stating in the opening credits: "Introducing Benny 'The Jet' Urquidez," but Troma film Ragin' Cajun was not Benny's first film. Urquidez also made an appearance in a movie called Blood Match in 1991. Benny had a small cameo appearance in the movie Street Fighter in 1994, playing one of the prisoners put in a truck with Ken, Ryu, Sagat, and Vega, and also helped Grand L. Bush train for his role as Balrog in the same film.
Urquidez starred in the film Grosse Pointe Blank in 1997 as Felix La Poubelle, a hitman sent to kill a character played by John Cusack. In 2007, Urquidez appeared in 1408, also starring John Cusack, as one of the ghosts in the motel. Urquidez is Cusack's long-time kickboxing trainer. Urquidez played the referee in the James Woods / Louis Gossett, Jr. movie Diggstown. Finally, Benny played one of the thugs who try to steal Mary Jane's purse in the first Spider-Man movie. Benny plays the thug wearing a white-and black striped t-shirt who makes kissing noises at Mary Jane.
Benny Urquidez Career Highlights
1972: Defeated Datu Manabe
1972: Defeated by Brian Strian (karate match)
1973: Defeated by John Natividad (karate match)
1974: Defeated Buch Batie
1974: Defeated by Joe Lewis (karate match)
1974: Lost to Roy Kurban (karate match)
1974: December 20 1974 – World Series of Martial Arts Championship in Hawaii, promoted by Tommy Lee. No weight tournament: $5,000.00 purse. (Urquidez knocked out Bill Rosehill 2 rounds, Futi Semau 2 rounds, Tom Mossman 2 rounds, Bernie White 2 rounds, and decisioned Dana Goodson in 3 rounds.
1975: Knocked out Butch Bell 2 rounds (2/?) in Savanah, GA (NKL)
1975: Knocked out Ken Koolodziej 4 rounds (3/?) in Milwaukee, WI
1975: Decisioned Demetrius Havana in 3 rounds (4/?) in Dalls, TX (NKL World)
1975: Decisioned Tayari Casei in 3 rounds (5/10) in New York,NY (WPKO World)
1975: Knocked out Roland Talton in 2 rounds (05/16) in Los Angeles
1975: Knocked out Bill Henderson 2 rounds (05/16) in L.A.
1975: Knocked out Sanun Plypoolsup in 2 rounds (06/21)
1975: Knocked out Ken Riley 2 rounds (6/20) in Honolulu, HI (WSMAC World)
1975: Knocked out Burnis White 2 rounds (06/21)
1975: Knocked out Sammy Pace 1 round in Los Angeles (July)
1975: Knocked out Bill Henderson 2 rounds (October)
1975: Defeated Sanun Plypoolsup 8 rounds (May)
1975: Defeated Tayari Casel in New York City (05/10)
1975: Knocked out Marcelino Torres 1 round (05/10) in New York
1975: Defeated Eddie Andujar in Los Angeles (05/28)
1975: Knocked out Randy Sojot 3 rounds (9/21), Honolulu, HI (Independent Promotion)
1975: Knocked out Bill Henderson in 2 rounds (10/?), Los Angeles, CA (WSMAC World)
1976: Defeated Eddie Andujar (10/01)
1977: Defeated Howard Jackson (04/23)
1977: Defeated Katsuyuki Suzuki (08/02)
1977: Defeated Kunimatsu Okao (11/14)
1978: Knocked out Dave Paul in 4 rounds (April) in Vancouver
1978: Knocked out Takishi Naito 1 round in Japan (April)
1978: Knocked out Sammy Pace 1 round in L.A. (July)
1979: Knocked out Rick Simerly 6 rounds (05/02)
1979: Defeated Yoshimitsu Tomashiro (10/?)
1980: Defeated Shinobu Onuki (01/26)
1981: Knocked out Kong Tak in 4 rounds (4/9), Hong Kong, China (WKA World)
1982: Decisioned Jessie Orrozo 6 rounds (2/8)
1982: Knocked out Yutaka Koshikawa 6 rounds (6/21)
1983: Knocked out K. Nagae 4 rounds (1/8)
1983: Knocked out Iron Fujimoto 6 rounds (9/12)
1984: Knocked out Ivan Sprang 6 rounds (January 15)
1985: Decisioned Tom LaRoche 12 rounds (11/16), Northridge, CA (WKA World)