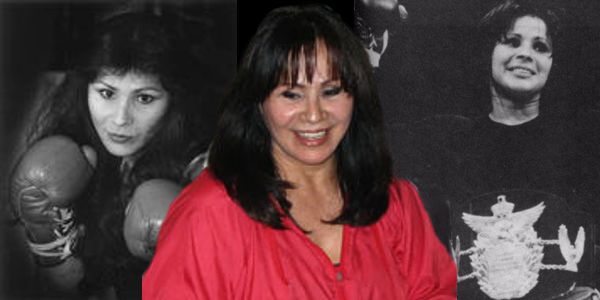 "Lilly Rodriguez really changed martial arts for women, kickboxing in particular," said Michael Matsuda, founder of the Martial Arts History Museum in Santa Clarita.
"She was one of the few women champions in the 1970s and one of a handful of pioneers who spurred women into full-contact karate," as kickboxing was originally known, he said.
Lilly Rodriguez won women's featherweight boxing and women's featherweight kickboxing titles in the 1970s, her family said.
She is the only female boxer in the California Boxing Hall of Fame and one of a handful of women in the Martial Arts History Museum's Hall of Fame.
"Nobody believed in us, or me, at first," Rodriguez told The Times in 2004. "They thought it would be 'foxy boxing.' But I didn't go in there wanting to show anything other than my skills in boxing."
On Nov. 16, 1979, Lilly Rodriguez and William "Blinky" Rodriguez made history at the Forum in Inglewood as the first husband and wife to box on the same professional card, said Don Fraser, who promoted the fight.
"You have no idea the pressure she put on me," said Blinky Rodriguez, who also became a kickboxing champion. "She went out there and dazzled them."
They both won.
"Female boxing was just sort of starting in the 1970s, and she was one of the first to get into it — and she was good at it," said Fraser, who is also president of the California Boxing Hall of Fame.
After retiring from competition in the early 1990s, Lilly Rodriguez started training other women, Matsuda said.
Fighting ran in her family. Her mother was a wrestler, known professionally as Crazy Linda. Her father, an amateur boxer, started teaching Rodriguez the sport when she was 6. One of her five brothers, Benny "the Jet" Urquidez, was an early kickboxing superstar.
For her first professional bout in the 1970s, Rodriguez stuffed quarters in her socks and her undergarments to make weight. She was 5-foot-1 and 125 pounds, and her opponent, "Lady Tiger," had 25 pounds on her. Rodriguez lost the fight on a decision but "won the hearts of all the fans that night," her husband said.
A Los Angeles native, Lilly Urquidez was seven years older than the 16-year-old Rodriguez when they married in 1971. They had five sons and a daughter.
Their eldest son, David, has served 26 years in prison for murder.
When their 16-year-old son, Sonny, was killed in a gang-related drive-by shooting in 1990, the couple dedicated themselves to trying to end gang violence.
Blinky Rodriguez helped broker a peace treaty among 75 gangs in the San Fernando Valley in 1993.
He is executive director of Communities in Schools, a social service agency that specializes in gang prevention and hard-core intervention.
At her Heart of Champions gym in Sylmar, Lilly Rodriguez made a point of mentoring at-risk youths.
"Her compassion and passion for people dwarfed what she accomplished as a female athlete," her husband said. "She was the quiet sport, supporting me and touching people every step of the way."
In addition to her husband and David, Lilly Rodriguez had three other sons, Robert, Donovan and Gabriel; a daughter, Mia Arredondo; and eight grandchildren.
Lilly Rodriguez passed away on Januart 13, 2007 at UCLA Medical Center of complications relating to an infection, her family said.
January 21, 2007|Valerie J. Nelson | Times Staff Writer