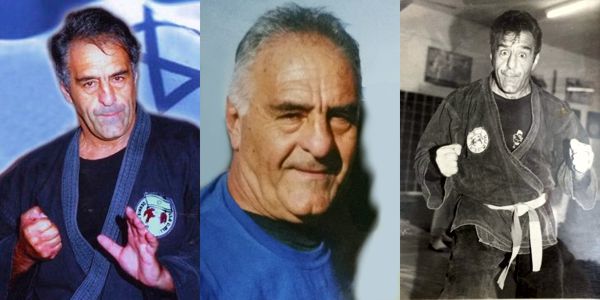 Dr. Dennis Hanover is a 9th Degree Black Belt and the founder of the Hisardut system. He was born in South African and immigrated to Israel in 1960 where he was one of the first to introduce the martial arts in the early '60s. After achieving top belt and recognition in several martial arts (mainly Judo, Jiu Jitsu and Kyukoshinkai Karate under Mas Oyama), he decided to develop Hisardut as a more applicable answer to the threats and challenges facing people in modern society. In the early 80's he began teaching the Israeli Special Forces units who were looking for a more advanced close combat method than the basic Krav Maga program taught to regular IDF troops. In 1987, he was commissioned by the army to develop the new counter-terrorist program called LOTAR (Acronym for Lochama B'Terror) that has been in use since.
More About Dennis Hanover
Dennis Hanover was born in 1937 in Johannesburg, South Africa, to Joseph and Jean Hanover. He is married to Rosylin (Oscar), father of Aurly, Jaron and Guy (who is now President of the Dennis Survival/Hisardut Ju-Jitsu Association) and Grandfather of Adam, Kai, Arad, Ben Ben, Sitar, Sun and Maya. He is life president of the Dennis Survival association and continues to personally teach; at a time of life when most martial artists of his age are stepping off the mat and neglecting their own progression and development, Dennis continues to train, practice and study the martial arts. Anyone who has witnessed his hand speed first-hand will attest to the fact that Dennis Hanover is still a phenomenal warrior and fighter.
He is also one of Israel's greatest benefactors and his charitable works with under-privileged children and those who exist on society's margins e.g. people serving time in prisons and reform schools, the mentally challenged as well as abused women (and their abusers) have caused him to be nominated for the Israel Prize three times as well as receiving other awards such as the Welfare Award Child's Shield and the city of Herzilya's (where he lives and his studio is based) Valuable Citizen Award.
Dennis's life has spanned 60 years in the martial arts and he has promoted over 1000 black belts and countless other grades. He was responsible for bringing Judo to the Jewish Olympics (the Macabai) in 1961 only a year after he first immigrated to Israel bringing teams from South Africa and Italy to compete. As well as being on the organizing committee he also competed winning one Gold and a Silver (he continued to compete in the 6th, 7th, 8th, 9th and 10th Maccabais). From 1965 to 1971 Dennis was champion or runner up six times in the Israeli Judo Federation and received the No 1-grading card. His Judo training actually started in South Africa in 1957 with the Jewish youth organization "Hashomer Hazair" going on to receive his 1st Dan in Judo from Professor Jack Robinson (former SAS), 10th Dan and in 1959 his 2nd Dan. In 1959 he was elected "Springbok" – the S.A. Judo National team. In 1960 when he immigrated to Israel and started the first Judo training courses in "Moledet" village as well as Karate with Shlomo Faiga.
Not only an exceptional Judoka (Judo practitioner) He also excelled at Karate and in 1972 when Israel Karate Federation was formed and Dennis received the No1-grading card and was an active member on the Federation Committee. In 1974 a year after the Yom Kippur/October War Dennis started an annual championship (which still runs to this day) to commemorate and remember the fallen pupils who were killed whilst defending their country, Israel. Dennis Hanover is responsible for creating a system and an organization, which is more family than institution and that recognizes the achievements and sacrifices of its members and never forgets who they were/are as individuals. Each year Dennis visits the graves of his former students and Survival Family members who have fallen in the wars and conflicts that Israel has had to endure and lays a medal on their graves.
In 1975, the Israeli Karate team invited Dennis to participate in the First World Knock Down Oyama Kyokushin championship. Dennis ended up fighting William Oliver, the American captain and champion, and was rated one of the seven best fighters in the world. The fight was seen as being won by Dennis, but was designated as a draw for political reasons as many of the countries participating in the championship were not happy about Israel being invited in the first place and in 1979 Israel's invitation to the 2nd Championship was withdrawn after the organizers came under political pressure to exclude Israel's inclusion. As a result of the way Dennis fought in his fight(s), Dennis received his 3rd Dan from Kancho Mas Oyama and was established as President of the Israeli Kyokushin Federation and also received his 4th Dan from the Israeli Karate, Federation. In 1977, he was appointed President of the Israeli Karate Federation and in 1979 received his 5th Dan.
In 1983 Dennis received his 5th Dan Ju-Jitsu from the Original European Ju-Jitsu Union, by Mr Bell – life President, Dennis Survival Ju Jitsu was recognized as a modern style of Ju Jitsu and Dennis Hanover as its founder. In 1984 he received his 7th Dan and then his 8th, 9th and 10th Dan OEJJU. In 2004, Mr Bell, before he past away, appointed Dr. Dennis Hanover as his successor – the Life President of the OEJJU.
For somebody who holds a 10th Dan (which is internationally recognized) and is head of one of the largest martial arts associations in Israel, has developed a system of combat that is used by the elite units of the Israeli military, is a Grand Master and has been recognized by the World Head of family Sokeship Council International Hall of Fame" as a Grand Master, Soke, 10th Dan, it would be easy to become detached and removed from his students and those who train with him and yet anyone who has met and trained with Dennis (he has never given up teaching) will tell you of a man who opens himself and his home to those that he meets and expresses a level of generosity that they will not have received before  this has certainly been my experience.
Dennis Hanover's life has not been an easy one, as he says, "If you ask why I called the style I developed "Dennis Survival Ju-Jitsu," you'll find the answer quite simple. Where I come from, every day brought with it the necessity to fight for survival. Survival is the story of my life." This idea of Survival has been with Dennis throughout his life, starting with his formative years when from the age of 3 years old up to 11 years old, he grew up, with his 2 sisters, in institutions and homes learning how to survive with a lack of care, food, affection and family. His childhood was a long struggle against the anti-Semitic bias and bullying, which characterized South Africa in the 1940's. Being Jewish and coming from a broken home meant that Dennis and his sisters were those that existed outside of mainstream society  this is one of the reasons why he has such empathy for those who find themselves excluded, looked down upon and despised today. For such people, survival is a day-to-day issue. Despite all his personal achievements Dennis Hanover is still a man who is in touch with his past and rather than wallowing in bitterness about the injustices he had to endure, made sense of his feelings and emotions and went on to create and develop a system of fighting and martial arts that as well as being recognized as the most realistic and proven system in existence contains the message of his life, "Survival".