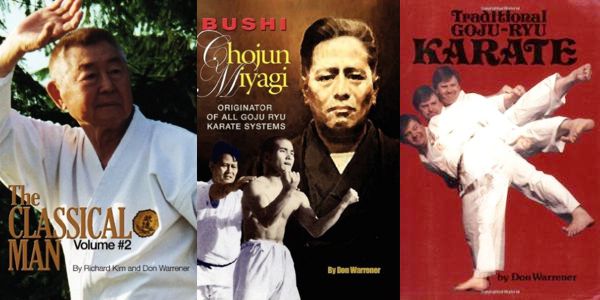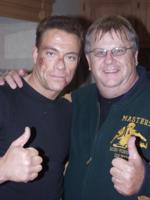 ABOUT DON WARRENER
Don Warrener began his karate training March 15, 1966 in Hamilton, Ontario, Canada under Benny Allen who also taught Wally Slocki, Teddy Martin and Tony Faceti. He was promoted to shodan (1st degree black belt) in 1968 by Benny Allen and the legendary Richard Kim of San Francisco California. He won the Canadian Championship in 1968 and in 1971 won the Eastern Canadian Championships. In 1973 he broke the "Guiness World Book of Records" record for brick breaking when he broke 3744 bricks in 4 hours and 40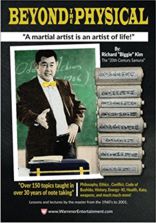 BEYOND THE PHYSICAL: A Martial Artist is an Artist for Life!
(2018) Over 320 topics discussed by a man sometimes known as the Pied Piper of Martial Arts Richard "Biggie" Kim. Health, Ethics, Code Of Bushido, Nirvana, Energy-Ki, Religion, Koans, Laws Of The Universe, Ranking Standards, ancient kata translations, History, Visualization, Sutras, Meditation and many more all related to martial arts. These are the secrets few instructors if any can teach and you will see why he was called the 20th Century Samurai. An amazing book that will finally devulge the secrets or "Okuden" of Oriental martial arts as he was taught by his teachers Yoshida Kotaro, Gogen Yamaguchi, Wang Xiang Zhay, Chen Chen Yuan, Kinji Doihara, Sadao Arakaki, Yabu Kentsu, Kenichi Sawai, So Nei Chu, Mutzu Mizuho, Hiroshi Kinjo and Kamesuke Higashionna to name but a few.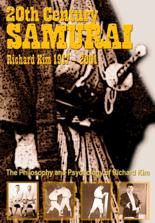 20th CENTURY SAMURAI
(2013) This book the 20th Century Samurai on Richard Biggie Kim philosphy's and psycology's of the martial arts is destined to be a BEST SELLER in the world of martial arts publishing, as it is the first book written on the history, philosophy and psychology of the Japanese martial arts by one of the most famous masters of the 20th Century. Plus it includes Richard Kim's Hawaii days, his years as a P.O.W. in Shanghai, his escape from Shanghai and after his involvement with some of the greats Yoshida Kotaro, Takeda, Yamaguichi, Oyama, Ueshiba, Nishiyama and so many more.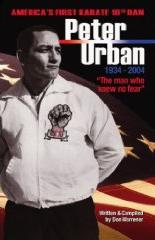 PETER URBAN AMERICA'S FIRST 10th DAN
(2013) Peter Urban was "America's First Tenth Dan" and truly a one of a kind. This 400 page book + or – was released in March of 2008.There is a Special Collectors Edition of this book. The book is hard cover, with a laminated dust jacket, certificate of authenticity (500 books were printed), there is a CD of the book included so that it can be played in all computers, a DvD of all the rare photos set to music including an exceptional interview and demonstration of the Maestro doing kata in the 1960's,all placed inside a special box and each one will be signed, sealed and numbered by the author. The book includes over 400 exceptionally rare photos from the archives of people like Chuck Merriman, Joe Lopez, Kayo Ong, John Hooker, Mike Daly, Ken Van Sickle, Don Warrener, Julia Urban, Kevin Norlander and many more. The chapters include his complete biography from womb to the tomb so to speak, his timeline, Karate Dojo chapters that were never printed, Role Call including all those who were his real students bio's and photo's, old magazine articles, his stories, his many lists, also his many philosophies and unique outlooks on like and just so much more.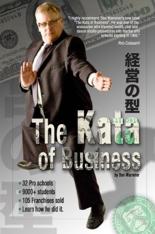 THE KATA OF BUSINESS
Finally a book, The Kata of Business, written for martial arts school owners, that isn't filled with smoke and mirrors. This book is simple and down to earth, with practical and logical ways of running a successful and prosperous martial arts school. After reading this book there will be no more reaching in your pocket to teach your students. You will learn to sell memberships, answer the phone correctly and give a professional tour so that everything will lead up to a successful sale. How can you be expected to know how to sell a membership unless you have been taught? Well now there will be no more excuses, as this business manual will give you all of the tools that you will need to run a successful and lucrative martial arts school anywhere in the world. As Jean Claude Van Damme says "Don is a master of the martial arts business world." And now you have the chance to learn everything that he knows about running a first class martial arts school.
Don Warrener is an accomplished Martial Artist and celebrated author. He is well know around the world for the countless books and articles that he has written encompassing every aspect of the Martial Arts.
For the first time Sensei Warrener has compiled all of the knowledge and experience he gained from running 32 professional schools, selling 105 franchises and teaching over 9000 students into one priceless business manual for the the martial arts business owner."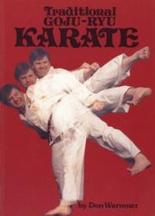 TRADITIONAL GOJU RYU KARATE
(1982) The book Traditional Goju Ryu Karate was written by Don Warrener for his students as a kata reference guide, so they could study what they were learing in class, outside the dojo. Popular with all Goju Ryu practitioners this book has become a valuable reference guide to the goju katas.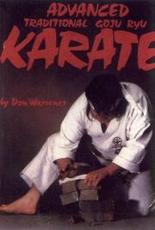 ADVANCED TRADITIONAL GOJU RYU KARATE
(1994) A follow-up book to "Traditional Goju Ryu Karate", Advanced Traditional Goju Karate is more of the same, but for the more advanced student. Clear photos with well worded instructions make these advanced kata easy.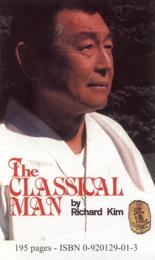 THE CLASSICAL MAN # 1
(1999) The book The Classical Man is the first in a three volume set of fabulous martial arts stories by Martial artist Richard Kim and his student Don Warrener. This collection of stories, told by Richard Kim, is very popular with everyone. Now, in its sixth printing, this book is entertaining as well as informative and it is packed with insight. A popular gift item for any martial artist of any style.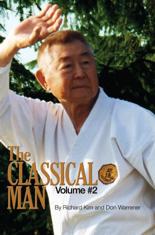 THE CLASSICAL MAN # 2
(2009) The second in a three volume set of fabulous martial arts stories by the pide piper of Martial arts, Richard Kim, and his student Don Warrener. Many of these stories are directly from Sensei Kim himself and in his own words however many others were written by Don Warrener after they were told to him by Sensei Kim. These include stories on Samurai warriors like Miyamoto Musashi, Tsukuhara Bokuden and as well many others rarely if ever told before. There are forty nine new stories never in a book before. Each one has had a unique and perfect photo or drawing selected to match up against the story. Richard Kim was a giant among the tall trees of martial artists who have come and gone and he is well known for the stories he told at the end of every class as the students stood in Samurai formation to learn from a masters master.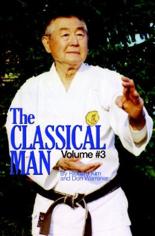 THE CLASSICAL MAN # 3
(2009) This is the third in the series of Classical Man books written by Richard Kim with additional stories by Don Warrener as he was told them by the Sensei along with many other students of the master. In this book there are another 48 short stories about the samurau warriors and there ways of thinking. Plus there are many stories depicting the philosophy of the Japanese people along with a special photo or drawing for each story has been selected to allow you to imagine the people in the stories. Plus the kanji characters for many of the actual stories. Richard Kim has been selected to the Black Belt Hall of Fame not once but twice making him one of the most influential masters of the modern era. His first book Classical Man is now in its 10th printing and we are sure that this and the other new book Classical Man Volume #2 will meet with the same success. This information can be attained in other places but not all in one place making these 3 books a must have for any who are interestedin the philosophy and psychology of the martial arts. Master Key by J.F. Hannal; Don Warrener.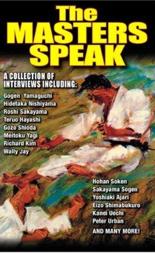 THE MASTERS SPEAK
(2008) The Masters Speak is a compilation of short interviews with the top Okinawan Masters and Japanese Masters as interviewed by martial arts historian Don Warrener. Greats like Nagamine, Gogen Yamaguichi, Shioda, Peter Urban and Jean Claude Van Damme, are but a few of those interviewed and each interview is coupled with fabulous photos.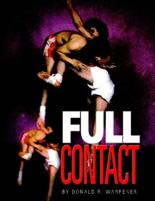 FULL CONTACT KARATE
(2013) Full Contact Karate was first written in the mid 1970's at the beginning of the Full Contact fad of that era with terrific and rare information about Full Contact Karate, Boxing and Muay Thai. It also includes a section on Nutrition which was co authored by a nutritionist.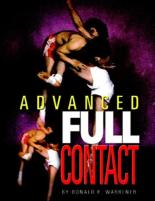 ADVANCED FULL CONTACT KARATE
(1982) Advanced Full Contact Karate is the second in the series that was printed in the late 1970's by popular demand and includes much more on the topic of Full Contact Martial Arts with awesome combinations including boxing hands and karate kicking.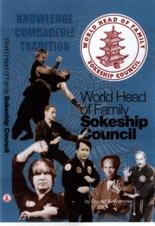 WORLD HEAD OF FAMILY SOKESHIP COUNCIL
This is a "whose who" of martial arts masters from around the world. The World Head of Family Sokeship Council is a group of distinguished masters who have joined together to help propogate and preserve the history of World Martial Arts. The book has hundreds of masters with their own biography's and action photos.