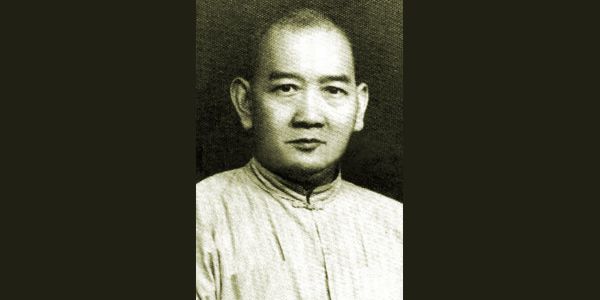 Fei-hung Wong was born on July 9, 1847 and passed away on March 25 1924. He was a Chinese martial artist, physician, acupuncturist, and revolutionary, who became a folk hero and the subject of numerous films and television series. He was considered an expert in the Hung Gar style of Chinese martial arts. One of the best known Hung Gar practitioners in modern times, Wong's lineage has received a lot of attention. As a physician, Fei-hung Wong practiced and taught acupuncture and other forms of traditional Chinese medicine in Po-chi-lam, his private clinic in Foshan, Guangdong. A museum dedicated to him was built in Foshan. Fei-hung Wong's most famous disciples included Hon-hei Wong (his son), Sai-wing Lam, Foon Leung, Fong Dang, Sai-wing Wong  and Wan-kai Ling. In folk tales, Fei-hung Wong is often associated with the Ten Tigers of Canton of which his father, Wong Kei-ying, was one.
Fei-hung Wong was born on Mount Xiqiao, Foshan, Guangdong, during the reign of the Daoguang Emperor in the late Qing Dynasty. At the age of five, he started learning Hung Gar from his father Wong Kei-ying. When he was 13, he learned the essentials of the Iron Wire Fist and sling from Lam Fuk-sing, a student of "Iron Bridge Three" Leung Kwan, after meeting Lam in Douzhixiang during a martial arts street performance. He learnt the Shadowless Kick from Sung Fai-tong later.
In 1863 at the age of 17, Fei-hung Wong set up his first martial arts school in Shuijiao. 26 years later in 1886, he opened his Po-chi-lam clinic at Ren'an. In 1919, Fei-hung Wong was invited to perform at the Chin Woo Athletic Association's Guangzhou branch during its opening ceremony.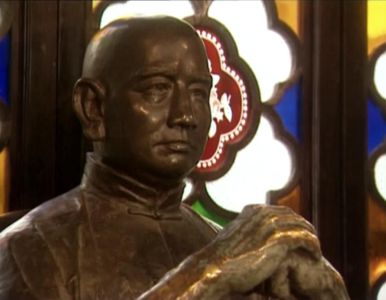 Fei-hung Wong died of illness on May 24, 1924 in Chengxi Fangbian Hospital in Guangdong. He was buried at the foot of Baiyun Mountain. Wong's wife Mok Kwai-lan, and his two sons, along with his students Lam Sai-wing and Dang Sai-king, later moved to Hong Kong and established martial arts schools there.
In legend, Fei-hung Wong was recruited by Liu Yongfu, commander of the Black Flag Army, to be the army's medical officer and martial arts instructor. Wong also instructed Guangdong's local militia in martial arts and once followed the Black Flag Army to fight the Imperial Japanese Army during the Japanese invasion of Taiwan in 1895.
Personal life
Fei-hung Wong married four times in his life. The personal names of his first three wives are unknown. He had four known children – two sons and two daughters.
As a martial artist
Fei-hung Wong was a master of Hung Gar (also called Hung Fist). He systematized the predominant style of Hung Gar and choreographed its version of the Tiger Crane Paired Form Fist, which incorporates his Ten Special Fist techniques. Fei-hung Wong is famous for using the Shadowless Kick. He named the techniques of his skills when he performed them.
Fei-hung Wong was adept at using weapons, such as the staff and southern tiger fork. One tale recounts how Fei-hung Wong defeated a group of 30 gangsters on the docks of Guangdong with a staff.
Fei-hung Wong is sometimes incorrectly identified as one of the "Ten Tigers of Canton". His father Wong Kei-ying was one of the ten but he was not. Fei-hung Wong is also sometimes referred to as the "Tiger after the Ten Tigers".
Source: Wikipedia