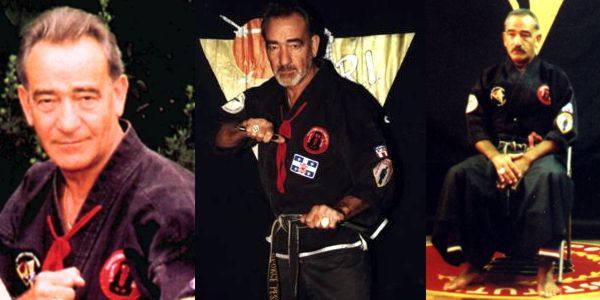 Senior Grandmaster George Pesare was a 10th degree Black Belt and was the undisputed founder of Kempo Karate in New England. The 10th degree Black Belt level is one of the highest achievements in the martial arts community and is at the Professorship level. SG Pesare began his martial arts career with Karazenpo-Go-Shinjutsu in 1958 with his instructor, Grandmaster Victor (Sonny) Gascon, one of the Kempo founders in America. When Grandmaster Gascon  retired, he gave over the responsibility of teaching the true Karazenpo-Go-Shinjutsu to SG George Pesare. Mr. Pesare continued his training in the following martial art disciplines:
5th degree Black Belt in Judo
4th degree Black Belt in Taekwondo
4th degree Black Belt in Eskrima
2nd degree Black Belt in Aikido
These martial arts ratings were accompanied with college degrees in advertising and science.
George Pesare had successfully fought in karate and judo competitions, and besides being active in competition himself, Mr. Pesare had also trained 2 World kickboxing Champions.
1958 Ryusaki Judo Championships
1959 Intramural Aloha Kempo Championships
1960 New England Team Champion
1968 Connecticut Team Champion
George Pesare was featured in numerous martial arts journals including:
The first Who's Who in the Martial Arts
The Encyclopedia of the Martial Arts
Karate Illustrated
Professional Karate
Official Karate
Black Belt Magazine
Numerous articles in the Providence Journal, Providence, RI.
Mr. George Pesare was voted into the New England Black Belt Hall of Fame. "A student who has trained in Kenpo Karate in New England was either taught by Mr. Pesare or one of his pupils, or one of his pupils' pupils…"
In the world of realistic self-defense, George Pesare was a law enforcement officer for over 20 years. During his tenure with the Providence Sheriff's Department, he served as Training Officer and Range Master. During his tenure with the Kent County Sheriffs department, he also served as Training Officer and Range Master, teaching all aspects of firearms to Federal, State, and municipal agencies. Mr. Pesare was the coordinator of the National Rifle Associations' Annual Police Pistol Regional Championships. He was also a member of the coveted '1490' club. He was the 1994 Rhode Island State Police Pistol Champion, and was the Police Pistol Champion of the Prestigious Police Pistol Governors Twenty. Mr. Pesare was also the President and Rhode Island Match Director of the Rhode Island Police Pistol Combat League.
Pesare was also the founder and long-time head of the International Kenpo Council of Grandmasters, which has the goal of preserving traditional Kenpo training and documenting its lineage.
Senior Grand Master S. George Pesare died on October 14, 2012. His school, George Pesare's Kaito Gakko (School of Schools) in Providence, Rhode Island, continues to operate as the "Kenpo Karate Institute" a namesake for the original school and operated by senior Black Belts Dolores Bastone, Hubert Paquette, Marc Ayotte, and Michael Mullens.