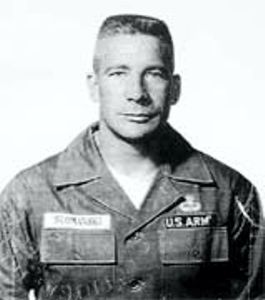 Henry Slomanski, also known as Hank, was born on June 18, 1928 in Evansville, New Jersey and he passed away on April 23,2000. He enlisted in the United States Army on June 26,1946 at Fort Dix, New Jersey and on July 5, 1946, and went to boot camp in Fort Knox, Kentucky.
Henry Slomanski and his family were in Pearl Harbor Hawaii on December 7,1941 when the Japanese attacked. Henry lost both his parents that day and was separated from his natural born sister. The two were never reunited and her fate is unknown.
Mr. Slomanski joined the United States Army at age 18 and in a 20 year career attained the rank of Command Sergeant Major while serving as an Army Ranger. During the Korean War, he was twice wounded and awarded the Silver Star for action on April 18, 1951, the Bronze star, and three Purple Hearts along with numerous other medals. He was the jump schoolmaster in Fort Campbell, Kentucky and trained the country's best military. He also trained the first Navy Seal team in martial arts and the elite soldiers at Fort Bragg, Georgia.
Upon the death of one of the Grand Masters, Henry Slomanski became the other red belt in the world and was considered a Grand Master. In his years of teaching Henry Slomanski would only issue seven 4th degree master instructors Shi Han certificates under him. His most famous student was Elvis Presley. Master Ed Parker sent Elvis to be trained and tested by Slomanski and Slomanski issued Elvis his first legitimate black belt and subsequently his Nidan. Dan Inosanto also sought out Henry Slomanski for training even before he met Bruce Lee, as Henry was considered the toughest of the tough.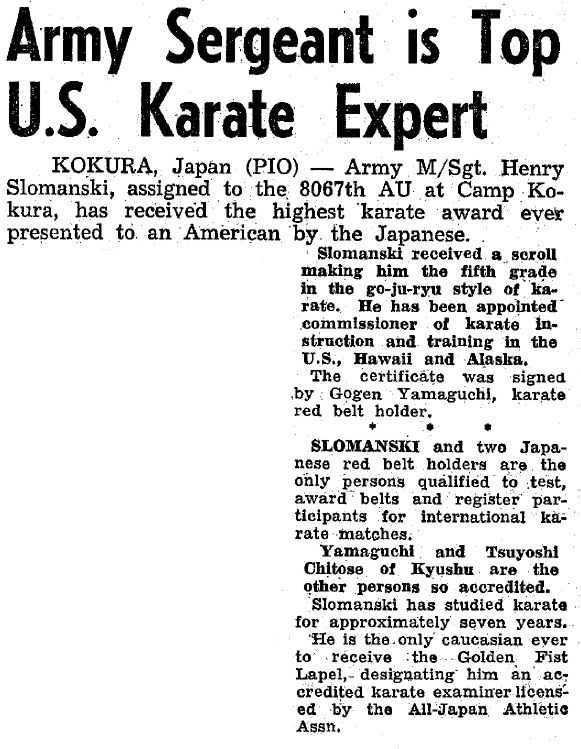 It was while he was overseas that Henry Slomanski was introduced to Chito-Ryu, a Japanese style founded by Dr. Tsuyoshi Chitose. Chito-Ryu is a combination of Goju-Ryu and Shorin-ryu karate. Henry Slomanski became Dr. Tsuyoshi Chitose's number one student and he lived with him while training for several years in Japan. Dr. Chitose had searched for Slomanski because of Slomanski's reputation as a fighter. Most student seek out the master but this time the roles were reversed.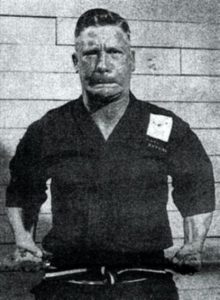 In 1953 (as seen on "To Tell The Truth") Henry Slomanski became the karate champion of Japan, but, after he fought in the "Lame and Kill" matches in August of 1956 defeating 119 men over a two day period, he earned the honor of becoming the International Commissioner of Karate for the United States and surrounding territories. With this win Henry Slomanski became the 3rd highest ranking belt in the world under the Grand Masters and was allowed to ware a tri color belt. After a foreigner, Henry Slomanski, won this match, the Federation no longer held these matches ans in 1957 they began an entirely different kind of match, less brutal and with different rules.
In 1960 Dr. Tsuyoshi Chitose asked Commissioner Slomanski to help promote a new style of Chito Ryu in the United States. He promoted Henry Slomanski to a 6th degree in Chito Ryu, the highest belt under Chitose at the time. Because of Slomanski's hard core training he was not interested in this softer, version of the style, however, out of respect and honor for his master, Slomanski assisted in getting this style stated. Upon Chitose's request, Henry Slomanski awarded his student, Wallace Reumann, who already had 27 dojo's, to a 5th degree and Wallace Reumann took over Chito Ryu in the United States under Chitose. Henry Slomanski continued to teach the traditional style martial art he had trained in.
After his retirement in 1966, he entered the Maranatha Eastern Orthodox Bible Seminary earning the Master of Religious Education and Doctor of Theology degree. Thereafter he was ordained as a Priest in the Eastern Orthodox Church of the East. His ministry focused on Christian counseling and Hospital Chaplaincy while serving at the New Haven Memorial Church in Wilmington, N.C. and at Henrico Doctors Hospital Richmond Va. He earned a Doctor of Law degree with emphasis on Canon Law from the University of Los Angeles.