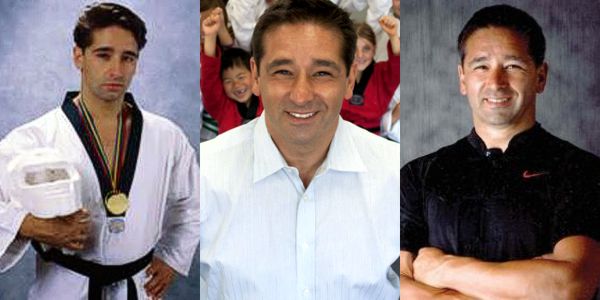 Herb Perez was born on December 6, 1969 to immigrant parents in New York City.
In 1992, Herb Perez achieved his dream. He entered the Olympic arena in Barcelona and won the United States only Gold Medal in the Olympic Sport of Taekwondo.
Through years of sacrifice and training which culminated in the realization of his Olympic dream, Perez learned the value of patience, determination and perseverance. I was fortunate to wander into a martial arts school at a young age and learn valuable life-skills that taught me how to succeed in academics, sport, and life. I felt a need to share the lessons I had learned throughout my life with others, states Perez.
His travels have seen him pay his own way through Rutgers Law School to obtain his Juris Doctorate. He added a Master Degree in Sport Organization Management from the International Olympic Committee's program at the University of Lyon, France. Master Perez, was the only American selected in 2003 to attend this program. In 2003, Master Perez accepted the challenge to rebuild the Afghanistan Olympic Sports program. He traveled to the war-torn country to re-develop their sports programs. Perez remembers, This was one of the most rewarding experiences I had in sport. These youngsters were passionate and undeterred. Sport was their hope for a future.
Herb Perez is no stranger to developing talent. Since 1986, he has been developing National and International Champions nation-wide. I have been searching for a new home and have selected Foster City for our Gold Medal Martial Arts Center. offers Perez. Our programs build life-skills that create better citizens and help children achieve their goals. Join the Adventure!
Herb Perez, who at age 32 competed in his first Olympic Games, has been a noted champion and leader in the martial arts for many years. He is a six-time U. S. National Team Captain, and a three-time winner of the Pan American Championship. Herb served on the Executive Committee, Membership and Credentials Committee (Vice Chairman), International Relations Committee and the Athletic Advisory Council for the United States Olympic Committee. He was a member of the Board of Directors of the U. S. Olympic Committee, a position he has held for the past ten years. In 1988, Perez was inducted into the Taekwondo Hall of Fame, Black Belt Magazine Hall of Fame and was the 1992 United States Olympic Committee Taekwondo Athlete of Year.
Perez is the one of the most successful athletes in Taekwondo. He was 12 years old when he walked into a school for the martial arts and discovered a passion. At the age of 32, he achieved his dream of an Olympic gold medal-as a middleweight competitor in Taekwondo-at the 1992 Games in Barcelona. The years between were filled with struggles, disappointments, hard work and dedication-the stuff of which inspiration is made.
Before winning the gold in Barcelona, Herb was inducted into the Taekwondo Hall of Fame in 1988, he was a six-time U.S. National Team Captain, and was a three-time winner of the Pan American Championships. In 1983, he competed in his first National Taekwondo Championship and two years later earned a bronze medal. Success came rapidly after that, with many medals and honors culminating in the 1992 Olympic gold medal.
Perez's dedication to the sport of Taekwondo is complete. He still trains daily and thinks about Taekwondo "constantly." Herb says, "This sport teaches everything you need to succeed in life: patience, self-discipline, determination, perseverance. There are no excuses in the world of Taekwondo-it's a very honest place to be. I always tell the students I teach, it's not how you start but how you finish." Every year since 1988, Perez has trained 25% to 30% of the men's national winners. He is active in promoting the martial arts, conducting seminars, and training camps. Perez performed three seasons as "Olympus" in the internationally syndicated television show WMAC Masters.
Herb Perez, authored the book; Taekwondo for Children in 1996. He was a contributing editor for Rainbow Publications. He wrote a monthly column, The State of Taekwondo, for Black Belt Magazine. Perez develops and has written monthly submissions for, Karate – Kung Fu Illustrated, and Martial Arts Training In his articles, Perez deals with all aspects of the modern day Taekwondo practitioner from the practical technical arsenal to the history and development of the Olympic Sport.
In his continuing effort to raise the bar for education in the fitness arena, Perez founded Gold Medal Productions Llc. in 1998. This state of the art production house has developed over 135 titles for the martial art and fitness Video/DVD market. Most recently, GMP filmed the commercial and video product for the "Winning Spirit.
In demand as a teacher, coach, producer and seminar leader, Herb Perez is also Director of International Projects for the Olympic Council of Asia. Most recently, he has been selected as Chairman of the Education Committee for the World Taekwondo Federation.
COMPETITIVE EXPERIENCE
1992 OLYMPIC GOLD MEDALIST
1991 PAN AM GAMES SILVER MEDALIST
1991 WORLD SILVER MEDALIST
1987 PAN AM GAMES GOLD MEDALIST
1987 WORLD CUP GOLD MEDALIST
1987 WORLD BRONZE MEDALIST
1986 OLYMPIC SPORTS FESTIVAL GOLD MEDALIST
7 Time NATIONAL CHAMPION
2 Time NATIONAL COLLEGIATE CHAMPION
US TEAM CAPTAIN 1988-1999
COACHING
2008 HEAD OF TEAM OLYMPIC GAMES BEIJING
2007 HEAD OF TEAM OLYMPIC WORLD QUALIFIERS
2007 HEAD OF TEAM OLYMPIC PAN AM QUALIFIERS
2007 HEAD OF TEAM WTF SR. WORLD CHAMPIONSHIPS
2006 HEAD OF TEAM WTF JR. WORLD CHAMPIONSHIPS
2005 HEAD OF TEAM WTF SR. WORLD CHAMPIONSHIPS
2004 HEAD OF TEAM WTF JR. WORLD CHAMPIONSHIPS
2004-1997 GOLD MEDAL TRAINING SYSTEMS HEAD COACH
1993 COACH USA WORLD CHAMPIONSHIP TEAM
1992-1995 USTU COACHING STAFF MEMBER
1992-1995 NEW JERSEY COACHING CHAIRMAN
INTERNATIONAL PROGRAMS and DEVELOPMENT
2002-2008 Olympic Council of Asia / Senior Staff
PROJECT: 2006 Asian Summer Games/ Oversight/Senior Staff Evaluate and submit reports on the Doha Organizing Committee's preparations. Evaluate the Broadcast capabilities for the Games.
PROJECT: 2005 &2007 Asian Indoor Games/ Technical Dept/Sports Program Development Staff Interact with the NOCs and ascertain their needs and requirements to host the games. Develop the sports program and evaluate venues. Member of the creative team for the OCA.
PROJECT: 2003 Asian Winter Games/ Senior Staff
Interact with the NOCs and ascertain thier needs and requirements to maximize services at the games. Implement solutions in real-time during the Asian Games.
PROJECT: Afghanistan Olympic Committee/ Olympic Council of Asia
Evaluate the current needs of the NOC and implement a strategic iniative to reintergrate the NOC into the Olympic infrastructure.
PROJECT: 2002 Asian Summer Games/ Senior Staff Athletes Village
Oversee the OCA office in the athletes village, and implement solutions in real-time during the Asian Games.