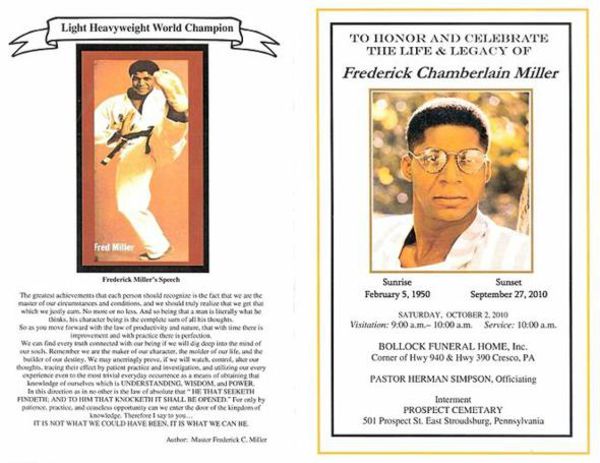 I received the really sad news that Master Fred Miller had passed away. I was not only stunned by shattered by the news. Master Frederick Chamberlain Miller, was my friend, teacher, mentor and role model.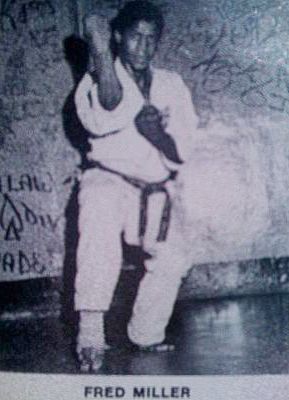 I met Fred Miller while attending Bronx Community College, Bronx, New York, in 1974. I had arrived in this country in 1973, graduated from high school and enrolled in College. I was still struggling with the mastery of the English language, when I enrolled in a self defense class, taught by Sensei Greg Perry (USA GOJU), and continue to attend others led by Sensei Henry Skinner (KOKUSHI RYU GOSHINHO JUJUTSU). I participated in the Martial Arts Club, eventually joining the BCC Karate Team. We competed against other teams especially from John Jay College led by Sensei Al Gotay. During my training at BCC I attained grade in Jujutsu, under the tutelage of Sensei Skinner, learned USA Goju Kihons, Kata, Kumite from Sensei Perry, and in addition was gifted with the opportunity to meet and learn Kihon, Kata and Kumite from the renowned Master Errol Bennett (Karate Team Co-Captain). There was a time I was ready to continue formal training in and outside of the college dojo. I was ready to ask Master Errol Bennet to take me on as a student when I had the opportunity to meet the other renowned Co-captain of the karate team, Frederick C. Miller.
Over time I became acquainted with Master Miller, and became his friend. I was impressed by his sharing nature, how protective he was of those around him, and how interested he was in my progress in school. I was taken by the grace, athletic demonstrations of skills, teachings, emphasis of kihons, artistry in performance of Goju Kata, and the ferocious, technical and tactical fighting style of Goju Ryu, and I decided that Goju Ryu fit my body style and I asked Master Miller to take me on as his student. I recall, his sideway look at me and him asking me, "Are you ready to train, because in my dojo there is no place to hide nor run."
Fred Miller became my teacher. I started my Goju training with Master Fred Miller at his Nippon Gojukai Karate Dojo located within the New York City Housing Authority (NYCHA), Bronx River Projects. I endured grueling training sessions, emphasizing Kihon training with perfection execution. Corrections were fastidiousness. Master Miller demonstrated his excellent teaching skills and attention to detail. He taught traditions and principles applicable to life, not just to the sport.
I spent multiple hours of the day training Jujutsu and Goju at BCC, including exclusive training with Master Miller, as well as the hours per week at the Dojo. I accompanied Master Miller on his frequent visits to other dojos to share tech. and I had the opportunity to watch him share his teaching skills and philosophy with other students. He taught beyond just kicking and punching. He taught about the importance of education, diligence and dedication to achieving goals, the building of an indomitable spirit, to prevent any let down or distraction from set goals, and I witnessed the respect and admiration other teachers had for Master Miller.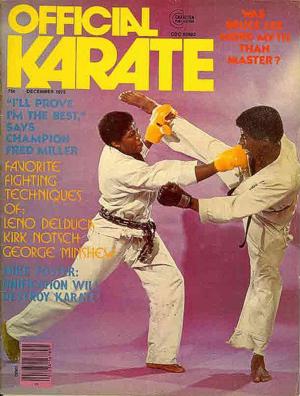 Master Fred Miller became more than my martial arts mentor. He coached me to excel in the martial arts. He ensured I was introduced to other excellent martial artists of that time, and he always told me to "watch and learn," that there is always something good to learn from everyone and remember to store what you learn in your repertoire. He taught me to brake down techniques looking for weakness and strengths, and use what I learn to make myself a winner before I step into the ring. He introduced me to martial arts greats including GM Aaron Banks, the greatest promoter of martial arts in the world, GM Peter Urban, a great teacher who always had a word of encouragement for all beginners and competitors, GM Leon Washington, the kindness sensei around, and GM Fred Hamilton, a great sensei and promoter of martial arts.
Fred Miller taught me, not only how to kick and punch, he taught me, via physical training, lecturing, and his actions, about the importance of an education, and how education was the tool to lead me to the front of the pack. Fred Miller was my role model. His teachings and his accomplishments in life were based on his martial arts training which strengthened his own parents teaching, his discipline, and his motivation. I always tried to be like him, look like him, act like him. The greatest compliments I ever receive in the martial arts, while attending and participating in thousands of tournaments, are compliments from strangers who approach me while warming up, or after my kata or kumite performance, and ask "Did you train with Fred Miller?" When I answer affirmatively, the immediate comment is: " I knew it, YOU LOOK JUST LIKE HIM".
Training under Fred Miller helped me become the person I am today. He reinforced all my own parent's teaching, and trained me with discipline, motivation, and determination, to achieve. I applied all principles learned not only in the ring of competition, but in the ring of life. I graduated from BCC with honors, attended and graduated from CCNY with a degree in Education with Cum Laude Honor. I became a police officer with New York City Police Department and in less than 2 years I was selected to pursue an investigative career. In less than 4 years I was promoted to detective, serving with honor and distinction. I lectured in elementary schools, high schools, colleges, community centers and churches about the importance of an education, the dangers of drugs and drug abuse, the importance of career counseling, and the importance of physical conditioning and training. I continue to do this today, even after my retirement in 2000.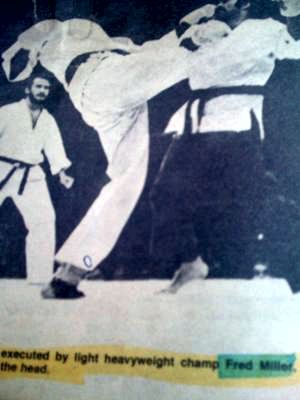 I am proud that my teaching style is modeled after Fred Miller's style of teaching, not only do I teach the basics, but their applicability to every facet of life. We are the masters of our own destiny. No one owes us anything. Everything we want is achievable through hard work. When you earn something, it can't be taken away. Nothing is free in this world. We have a no nonsense approach, no time to waste, much work to do, and set goals to accomplish!
Life's events, college and my career caused a long separation between my teacher and myself. Just recently I had located Fred in Pennsylvania. We spoke on the phone for hours, several times, my cordless phone often going dead. We laughed about college, intramural and intercollegiate karate competitions, the fights against the John Jay team lead by Al Gotay, our practices in jujutsu, how we attended BCC african dance classes so we could incorporate African dancing into our training routine at BCC. We recounted his friendships with, and epic battles with, martial arts magnates such as Thomas La Puppet, Monroe Marrow, Ron Henderson, Ron Jeter, Abdul Mutakabir, Tayari Casel, George Crayton, Errol Bennett, Ernest Hyman, Lamar Thorton, Phil Mcrae, Karriem Abdulla, Harry Crump, Sheldon Wilkins, and the "peskiest most ferocious fighter of all, Sam Mcgee. There are too many others and not enough space to mention, but are deserving of recognition, you know who you are. We cheerfully commented on his support of GM Aaron Bank's tournaments, and the foundation of the World Professional Karate Association, and about fighting full contact fights. We talked about his awesome defeat of Darnell Garcia, with the exact techniques described in an magazine article published prior to the fight which took place in Madison Square Garden. I mentioned to him about a recent meeting dubbed "Meeting of the Masters – Bridging of Generations" where I meet with great friends and competitors including Billy Beason, Derrick Williams, Jerry Fontanez, Luz Puello (my wife was also Fred's Student). I told him how we laughed, sharing stories and traditions, mentioning Fred's name after every other name or sentence, since he was such a big part of the group's lives.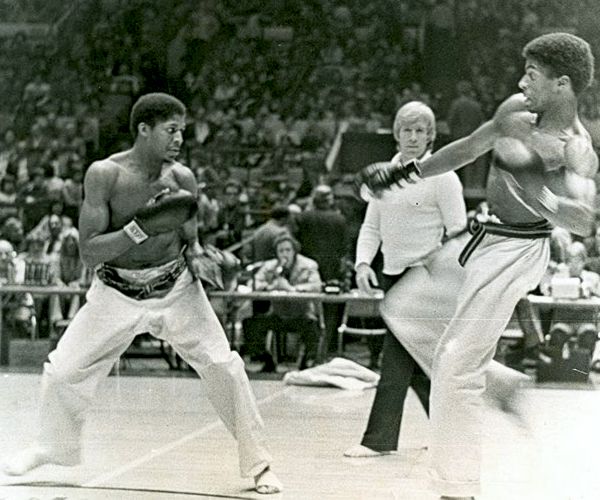 GM Fred Miller was always a part of everything, for all of us, and his passing will leave a hole in our lives. What he taught us will never be forgotten. Sir, you will be missed.
Your humble student, with much respect,
Franklin D. Puello
New York