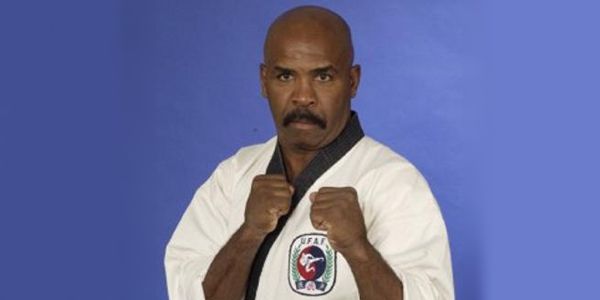 Master Howard Jackson was born in June 27, 1951 and hails from the mean streets of Detroit, Michigan. Survival was a daily affair and to do so Jackson looked to the martial arts as a means to that end. He started in 1967 training in kung fu, then changed to the Korean art of Tang Soo Do. Eventually Jackson trained under Harold Williams who became his mentor.
A fast study, Jackson quickly worked his way up the ranking system. In 1970 Grand Master Hwang Kee and his Moo Duk Kwon testing board tested him for 1st degree black belt.
After passing his martial arts test, Jackson signed on to be one of the proud and the few; he joined the United States Marines. While stationed at Camp Pendleton near San Diego, CA Jackson entered the world of karate point fighting.
His first fight was at the Four Seasons where he caught the eye of Chuck Norris and Bob Wall. They invited Howard to the Chuck Norris Karate Studios in Torrance, California. Each weekend Jackson traveled by bus to Torrance where he trained with a potpourri of future superstars such as, Chuck Norris, Bob Wall, John Natividad, Darnell Garcia, Pat Johnson and Ralph Alegria to name a few. Jackson became an integral part of the Chuck Norris fighting team.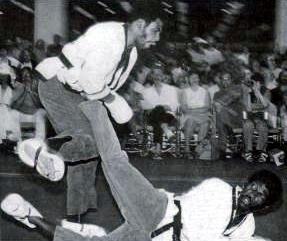 Howard Jackson vs Donnie Williams
In 1972-73 he was ranked among the top 10 national fighters in the United States. Dubbed the "California Flash" because of his speed and ability to close the gap on his opponents Jackson quickly became the man to beat on the circuit.
Heavyweight champion Joe Lewis contacted Jackson in 1973 and they became sparring partners. Joe helped to sharpen the fighting skills that had been shaped by Chuck Norris, Mike Stone and others. Jackson went on to become one of the nations most versatile and successful fighters in both point fighting and full contact karate.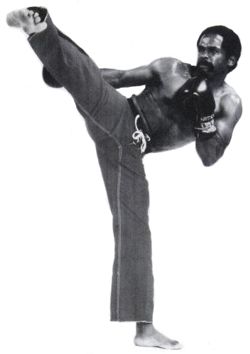 He is the only two-time Grand Champion of the prestigious Battle of Atlanta and in 73 Jackson was induced into the Black Belt Hall of Fame as "Fighter of the Year."
In 1974 Jackson was sidelined following a knee injury. Two years later he launched a comeback when he captured the WKA full-contact welterweight title.
In 1981 Jackson won against Miyaso Chiba in Tokyo to become the world junior welterweight champion of the WKA. Jackson retired from competition in 1983 and for 10 years worked as a personal protection officer.
Jackson continued to work as training partner with world champion Chuck Norris until his death. Visit Howard's Official Website Howard Jackson.
On Tuesday, March 7 2006, Howard Jackson passed away. He was a true friend and role model to all that knew him. He died at the City of Hope hospital in Duarte, California. He was cremated on the March 14, 2006 and a memorial service took place on Saturday, March 25, 2006 at 11:00AM.