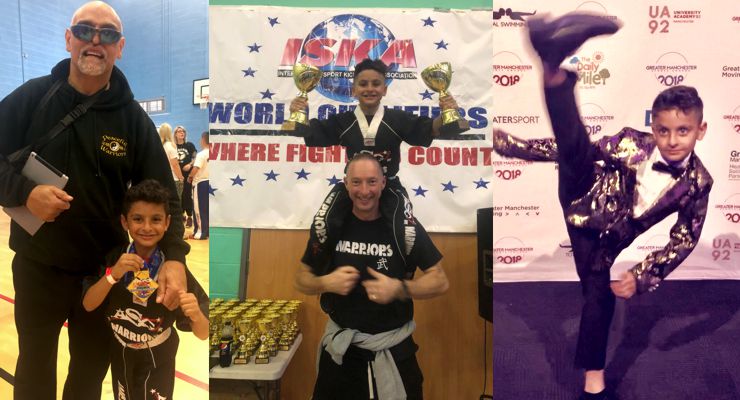 Ibrahim Janjua (Ibby) is a 6 year old from Greater Manchester, England in the UK and he has been kickboxing for almost 2 years. He likes to eat waffles and his favorite technique is the Jumping Spin Back Kick to the head. Besides the sport of Kickboxing, he loves running and playing Cricket. He is all boy, however, he also loves to sing and dance. He hates doing squats, but realizes they are necessary in his training. His idol is Kickboxer Alfie Lewis and it is Ibby Janjua's dream to be better than Alfie Lewis, and to one day inspire other children in the same way Alfie Lewis has inspired him.
Ibrahim Janjua began kickboxing at the age of 5. Ibby was a very hyper child and full of energy so his Mum took him to a local dojo and where his kickboxing journey began. When he first walked into the dojo he remembers being very scared as he thought the older children where going to beat him up, but he was wrong, everyone was very welcoming and friendly's and he soon made friends and very quickly became one of the popular kids in the club, as he am is a character according to Mum.
Training at the dojo involved about 15 minutes of warm up by playing games like dodge ball, running, doing press ups, sit-ups, and stretches. Burpees where usually given as punishment when kids were not listening, messing about or talking. The kids hated doing burpees, but Ibrahim Janjua enjoyed doing burpees as he saw them as conditioning fitness that would make him stronger.
He was excited when his Mum bought him his first sparing kit as that meant he could fight and spar with the other kids which looked like fun. It was definitely fun, until Ibrahim got hit in the nose. He cried and he wanted to go to his Mum and have a cuddle but sensei lee said "suck it up get on with it!" Sensei Lee explained that if Ibrahim was on the street and got hit, he wouldn't be wearing headgear and the other kid would not be wearing gloves, so Ibrahim needed to be brave. Sensei Lee reminded Ibrahim that he wouldn't Mum there to fight his battles' or wipe his tears away.
After getting hit a few times Ibrahim Janjua soon realized the only way to not get hit and hurt was to hit first and his confidence got stronger. Watching the older kids doing competitions made Ibrahim Janjua want to compete. He did his first in-house competition on January 14, 2017. Ibrahim Janjua won 3rd place and got he received a bronze. Ibrahim Janjua knew he wanted to do more and win more trophies. He watched the way Dylan Barrett fought and he wanted to be a good fighter like Dylan. Dylan was a Black Belt and a multiple world champion. Dylan's combinations and kicks where awesome and very impressive.
Ibby Janjua did 6 in-house competitions but he didn't want to fight his friends and the same fighters all the time but Sensei Lee told him he was not yet ready for big competitions, even though he felt like he was and he really wanted to go gor the GOLD!!! Ibrahim Janjua was allowed to compete at his first big competition, the WMO G-force event. Ibrahim Janjua came second in continuous sparring and won a silver medal. When receiving his medal he got to stand on the podium, this was his first time on the podium and this made him feel amazing and on top of the world. Ibby was a champion and he loved his medal and showed it to everyone. He even took it to bed and kept it under his pillow. The morning after he took the medal to school to show his class. Everyone was proud of him.
Ibrahim Janjua was not allowed to do the next competition which was the European championship because he was a Green Belt and not a Blue Belt. This upset him and his Mum was also very disappointed because she knew what it meant to him. Ibrahim Janjua wanted to fight in the under six section and was aiming to win a title. His Mum decided to move him to another which participated in more competitions. The new club was North West Warriors, located in Bolton, and there with Sensei Paul Smith and Sensei Danielle Smith his training became harder and more intense. Ibrahim Janjua competitions began to get tougher and more challenging. His new club allowed him to go to the European championships. When he was told the news Ibrahim Janjua was over the moon and even danced with joy. At the competition it was a little awkward for Ibby to see his old club, but he did his best and won silver in continuous sparring. He would like to thanks Janice and sensei Paul for giving me the opportunity.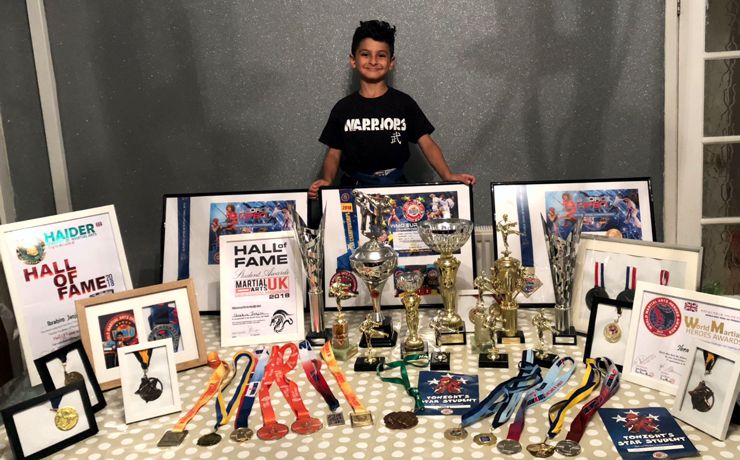 Achievements
WMO European Championship: 2nd Continues Sparring Silver
Lordswood Tri series: 1st Continuous Sparring Gold
Moved up a section came 2nd in Continuous Sparring
1st Continuous Sparring Gold
Kwon Midland Open: 1st Ring Continuous Sparring Gold
2nd Point Fighting Silver
Moved up Section and 3rd in Continuous Sparring Bronze
Ippon Championship: 1st Point Fighting Gold
2nd
Continuous Sparring Silver
G-FORCE: 2nd Continuous Sparring Silver
Bristol open – Continuous Sparring Silver
Lordsworth tri series – Continuous Sparring Silver
Ring Sparring Continuous – Silver
Iska English Championship – continuous Sparring Gold
Points Fighting Gold
Training
Ibrahim Janjua's trains 5 days a week if he has a competition on the weekend. He has Squad Training but his training is not just in the class, when he comes home he practices the drills he has learned and he is always doing splits and leg raises to get his kicks up higher.
Kicks and techniques Ibrahim Janjua has learned so far:
Side Kicks Blitz
Front Kicks Breaking the line
Round House Switch
Ave Kick Jabs
Hook Kick Hook
Spin Kick Back fist
360 Spin Kick Machine kicks
Ibrahim Janjua has learned so much, but he realizes he has so much left to learn.
Inspiration
Ibrahim Janjua watches a lot of YouTube videos of fighters and gets tips. His favorite fighter is Alfie Lewis. He loves watching Alfie Lewis fights and Alfie has so many trophies and medals. One day Ibby hopes to surpass Alfie and become even a better fighter than he was. A world class fighter.
Proudest Moment
Ibrahim Janjua is most proud of the moment when his hero, Alfie Lewis, said to him "IBBY, THAT KID FROM Y CLUB THAT YOU JUST BEAT, IS A TOP WORLD CLASS FIGHTER, AND YOU WIPED THE FLOOR WITH HIM, DO YOU KNOW WHAT THAT MEANS? THAT MEANS, YOU'RE GOOD!" Ibby says he will never forget those words, Alfie Lewis is a legend.
Awards
World Martial Arts Heroes Awards ( World Moo Sooldo Foundation)
Hall of Fame (Martial Arts UK) • Hall of Fame (Syd Haider Academy of Martial Arts)
WMD World Martial Arts Awards (Alfie Lewis)
Bury Sports Awards (Achiever of the Year – winner . Greater Manchester sports awards finalist
Future Plans
Ibrahim Janjua latest competition was at ISKA English Championship 2018 on November 11, 2018 at the North Solihull Sports Centre in North Solihull. He won a Gold in Point Fighting and a Gold in Continuous Sparring. This made him a 2 time ISKA British Champion and he has qualified for the ISKA World Championships in Cork, Ireland in October of 2019. He says he is excited and nervous but he can't wait to represent England. Ibrahim Janjua knows that training up for World's is going to get harder, but he is willing to give it 100%.
Summary
In two years of training Ibrahim Janjua feels like he has gained a lot of experience in martial arts as well as a lot of and confidence and he tells us he owes all this to his Sensei who have taught him well and to the martial artists that have inspired him. His dream is to one day  inspire other children that also want to become great at martial arts.
Ibrahim Janjua ibby on Twitter
Like Ibrahim Janjua on Facebook