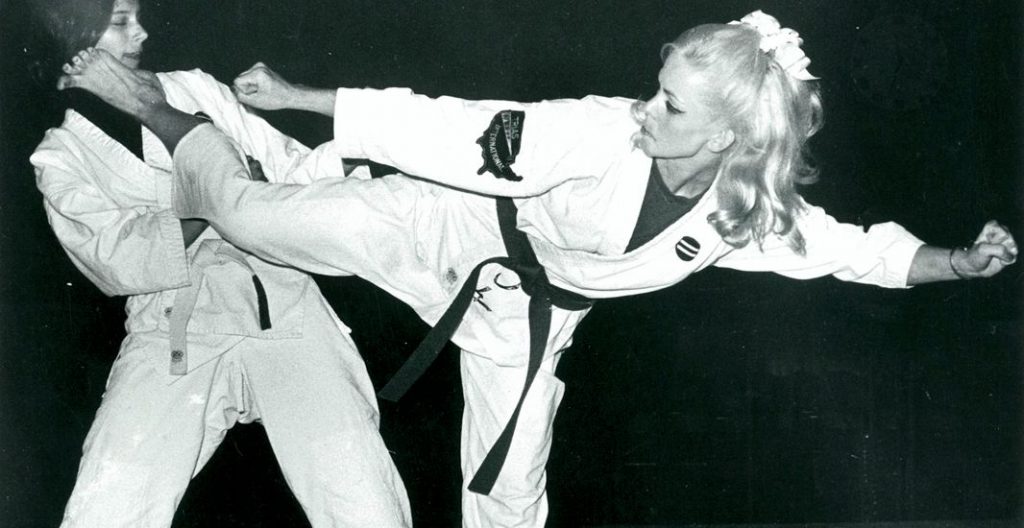 Janet Walgren is the second oldest of ten children. She began studying cosmetology when she was sixteen years old. Still attending high school, she went to beauty school in the summer, at night and on the weekends. In 1965 she graduated from Aladdin Beauty College and was hired as a high-fashion stylist in one of Kansas City's exclusive beauty salons that catered to Playboy Bunnies and showgirls. Only six months later, Janet was recruited as lead stylist for The Jone's Store Company, a large upscale department store in Kansas City, Missouri.
Late one night after work, she was riding the bus home and experienced a harrowing experience that made her realize she needed to learn to protect herself. She signed up for judo lessons at Bushidokan. Not long after she began studying judo, Janet's sensei, Jim Harrison, asked if she would be willing to do a woman's self-defense demonstration for an event featuring the Korean National Olympic Yudo Team. An adventurous woman, Janet Walgren said, "YES!" After the event, Walgren continued to do women's self-defense demonstrations for business and civic groups, and to promote women's self defense and the martial arts.
Nine months after she started taking judo lessons, Janet Walgren was invited to do a women's self-defense demonstration at the All American Karate Tournament in Fort Worth, Texas. Janet had only studied Judo and she had never even taken a karate lesson. When she arrived in Texas, however, she discovered that her sensei had signed her up to compete in the tournament. She placed second and thus began her career as a karate competitor.
In 1975, Janet Walgren was named in the first Who's Who in the Martial Arts along with other karate greats including Bruce Lee and Chuck Norris. Following is an excerpt from the entry about Janet Walgren:
Although she competed in Karate tournaments before there were ratings for women and retired from competition in 1970, Janet Walgren has been mentioned in every retroactive Top Ten poll published since then. Winning or placing in every tournament she entered, she was the 1966 All-American runner-up. 1967 U.S. Championships finalist when disqualified excessive contact. 1968 Central States Champion. 1968 U.S.K.A. National Champion. 1968 Grand National runner-up, and she returned to the U.S. Championships – 68 and won it. In 1969 she again won the U.S.K.A. National Championships, the 1969 National Open Championships and was named the "Best Woman's National Tournament Champion" in women's sparring by the U.S.K.A… In 1968 she staged a demonstration at the World Fair "Hemisfair" in San Antonio, Texas and received the Worlds Fair Award for "Outstanding Achievement" by a woman in the martial arts.
Who's Who in the Martial Arts.
Robert Wall. 1975. p. 50-51
Janet Walgren never did any thing half-ass and in 1975 she took flying lessons on a dare. Five days and seven hours later, Janet soloed and continued on to earn her Private Pilot's Certificate in a little over sixty hours. She later took aerobatic lessons and managed Jonas Aviation, a fixed-base operation and flight school at Gardner Kansas Airport.
In 1972 Janet became a mother and she had six children. When Janet's youngest child entered Kindergarten, Janet enrolled in college and in 1992, earned her Associate's of Arts degree from Spokane Falls Community College. When Janet's oldest daughter earned her Associate's of Arts Degree in 1996, Janet walked the stage again to receive her Bachelor's of Arts degree from Eastern Washington University majoring in Government with a pre-law emphasis.
Currently Janet Walgren is the owner of Walgren Enterprises and works as a writer, ghost writer, consultant and personal coach. Janet's interests include blogging, writing, photography, art, classical music, books, nature.