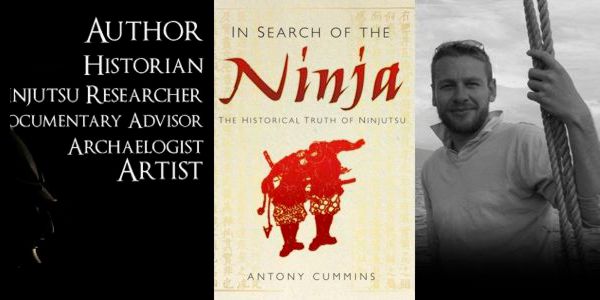 If you are interested in espionage, Asian martial arts or, to be more precise, the ninja? If you are someone who honors and appreciates hard work and truth over laziness and sensationalism, then you owe it to yourself to read Anthony Cummins newly released book, In Search of the Ninja: The Historical Truth of Ninjutsu, The History Press, 2012. ISBN: 978-7524-8093
Anthony Cummins objective presentation of substantiated historical truths unveils without really trying the often deliberately false and misleading representations utilized in accusing others of being fraudulent, a "fake ninja" to eliminate business competition. Creating industry wide discord.
IN SEARCH OF THE NINJA: The Historical Truth of Ninjutsu, is a work that opens your eyes to substantive truth. This book reports the fact that "ninjutsu" (AKA ninjitsu) is NOT A STYLE OF MARTIAL ART but an umbrella word that encompasses many different specialties, and goes far beyond the single-minded study of hand-to-hand combat. The word ninja, or shinobi, can be more likened to the word covert agent or commando, or may also be used as a verb, ergo Anthony Cummins quoting:
Nakigaki Hippu No Sho Gunshi No Maki, 1869: "You should build watch fires in front of your position, close all the gates and allow no one to come and go without questioning, this is done to block the enemies shinobi (i.e. scout or scouting).
Eliminating the riff raff by presenting historically accurate information, Anthony Cummins puts the "mystery" back into what has become the commercialized ninja. This book returns historical significance to the dangerous ninja, and clears up misconceptions about specific ninja hand to hand combat, which is the opposite of the samurai practiced. To be clear, there are ninja tricks in fights, but nothing more, because ninjutsu is much more complex, dangerous and specialized than punching and kicking, and the spying element seems to be totally unknown in the west. This book substantiates how ninjutsu has always been a form of guerrilla warfare and espionage using commando tactics. It points out the critically important nuances missing in other works on the subject. Cummins brilliantly shows us the connection between the Chinese and Japanese linguistics in military manuals, similar yet dissimilar.
My only disappointment in the book is that Anthony Cummins avoids any discussion of modern lineage. I realize that this is justified, in light of the fact that authors come up against so much back lash when discussing lineage after 1868.
The main benefit of this work is that it is historically sound and returns us to the truth about ninjutsu. Now we can forget the divisions of the past and move forward without upset and confusion.
Cummins, Anthony, In Search of the Ninja: The Historical Truth of Ninjutsu, The History Press, 2012.
---