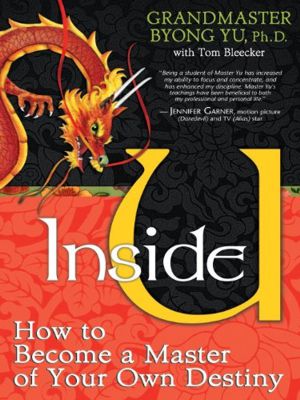 Inside U is an incredibly moving, engrossing, and almost-mythological tale of how one man endured the highest of highs and the lowest of lows throughout his extraordinary life.
Born into Japanese-occupied Korea, young Byong Yu was diagnosed as developmentally retarded. Convinced that he would become a burden to his family, doctors told his parents to put him in a corner of the room and let him die. Consequently, survival was an instinct that he honed at a very early age.
Byong was known to the village as "Ugly Boy," yet he refused to give up. His destiny led him to a wise and gifted martial-arts master who agreed to accept him as a student. In the years that followed, Byong used the profound wisdom instilled in him by his master to triumph through the Korean War, years of poverty, and homelessness.
After emigrating to the United States, Byong struggled to live the American dream, but a tragedy that drove him to the brink of suicide almost shattered his spirit once and for all. However, in the long and arduous process of rebuilding his life, he managed to become a martial-arts legend'one who now trains some of Hollywood's elite.
This is Byong Yu's story, but even more important, it's a guidebook to discovering your true path—whatever that may be—and conquering any obstacle that stands in your way. As Master Yu says, "I have triumphed over countless obstacles that I have faced in my lifetime. Yet through it all, I have managed to fulfill my destiny and come to intimately discover who and what I am. And if I can do it, so can you!"
About the Author
Born in 1935, Grandmaster Byong Yu, Ph.D., was raised in Korea and later moved to the United States in 1964. Overcoming physical disabilities, language barriers, racial prejudice, and homelessness, Master Yu (nicknamed "Lightning Bolt") took the martial arts circuit by storm and eventually attained the highest rank of black belt (9th degree) from the World Tae Kwon Do Federation. He was inducted into the "World Professional Martial Arts Association's Hall of Fame," voted "Man of the Century," and in 2001 received the prestigious "Martial Arts World Federation Lifetime Achievement Award." Master Yu presently resides in the Los Angeles area, where, at the age of 67, he continues to teach martial arts at his school located inside the CBS Studio Center. His life story is currently being chronicled in a full-length feature film project entitled Monkey Man.
---