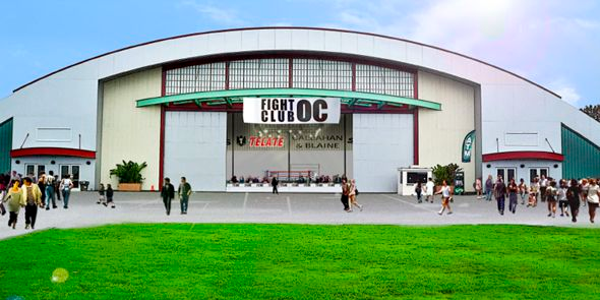 BATTLE IN THE BALLROOM IS MOVING AND GETTING A NEW NAME
ROY ENGLEBRECHT PROMOTIONS INTRODUCES FIGHT CLUB OC
GROUNDBREAKING BOXING / MMA FIGHT SERIES TO PREMIERE IN 2011
AT THE HANGAR AT THE OC FAIR & EVENT CENTER
NEWPORT BEACH, CA, December 17, 2010  It's the end of an era, and the beginning of a new one. After 26 years at the Irvine Marriott, where the name "Battle In The Ballroom" became synonymous with excellence, sold out shows, and competitive fights in an intimate venue, renowned promoter Roy Englebrecht has decided that it is time for a change, one that will shake up the fight world.
So beginning on February 24, 2011, Englebrecht will launch Fight Club OC, an innovative, first-of-its-kind, bi-monthly series that will not only feature the boxing action that has brought 38 current and former world champions to Southern California fans, but that will also deliver the best of the local mixed martial arts scene to fans hungry for one thing and one thing only competitive fights.
To hold these hybrid boxing /MMA events, Englebrecht has teamed up with the OC Fair & Event Center to stage six Thursday night Fight Club OC shows in The Hangar at the OC Fair & Event Center in Costa Mesa, California. Open less than a year the 23,000 square foot venue is the newest and most modern building on the OC Fair property. Designed with an aviation hangar look, its 50 foot high arched ceiling and unique 50 foot high hangar doors, that can be opened during spring and summer nights, give it a big time arena feel, better to now feature the explosive action that only Fight Club OC can deliver.
What countless memories the past 26 years at the Irvine Marriott has given me, and I hope we've given fight fans just as much in the way of great moments from the Battle in The Ballroom series, said Englebrecht. But it's essential for a promoter to keep evolving in the ever changing fight game, and when The Hangar at the OC Fair & Event Center opened up, it was the perfect venue for us to take our game to the next level with Fight Club OC. The way I've always looked at the sports of boxing and MMA is that if you're a fight fan, you want to see great fights, regardless of the rule sets involved. The "Battle in The Ballroom" series was known for great fights, and we're going to continue that tradition with Fight Club OC, where as we say in our new logo.Fights Guaranteed.
In addition to the mix of the two most popular combat sports in the world today, Englebrecht is also using this new venture to raise the bar in terms of how fans enjoy live events, including becoming the first fight series ever to offer All-Inclusive Ringside Luxury Suites, a separate entrance and parking lot for Season Seat Holders and sponsors, and a special Happy Hour bar & grill right next to The Hangar!
Every major American sports league plays in modern arenas or stadiums, that include creature comforts to make the fan experience the best ever, so why not the fight business, it should be no different for combative sports, said Englebrecht. That is why I am so excited about the launching of Fight Club OC and its big time arena feel, continued Englebrecht. We are so excited about this new concept that we plan on launching the Fight Club model in a number of US cities in 2011.
For everyone in and around the Southern California area, get ready for an entirely new fight night experience, one that will be unlike anything fans have ever experienced before, said Englebrecht. It's more important than ever to deliver bang for the buck and create an event that you want to keep coming back to, and I think we've created that here. I can't wait for the opening bell, and I want to let everyone know that when it comes to Fight Club OC, our motto is and always will be Fights Guaranteed.
For more information on Fight Club OC, go to its new website at www.fightcluboc.com. The six Thursday night Fight Club OC shows will be held on: February 24th, April 21st, June 2nd, August 18th, October 13th, and December 1st.
Contact: Roy Englebrecht
Boxing77@aol.com
949-760-3131  Office
949-235-6155  Mobile