The late John Wooden said, "Success is never final, failure is never fatal. It's courage that counts."
Today I saw courage in a way that rarely happens and can only inspire those who are privileged to see it. I went to watch the International Fighting Championships held in Long Beach, CA. This championship is legendary, dating back to the 60's. It has produced some of the great martial arts legends including Chuck Norris, who fought in it, as well as Bruce Lee who there was introduced to the mainstream of American martial artists.
What I saw was a young man, in his late teens, register for his first time to fight not in the kid division but rather in the adult male, black belt division.
Moving up into the men's division is not one that every young man makes, and there are many who don't even attempt while still in their late teens. This is always a giant leap from youth into manhood and this young man made the leap with such calm determination, courage, humility yet ferocity that it made people stop and congratulate him. Why?
There was an early start to his black belt division – 90 minutes before it was posted to start. By the time he made it to the floor and in his gear, his division (light weight) was underway and he was not allowed to enter. Standing disappointed, he still said with conviction, "I came to fight."
I could see he was determined to test his skills against a veteran black belt warrior so he could see if he really had the stuff, the grit of men. Boy, would that become the understatement of the year. You see, the tournament organizer said he had one choice only and that would be to step up into the adult male, heavyweight black belt division. Without reservation he said, "I'll do it!"
With no time to stretch or warm up, they called him to the ring. Little did he know the veteran black belt warrior he would face was the most feared fighter in the country, Raymond "The Real Deal" Daniel.
He is an undefeated, full-contact kickboxing champion. He holds 6th degree black belts in Shotokan Karate and also, 6th in Kenpo Karate and a 5th degree in Taekwondo. He is a professional fighter who fights for Chuck Norris' World Combat League. His fights have and still are appearing on TV and flood YouTube.
He is considered one of the most prolific fighters in Sports Martial Arts history. He is feared by modern martial artists and revered by past champions. A rare combination that has led him to become the champion he is.
The teenager – giving up 30 lbs. to the former police officer turned pro fighter, and with the crowd knowing he could not win and it would be crazy to enter the ring to fight – did it anyway. As expected the legend hit him within a few seconds and rattled him, but to everyone's surprise the young man came back and answered with tremendous heart and fought like he could win. He had learned from his grandfather, a legendary fighter himself, to "always fight the man not the reputation."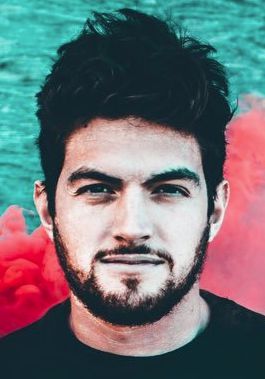 The fight was exciting as the champ bombarded the first-time fighter with some his best-known techniques and every time the kid answered back strong, hard and continuous, even scoring earned points for his aggression! At one point in the match, this kid aggressively pursued the champ with a flurry of technique, knocking him out of bounds and knocking his helmet off! The crowd was shocked and a somber, anxious hush was evident. Even the center ring judge looked at this unknown kid as if to say, "Do you know what you have just done?"
The legendary fighter both smiled and then unleashed his fury on the kid who was able to sidestep the feared aerial cartwheel ax kick!
When the fight was over the champ had won handily as expected. But what shocked everyone, including the Champ, was the skill, speed and the heart displayed by the young warrior, who never gave up.
What we later learned was several other heavyweight fighters had registered to compete, but failed to fight when they learned that Raymond Daniels had come to dominate.
Raymond was awarded the Grand Champion for being the best fighter, and once again the undefeated legend was also a real gentleman when he hugged and congratulated the young man and welcomed him to the big leagues!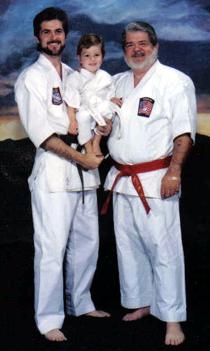 The cameras were flashing and smiles were given as the young warrior was awarded 2nd place heavyweight black belt division (as light weight). He thanked the judges. The old timer black belts, these "old war horses" – men who value and respect courage – shook his hand and patted him on the back and in doing so, maybe were seeing a little of themselves in this kid who "…came to fight."
Today, that young man lived out Coach Wooden's words, "Success is never final, failure is never fatal. It's courage that counts." I could not have been more blessed to witness this once-in-a-lifetime event. I could not be more proud to call this young man my son – the man, Shiloh Vaughn Marx.
By Victor Marx