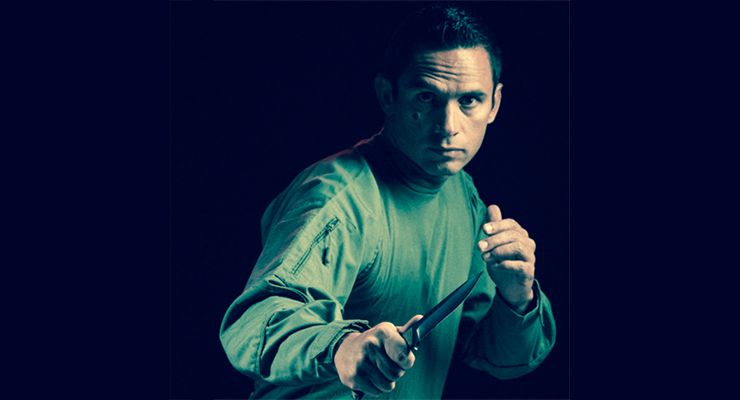 Tuhon Jared Wihongi is a full-time International Tactical Combatives or Hand-to-Hand Combat instructor, as well as a Firearms and Martial Arts Instructor and Consultant. He is known internationally as a Pekiti-Tirsia Kali instructor who specializes in complete tactical application and integration of empty-hand, edged, and impact weapons, and firearms skills in extreme close-quarters.
Martial Arts
At the age of 11 while growing up in New Zealand, Jared Wihongi began training in the Japanese martial art Shorinji Kempo, and later transitioned to boxing in his teenage years.
From 1994-1996, Jared lived in the Philippines where he was introduced to the Filipino martial arts, much known for their combat focus and emphasis on edged and impact weapon application. This became a real passion where Jared placed a lot of his physical energy, and over the years he has moved up to the rank of Tuhon in the art of Pekiti-Tirsia Kali.
A lifelong student of the combat arts, Jared Wihongi has also taken the opportunity over the years to study Brazilian Jiu-Jitsu, Muay Thai Kickboxing and the Polynesian martial arts of his native New Zealand (Mau Rakau), to name a few. While working his way through university in Hawaii, and prior to becoming a Police Officer, Jared worked as a Bouncer in a Honolulu night club. It's during this time that he started figuring out ways to make the martial arts he had been training work in this real-world and often violent environment.
Jared Wihongi is the Founder and President of the Pekiti Tirsia Tactical Association, an international martial arts organization dedicated to teaching and training the Filipino combat art of Pekiti Tirsia Kali, with an emphasis on tactical application. He spends much of his time traveling throughout the United States, Asia, Europe and South America teaching civilian martial arts seminar through this association.
He is fluent in Filipino (Tagalog), Brazilian Portuguese, and has a Bachelors Degree of Science in Business with a major in Accounting from BYU Hawaii and the University of Phoenix.
Browning Black Label
Jared Wihongi works closely with Browning Black Label to develop products that are up to the demands of Browning and meet the real-world needs of users like him.
Law Enforcement
Jared Wihongi's law enforcement background spans 15 years, and he credits this background with shaping his professional persona. His vast experience working as a SWAT Operator and Street Patrol Officer has heavily influenced his approach to developing, teaching, and applying his combatives and close-firearms programs.
Jared Wihongi began working as a Deputy Sheriff for the Salt Lake County Sheriff's Office, and then went on to work for the Salt Lake City Police and South Salt Lake Police Departments. He spent 10 years as a SWAT Operator, and worked a full-time assignment as the Head Use-of-Force Instructor in the Salt Lake City Police Academy and Training Unit. He currently serves as a Reserve Police Officer.
Jared Wihongi maintains memberships in the International Law Enforcement Educators and Trainers Association (ILEETA) and the International Association of Law Enforcement Firearms Instructors (IALEFI). He has been a guest instructor at multiple international law enforcement conferences, including the European Police Trainers Conference, International SWAT Round-Up, International Law Enforcement Educators and Trainers Association conference, and the Mock Riot.
Law Enforcement Awards & Schools include:
Graduated Top of Class "Blue Shirt" Award, Salt Lake City Police Academy
Graduated Top of Class "Jim Cawley" Award, Salt Lake City SWAT School
Graduated Top of Class, South Salt Lake Police SWAT Selection
Utah Police Officer Standards and Training (POST) Firearms (Handgun) Instructor Course
Utah POST Shotgun/ Less Lethal Munitions Instructor Course
Utah POST Carbine (Rifle) Instructor Course
Utah POST Defensive Tactics Instructor Course
Utah POST Impact Weapons Instructor Course
Deftec OC (Pepper) Spray Insructor Course
Taser Instructor Course
Monadnock Expandable Baton Advanced Instructor Course
Viking Tactics CQB/Shoothouse Instructor Course
Tony Blauer S.P.E.A.R.™ System Instructor Course
Cutting Edge Training™ Real-World Weapon Retention Instructor Course
Law Enforcement Accomplishments include:
Developed the complete Defensive Tactics program for the Salt Lake City Police Academy/ Training Unit.
Developed the CQ-FIT (Close Quarter Force Integration Tactics) portion of the Salt Lake City Police Training Unit firearms programs.
Rewrote the Utah State Peace Officer Standards and Training (POST) Impact Weapons Instructor course, and taught the Instructor Course on many occasions.
Developed the SMARTLOCK (aka CAMLOCK or EKA) International Expandable Baton Instructor program of instruction for the German company BONOWI IPE, and has taught the course on several occasions around the United States, Asia and Europe.
Some Past & Present Law Enforcement Training Clients Include:
National Tactical Officers Association (NTOA)
SWAT Roundup, Orlando FL
European Police Trainers Conference, Nuremberg, GERMANY
International Law Enforcement Educators & Trainers Association (ILEETA)
Multiple SWAT Teams throughout the USA
German tactical teams Spezial Einsatz Kommando & Mobil Einsatz Kommando (SEK & MEK), Various States GERMANY
City of Seoul SWAT Team, Seoul SOUTH KOREA
Sao Paulo Policia Civil Tactical Teams (GARRA & GOE), Sao Paulo BRAZIL
Chinese SWAT Teams: Beijing, Shanghai, Guangzhou, Shenzhen, Tianjin, Fuzhou CHINA
Manila SWAT Team, Manila PHILIPPINES
Republic of Korea Central Police Academy, ChoongJu SOUTH KOREA
German Police Academy Instructors, Various States of GERMANY
German Federal Police (Bundezpolizei), Air Marshals & GSG9 Instructors, Lubeck GERMANY
Mongolian National Police, Ulaanbaatar MONGOLIA
Philippine National Police (PNP):
National Police Academy (PNPA) Defensive Tactics Instructors
Special Action Force (SAF) Commandos
Presidential Security Group (PSG)
Crisis Response Group (CRG)
Aviation Security Group (ASG) Anti-Hijacking
Various Police Trainers in England, UNITED KINGDOM
Multiple State, local and Federal Law Enforcement Agencies throughout the USA
Police Trainers in Montreal, CANADA
Military Contracts
Jared Wihongi has developed a strong following in a number of military units primarily in the Special Operations community worldwide.
Some of the events and units Jared has provided training for include the following:
US Army Special Forces weekly Combatives and per-event contracts '05-'17
US Army Special Forces Group Training Detachment (GTD) Combatives Instructor Trainer.
US Army Special Forces Basic Combat Course (SFBCC) '05-11
US Army Special Forces Advanced Urban Combat (SFAUC) '05-11
US DOD Joint Information Operations Warfare Center (JIOWC) Sole Operator Survival Instructor (SOS) '13-17
Philippine Marine Force Reconnaissance Battalion
U.S. Army Military Police in Europe
Singapore Armed Forces Military Police
Republic of Korea individual & unit level Special Operations (including Navy SEALS, 707th Special Mission Battalion, Special Forces & Special Sea Assault Team)