Jeff Speakman got his start as an entertainer and entrepreneur early in life. Born and raised in Chicago, Illinois, he once brought down a house full of Masons by telling them a "knock-knock" joke at the ripe old age of four. In grade school it is rumored that Jeff would take the sack lunch his mother had prepared and sell or trade it to other kids for a profit. While attending John Hersey High School, Jeff achieved personal athletic success by becoming an all-American spring board diver. Jeff not only broke records in his high school's district and conference but did so without ever having a coach!
Although successful as an athlete in high school, Jeff's grades were "lacking" to say the least. Determined to go on to college, he worked to pay for his own tuition. Six years later, Jeff graduated with honors from Missouri State College earning a bachelor's degree in psychology with a minor in biology.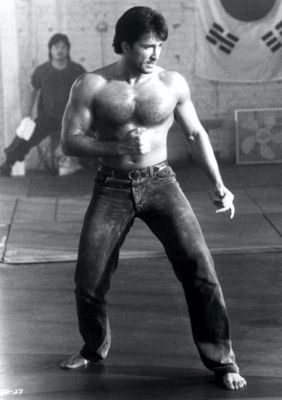 Jeff feels above all qualities, integrity and compassion are the most important to posses. Among Jeff's many passions, he is actively involved in programs to help teenagers in crisis including such organizations as The Challenge Program© and The Jeff Speakman Street Knight Foundation©.
As an internationally recognized martial arts and action film star Jeff Speakman has starred in numerous films including "The Perfect Weapon", "Street Knight", "The Expert", "Deadly Outbreak", "Escape From Atlantis", "Scorpio One", "Land of the Free", "Memorial Day" and "Running Red". Jeff confesses his start in the martial arts began by watching the television series "Kung Fu". Twenty years later with scores of awards and trophies under his belt, Jeff continues to teach and communicate to others his knowledge and interpretation of his art.
Jeff Speakman learned American Kenpo Karate under Larry Tatum. Speakman trained under Tatum from white belt to third degree black belt. Jeff Speakman holds a 7th degree Black Belt in Japanese Gojo-Ryu and a 8th degree Black Belt in American Kenpo Karate under Master John Sepulveda. He holds a 4th degree Black Belt in American Kenpo Karate under Grandmaster Ed Parker (founder of American Kenpo Karate).
He is the head and founder of the American Kenpo Karate Systems (AKKS) organization which includes over one hundred thirty schools worldwide, Jeff travels extensively around the globe teaching his Kenpo karate and spreading his message: "Lead by example, Follow by choice". Jeff also promotes the launch of his new international children's outreach program entitled "Street Knight". Tailored to meet the needs of each country and community. This program has been designed to help bring kids at risk in to the respectful and disciplined world of the martial arts.
Currently Jeff resides in Las Vegas Nevada and besides overseeing the AKKS, the largest Kenpo Karate organization in the world, he also operates the Jeff Spreakman's Kenpo Karate 5.0 franchise schools now in 20 counties. Jeff also has the Champions Foundation, a non-profit organization teaching the discipline of Kenpo Karate to underprivileged children currently in the U.S., Bolivia, Mexico, Germany, Australia and Chili.
| | |
| --- | --- |
| 1999 | Recently completed the filming of "Hot Boyz", starring opposite rap music's "Master P" and "Snoop Doggy Dog". |
| 1999 | Organized and hosted fourth annual "Jeff Speakman International Kenpo Camp" at the Stardust hotel in Las Vegas, Nevada.  June, 1999  Largest attendance to date with over five hundred martial artists from around the world. |
| 1998 | Organized and hosted third annual "Jeff Speakman International Kenpo Camp" at the Stardust hotel in Las Vegas, Nevada. July, 1998 |
| 1998 | Completed production of "Running Red", a PM Entertainment project. July, 1998 |
| 1997 | Filmed "Memorial Day", a Royal Oaks Entertainment production. November, 1997 |
| 1997 | Completed filming of "Land of the Free", costarring William Shatner. October, 1997 |
| 1997 | Organized and hosted second annual "Jeff Speakman International Kenpo Camp".  Held at the Stardust Hotel and Casino in Las Vegas, Nevada there were over 500 attendees representing seven countries worldwide. June, 1997. |
| 1997 | Filmed "Scorpio One", a Royal Oaks Entertainment production.  March, 1997 |
| 1996 | Filmed "Escape from Atlantis" an Encore channel production in Hawaii. October, 1996. |
| 1996 | Video release of "Deadly Outbreak" September, 1996 |
| 1996 | Completed filming of "Plato's Run" starring opposite Roy Scheider and Gary Busey. |
| 1995 | Inducted into the Sokeship Head of Family organization. |
| 1995 | Initiated and became head of international Kenpo organization, American Kenpo Karate Systems (AKKS). |
| 1995 | Release of "The Expert" as an HBO World Premier April, 1995. |
| 1995 | Filmed "Deadly Outbreak" in Tel Aviv, Israel. |
| 1994 | Inducted into the World Martial Arts Hall of Fame. |
| 1994 | Filmed "The Expert" in Nashville, Tennessee, USA. |
| 1993 | Inducted into the Black Belt Hall of Fame as "Instructor of the Year". |
| 1993 | "Street Knight" was released theatrically. |
| 1992 | Filmed "Street Knight" in Los Angeles, California, USA. |
| 1991 | The film "The Perfect Weapon" was released theatrically. |
| 1990 | Filmed "The Perfect Weapon" in Los Angeles, California. |
| 1989 | Signed a four picture deal with Paramount Studios. |
| 1987 | Became a protégé of Senior Grandmaster Ed Parker, at his request.  During my training with Senior Grandmaster Ed Parker, we worked intensely to bring clarity to the vision of representing Kenpo in films. |
| 1986 | Began acting training to bring Senior Grandmaster, Ed Parker's Kenpo Karate to the world, through films. |
| 1984 | Received 1st degree black belt in Kenpo Karate. Continued to each and study in West Los Angeles. |
| 1983 | Graduated with honors from Missouri Southern State College earning a Bachelor's Degree in Psychology and a minor in Biology. Moved to Los Angeles to study Kenpo Karate from Senior Grand-master, Ed Parker on Master Lou Angel's recommendation. |
| 1978 | Was introduced to 10th degree Gojo-Ryu Karate Master Lou Angel and began martial arts training under his tutelage in Joplin, Missouri. |