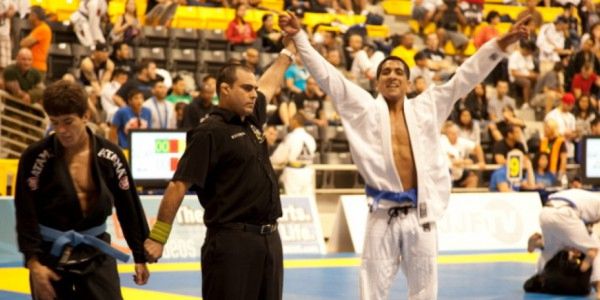 Champions are made at Jiu Jitsu Foundation La Mesa as Jesus Galvan wins silver against over seventy competitors in Brazilian Jiu Jitsu World Competition.
La Mesa, California, June 16, 2012
Competition and training proved a success for Jesus Galvan as he managed to pull in a silver medal at the World Brazilian Jiu-Jitsu Championship held recently. The event was held in California State University in Long Beach May 31-June 3, 2012. Galvan represented Jiu Jitsu Foundation's Gold Team in the Blue belt, light feather category which had 74 competitors.
Galvan has been training for four years with Master Cadu Francis, and dedicated the last six months for this competition. He won five matches (four on submission) to get to the finals and win silver.
Jiu Jitsu Foundation's students range from beginners to competitive trainees. "Brazilian Jiu Jitsu translates to "The Gentle Art" and it is where a smaller opponent can defeat a larger one. While we teach beginners the art of Brazilian Jiu-Jitsu, we also specialize in competitive training," says owner and head instructor Cadu Francis.
The Brazilian Jiu Jitsu's Championships originated in 1996 where it was held for the first time in a gymnasium in Rio de Janeiro, Brazil. Since Brazilian Jiu-Jitsu has increased in popularity the sport has gone worldwide. There are now more fans who attend the events and more athletes are entering into the ring. The last few days of the event draw in record numbers as the black belts hit the mats.
One particular championship, Mundial in 2005, 250 athletes traveled to Brazil to be a part of the tournament. Those kinds of numbers are comparable to athletes who participate in FIFA Club World Championship and the Surfing World Championship. These athletes are changing how the world relates to sports. The ancient art has now become the new pastime for sports enthusiasts.
In 2007, the World Jiu-Jitsu Championship relocated its mats on American soil. It was a record-breaking tournament with an outstanding attendance of competitors, taking the sports to brand new heights.
The Jiu Jitsu Foundation in La Mesa, California, not only teaches students a new Brazilian style of self-defense, it promotes a healthy regimented exercise routine. Students are taught to recognize the discipline and obey their master as they are taken on a history lesson dating back to as far as the 1500's. The Jiu Jitsu Foundation has helped students understand the origins and the new schooling of the sport.
"Most of our students train as a lifestyle and not necessarily to participate in competitions. No athlete can win a world title without a supportive team, and this is what sets us apart," said Cadu Francis, Owner of The Jiu Jitsu Foundation. "Our group of students is always willing to help each other as brothers,"
Producing champions is what the Martial arts school in La Mesa is all about. Galvan' success in obtaining the silver medal in last week's championship has proven that hard work and discipline taught at the Jiu Jitsu Foundation pays off.
About Jiu Jitsu Foundation
With 1050 square feet of floating mat area and padded walls, the Jiu-Jitsu Foundation is able to accommodate a sizable attendance. The school offers a 30-day free trial for anyone that wants to come and learn Jiu-Jitsu. They are open Monday to Saturday. For more information on Jiu-Jitsu classes, visit http://www.jiujitsufoundation.com