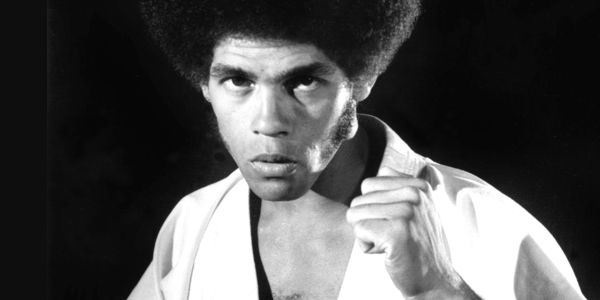 Jim Kelly was born on May 5, 1946 in Paris, Kentucky. He grew up there, but later moved to San Diego, where he developed an uncanny athletic ability in high school. He was a gifted athlete that was involved in sports such as track and field, football, and basketball. He was also voted most inspirational junior high athlete in the entire city of San Diego, and was pursuing a football career, but decided otherwise after leaving the University of Louisville as a freshman.
Shortly after leaving University of Louisville, Jim Kelly moved to Lexington where he began his study of the martial arts under acclaimed instructor of Shorin-Ryu karate, Parker Sheldon. It was that decision that would cement his star status. In 1971, Kelly proved he was an excellent fighter, by capturing the 1971 International Middleweight Karate Championship. Realizing that he had a potential career in the martial arts, Kelly opened a karate studio.
His recognition as a champion fighter gave him the opportunity to appear in a movie called "Melinda" in 1972. The part wasn't big, but it led to other offers. Six months later, Kelly was flown out to Hong Kong to showcase some of his fighting techniques to Warner Brothers. Jim Kelly had no idea he'd be getting a part in one of the biggest martial arts films in cinematic history. Kelly was asked to play 'Williams' in a movie co-starring Bruce Lee, and it was that role that brought him 'star status'. Enter the Dragon's huge popularity, largely due to Bruce Lee, showed that fans were eager to have a new kung fu hero.
In 1974 Jim Kelly made his first appearance in the lead role in the film Black Belt Jones with Robert Clause, the director of Enter the Dragon and then in 1976 he starred in The Black Samurai, directed by genre veteran Al Adamson. He went on to make several other films which include Three the Hard Way, Hot Potato and Death Dimension. Kelly retired after a string of low budget movies. His last appearance, in 1982, was in a movie called One Down, Two To Go.
More athlete than actor, Jim Kelly retired from the screen to pursue a successful career in professional tennis. Jim Kelly still got offered roles in movies, but simply says that he 'just doesn't dig the scripts'. He wouldn't have minded acting again, but he wanted the roles to be respectable. He's was very proud of the movies he made, and didn't want to spoil that image. At 58 years old, he was still considered one of the best 'ass kickers' in the history of cinema. He's made various appearances and did interviews, including at the Alamo Drafthouse. He was studying Brazilian grappling and working on developing his own style of hybrid fighting before his death.
On June 29, 2013, Jim Kelly died of cancer at his home in San Diego, California. He was only 67 years old.