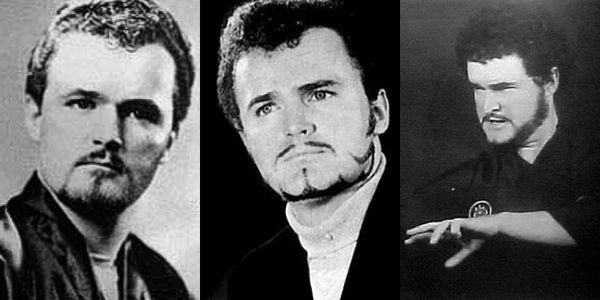 Inspired by the fact that Samurai warriors, in order to attain a sense of balance between hard and soft lifestyles, often practiced flower arranging or calligraphy, John Keehan did likewise. He artistically expressed himself as a hair stylist. He worked on some of the hair designs for Playboy models of the time and this gave rise to his flamboyant personification and helped launch him to the forefront of martial art history.
John Keehan was born on the South Side at the southwestern edge of the city of Beverly, Illinois, on February 2, 1939, and died May 25th, 1975. His unexpected death at age 34 is the cause of much deliberation. It is attributed to a perforated stomach allegedly caused by either a bleeding ulcer, toxic poisoning or "Dim Mak" poison hand technique that resulted in his untimely death. A strong indicator foul play may be the case is the fact his body is allegedly exhumed and autopsied numerous times and he is buried in an unmarked grave.
In his youth John Keehan boxed at Johnny Coulon's 63rd Street gym. After graduating from high school he joined the USMC reserves and later the US army, where he learned and taught hand-to-hand combat and jujitsu techniques. He joined the merchant marines and traveled to China where he trained under various martial arts masters. All this occurred in the 1950's during the infancy of Western interest in Asian martial arts. John Keehan's most notable instructor was Sensei Robert Trias.
It is said that Keehan's association with former Kokuryukai, Black Dragon Society members in Chicago enabled Keehan to compete in no-holds-barred, full contact Kumite matches, even called "secret death matches" in Thailand and China, were he won by killing opponent after opponent before crowds numbering in the thousands.
John Keehan was the co-founder and mid-west director of the United States Karate Association (USKA) until 1962. He resigned from the organization in 1964 due to civil rights issues with the USKA patronizing "whites only" facilities in conducting its tournaments as well as refusal to promote minorities other than Asians to rank of Black Belt. To this end, Keehan broke ranks and formed the first USA racially integrated martial art association – The World Karate Federation (NOTE: In 1990 a new World Karate Federation not associated with Keehan's was formed).
In Chicago, John Keehan co-promoted the first open to the public full-contact mixed martial arts tournament held at the University of Chicago, on July 28, 1963. Many other such tournaments were hosted by him during the 1960s, pairing practitioners of different styles against one another.
Joining Keehan was a group of promoters and together they formed the International Fighting Arts Association in cooperation with former members of the Black Dragon Society, who sponsored the event since 1905, in Manchuria, China.
During the nationwide racial strife of the 1960s, John Keehan was one of the first and few American martial art instructors to openly teach non-Asian minorities. In defiance of the racial prejudice dominating the scene thus preventing minorities from having the ability to access Asian martial arts forming an exclusive martial art clique, Keehan joined forces with like minded instructors and some of his senior students and together they established the Black Dragon Fighting Society, whose membership is open to all.
In 1967, Keehan legally changed his name to Count Juan Raphael Dante. There are two different stories as to why he changed his name. One story said that Keehan legally changed his name to Count Juan Raphael Dante simply because his parents fled Spain during the Spanish Civil War and changed their names to hide their noble heritage so they could hide in America. The other story said that he changed his name to spoof the pomp and elitism prevalent on the part of the martial art community with their oppressing minorities other than Asians. His physical appearance was obviously of Irish dissent, but Keehan would sarcastically explained (in an Irish baroque at times) the name change occurred because his parents fled Spain during the Spanish Civil War, changed their names, and obscured their noble heritage in order to effectively hide in America. All the while knowing the surname Dante is in fact of Italian origin. Keehan had taken the name (Count) Dante's from the protagonist of Dumas' 1844 The Count of Monte Cristo because Keehan saw his role as avenging the wrongs being committed against him and minorities at the height of the civil rights movement. In fact, Keehan's father was a very well known Irish Banker in Chicago. His new name made a great marketing tool as well.
It is said that he further mocked traditional martial arts lock out of minorities by promoting his alter ego Count Dante via comic book ads as the Deadliest Man Alive. One had only to mail order for his instructional booklet World's Deadliest Fighting Secrets (in which he outlined the "Dance of Death") and they also received a free Black Dragon Fighting Society membership card because all are welcome to study and feel they had a right to belong. These comic book ads account for much of Count Dante's lasting notoriety in pop culture. They read:
Yes, this is the DEADLIEST and most TERRIFYING fighting art known to man, and WITHOUT EQUAL. Its MAIMING, MUTILATING, DISFIGURING, PARALYZING and CRIPPLING techniques are known by only a few people in the world. An expert at DIM MAK could easily kill many Judo, Karate, Kung Fu, Aikido, and Gung Fu experts at one time with only finger-tip pressure using his murderous POISON HAND WEAPONS. Instructing you step by step thru each move in this manual is none other than COUNT DANTE, "THE DEADLIEST MAN WHO EVER LIVED" (THE CROWN PRINCE OF DEATH).
According to legend the death touch/ Tibetan Iron Palm strike was allegedly administered to John Keehan over his tendency to associate with well known western organized crime figures, bringing dishonor to his clan.