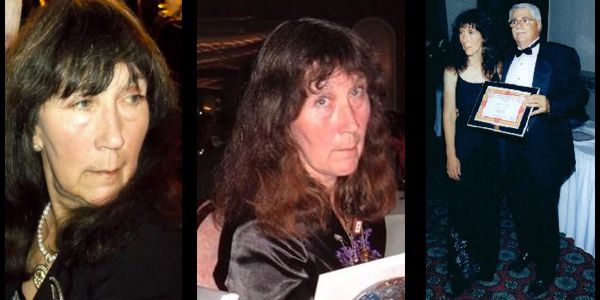 Kathi Tasetano
June 16, 1950 – March 5, 2014
Martial arts own Kathi Tasetano, who founded the World Karate Union Hall of Fame in 1996 and was its director and vice president of operations for the past 19 years, passed away suddenly on Tuesday evening, March 4, 2014. Her wonderful son Trevor wrote the following eulogy for her, and we all believe that it captures his mom, Kathi, very well. Thank you Trevor.
We are gathered here today to celebrate and honor the life of Kathi Tasetano. Kathi was a loving sister, wife, mother, aunt, and friend to all. Kathi lived her life by a set of values that were taught to her by her parents, John and Patricia Torley, at a very young age. Kathi demonstrated those values throughout her life and passed those same set of values onto her children.
Kathi was the oldest of eight siblings, Larry, Ian, Gene, Maryellen, Bruce, Laurie, and David, who she loved very much. Kathi would take care of them, feed them, play with them, invent games with them, and even keep them out of trouble.
Kathi was faithfully married to her husband, Frank, for over 37 years. While Frank worked outside the house, Kathi did all the work inside the house to hold it together. Kathi would cook, clean, do laundry, care for the pets, manage the finances, and keep herself busy by decorating. Eventually, Kathi gave birth to three children, Trevor, Caitlin and Mackenzie, with Frank, who they loved very much.
As a mother, Kathi always supported her children. Kathi knew the importance of education and made sure that they knew it to. Kathi also encouraged her children to participate in extra curricula activities, such as swimming lessons, music lessons, dance and the martial arts. Every day after school, the children would come home and have a family dinner that Kathi had prepared, and then the family would do an activity together, usually karate.
Kathi loved the martial arts and seeing her children do well with it. Kathi and Frank founded the World Karate Union together, one of the most prestigious and longest continuing martial arts organization in the world. For almost 20 years, Kathi served as the Director of the organization and with the help of the internet, brought so many people together from different countries, to share their love of the martial arts.
As an aunt, Kathi would sit around at holiday parties and share stories with her nieces and nephews about their parents growing up. Kathi would dazzle them with new stories each time, which was a testament to her attention to detail.
Kathi rarely talked about her accomplishments, but not to be confused, she accomplished a lot! After graduating high school, Kathi went on to pursue a degree in fashion and designed children's clothes in New York. Kathi's design's were featured in magazines. Kathi also went on to earn a paralegal degree. In addition, Kathi was an artist. Kathi drew, painted, and knitted many items that were given to close friends and family. Kathi often drew and painted caricatures of her siblings. Kathi sewed and designed many Halloween costumes for her children.
Kathi was an excellent writer. I remember one year, a local news station had a Valentine's Day contest, in which whoever wrote the nicest letter for their valentine, would win a diamond and sapphire ring. Kathi wanted that ring, and wrote a letter from Frank to her, and won that ring!
Kathi had friends all over the world. Kathi treated everyone with dignity and respect. Kathi would give the struggling words of encouragement, and at the same time, give those who were boastful, humbling words. Kathi helped people, not for the attention, but because she wanted to. Kathi never wanted the spotlight, often times, giving others credit for her deeds.
Kathi was a patriot and loved our country. Kathi loved the veterans that protect this country. Kathi would say that she was proud that all three of children became United States Marines. Being married to a Marine as well, Kathi would keep current on all political events that would affect her family.
Kathi loved to talk about politics. Kathi would read both sides of the arguments and make her educated decisions. Kathi would support and debate anyone who was able to have a conversation related to politics.
Kathi loved to give back to the community by supporting charity events and promoting events, specifically for Toys for Tots.
Kathi loved all her pets throughout her life, including her cockapoo, Mulan.
Christmas season was Kathi's favorite time of the year. Kathi decorated the house with several Christmas Trees and several hundred nutcrackers ranging in size from 2 inches to six feet tall. This process took over a month to complete, but Kathi did not stop there, she prepared an out of this world meal for her family, which included the spaghetti with seven fishes.
Kathi loved the world and was a dedicated Catholic, and put everyone else and their needs above her own. Kathi lived her life her way and would not have it any other way. Kathi loved everyone and we all loved her. Kathi will be missed.
Rest in Peace Kathi.