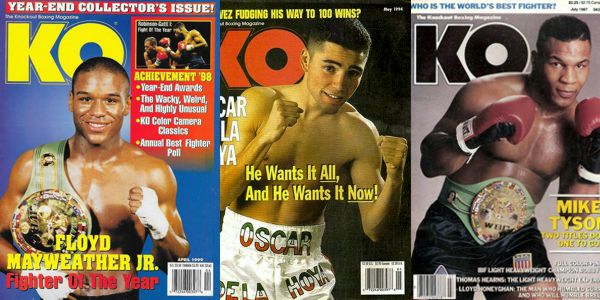 KO Magazine was an American boxing magazine, nicknamed "The Knockout Boxing Magazine". The Magazine featured a round-by-round section where the most important fights were described punch by punch. It had centerfold posters with the boxer's complete records on the back, and a question and answer interview section.
KO Magazine was meant to be a rival to The Ring and KO outsold The Ring magazine for years. Peter King was editor from KO's founding until his departure from the company in 1987.
KO Magazine was published bimonthly from 1980 to 1982, monthly from 1982 to 2000, bimonthly again from 2001 to 2003, quarterly in 2004, and three times a year from 2005 to 2007.
Sports and Entertainment Publications, the publishing arm of Oscar De La Hoya's Golden Boy Enterprises, acquired KO—along with The Ring, World Boxing and Pro Wrestling Illustrated—from Kappa Publishing Group in August 2007.
KO and World Boxing ceased publication after the acquisition, and Pro Wrestling Illustrated was sold back to Kappa in 2009. Golden Boy presently still owns The Ring.
(Web Site).