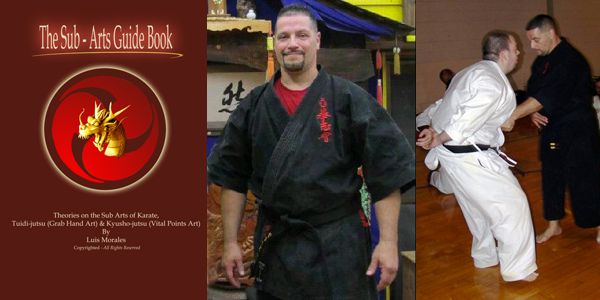 Seminar teaches power of control
Bill Walker – Owen Sounds Sun Times ~ Jason Martinko isn't too proud to admit being Luis Morales demonstration partner is a humbling experience.
While the 27-year-old Bruce Power engineer is an avid kick boxer and martial arts enthusiast, there was little he could do when Morales used a single finger to drop him to the floor.
"It really teaches you the meaning of the word pain," the Port Elgin resident said following sensei Morales' old-style Goju- Ryu Karate-Jutsu seminar.
"It's certainly not the style glamorized in Hollywood. In Hollywood, you see a lot of flashy kicks and things that wouldn't be practical on the street. This I see as readily applicable on the street, with a lot of practice."
Luis Morales was brought to Owen Sound Saturday by the Fudoshin Classical Karate Dojo for a seminar on the old-style of karate.
Okinawa is the birth place of karate. In 1905 it was introduced into the Okinawan public school system by the masters who realized its value to children. But karate in its original form didn't rely on punches and kicks as it does now.
Realizing that it was too dangerous, the masters took out the aspects which focus on pressure points (Kyusho-Jutsu) and joint locks (Tuidi-Jutsu).
American servicemen took to karate following the Second World War when they occupied Okinawa. But the masters weren't willing to give all of their ancient secrets to their occupiers, who had just dropped two atomic bombs in Japan.
That's how the current form of karate, which is mainly punching and kicking, spread to North America and grew in popularity.
Morales was quick to stress how dangerous the old-style can be if performed incorrectly.
"This is not a game … you can kill him," Morales told his students.
Morales said the old-style karate isn't about force and power. "It's small motions and relaxation and body position."
That was something which impressed Owen Sound's Kevin Machan.
"You get such results from so little movements," said Machan. "The hand techniques and how easy it is to control someone. Instead of bashing somebody around, you do one little thing and nobody is hurt. And it sure takes away your will to fight."
Morales said it would take a student about a year of serious study to become proficient in the old-style of karate.
"Some people who pick up things fast will come out (of the seminar) with a lot and others might get one or two things but they always get something."
Luis Morales gives seminars on the old-style across North America and that's how word of mouth is growing about the original form of karate.
"It gets around and people start getting hungry and it generates a lot of questions," said Morales.
Article ID# 1531078
Taken from the Owen Sounds Sun Times Newspaper Website.