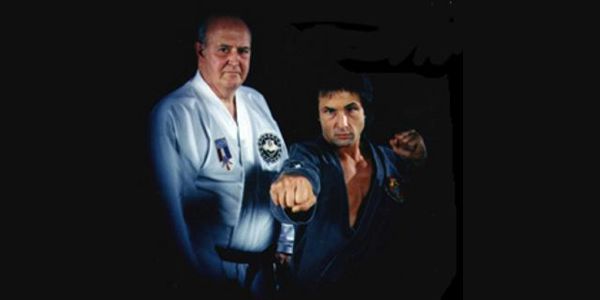 Michael DePasquale Sr. was one of the true pioneers of martial arts in the United States. He began his study of the martial arts in the 1940's under master, Jun Saito.
After serving in the U.S. Army during World War II, he returned home and resumed his pursuit of study in the arts.
Michael DePasquale Sr. was a renowned Jujutsu Master, holding the 10th Dan rank and the titles of Ni Dai, Shihan, and Professor of the Martial Arts. He was the Dai Shihan of the International Federation of Jujutsuans, which he founded in 1969 and originally called the Federation of Practicing Ju-Jitsuans.
He founded the first jujutsu dojo, Yoshitsune Dojo, in the United States which was sanctioned by the Japanese Federation. He was the American representative of the world headquarters of the Hakko Ryu Hombu in Japan.
He spoke English, and therefore was well qualified to head the demonstrations at the Japanese pavilion during the 1964 World's Fair in New York City.
Michael DePasquale, Sr. was an officer of the Long Island Railroad Police and he was one of the most decorated law enforcement officers on the East Coast. It was often his responsibility to protect civic leaders, dignitaries and celebrities. Upon retirement from law enforcement he started his own security company called International Protection Systems, Inc.
Soke DePasquale. Sr. spent much of his time traveling to cities both foreign and domestic, conducting seminars in self-defense. His student included private citizens and officers of the law. He trained them in Jujutsu and in self defense and later he helped the US government with counterterrorist and bomb deactivation training.
More than an officer of the law and a fine martial artist and instructor, Michael DePasquale, Sr. was married for 50 years to his wife, Josephine. Together they had 4 boys and he raised his children in a secure environment very different from the one he grew up in. One of his sons, Michael DePasquale, Jr., has become a respected jujutsu master, following in his father's footsteps.
On September 23, 2006 at 1:30pm, after fighting a decade of Parkinson's disease, Soke Michael DePasquale, Sr. passed away. The world lost a martial arts legend and pioneer. A loving husband, father and teacher who is sadly missed by all of us.