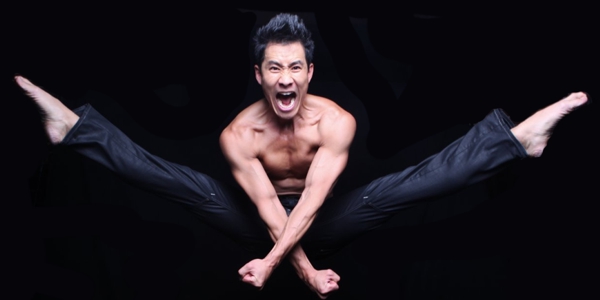 Bringing with him a new found energy, charisma, and sense of style, "Mike Chat" has taken the world by storm! Straight out of the jungles of Southern Thailand, he is known as one of the most prolific and versatile Gen-Xer's! Representing the new wave "Kung-Fu", with over 25 years of martial arts experience, he has acquired national and international acclaim for his innovative martial arts skills and performances! Combining traditional Okinawan Shorei-Ryu, Tae Kwon Do, Chinese Wushu, Kickboxing, yoga, dance, ballet, and acrobatics, Chat was inducted into the World Martial Arts Hall of Fame in 1992, and has captured over 50 National and International Forms and Weapons Championships! He is a 3-Time World Forms & Weapons Champion, and 5-Time North American Forms & Weapons Champion.
Mike Chat's (Mike Chaturantabut) popularity overseas exploded after winning a gold medal at the 1995 I.S.K.A. World Championships, and two gold medals at the 1995 W.A.K.O. World Championships in Stuttgart, Germany. Recently, Michael has appeared on covers of Europe's top martial arts magazines, Top Fighter, Karate Infight, Kick Illustrierter Kamptsport, Karate Bushido, and clinched two additional gold medals at the 1996 I.S.K.A. World Championships in forms and weapons. With crowds of 15,000 packing the house to catch a glimpse of Chat at the Budo Show '95 in Montreal, Canada, and the renowned Budo Gala '95: Next Generation in Dortmund and Munich, he returned to sell out performances in 1997. Stunning crowds at the FIBO Expo, and the Budo Gala '97: Spirit of Budo, Mike Chat captured the Forms and Weapons Championship at the 1997 Budo Open International in Essen, Germany, and was immediately picked by Sattva Music to shoot the cover of their "Spirit of Budo" CD. Michael recently debuted in Paris at the Salon de Arts Martiaux et Sports de Combat '97 where he dazzled 25,000 spectators with his super-intense, high flying, acrobatic-martial arts routines. In the spring of 1998, he returned to perform for EURO-SPORT TV with the renown Shaolin Monks at the Palais de Sports at Bercy with his top ranked competition team, Team Chat International.
These talents along with his on-screen magnetism landed him a starring role in Fox's #1 hit TV show "WMAC MASTERS", where he debuted his own character creation, Wizard. Mike Chat has gone on to win the Overall Forms & Weapons Grand Champion Title at the Arnold Schwarzeneggar Classic, and is featured on ESPN2, EURO-SPORT, Action Pay-Per-View's "Fight Zone", and The Dave Matthew's Band music video, "Satellite." In 1997, he starred in a Del Taco and Sprite commercial and can be seen in Cirrus's new music video "Back On A Mission". 1998 brought appearances on CBS's new action series Martial Law and the new Mortal Kombat Conquest Television Series, Michael was seen in HBO/Showtime's fall print campaign, two National Lamisil commercials, and the re-airing of his popular Del Taco "Kick" Commercial. Chat starred as Chad Lee the Blue Power Ranger in the Mighty Morphin Power Rangers Lightspeed Rescue Television Series which was seen on the Fox Kids Network in February 2000.
Together with his amazing wife, McKenzie Satterthwaite, they launched Team Chat Elite & International, two martial arts teams that competed and toured North America and Europe. They produced Camp Chat International '98 and '99, the most action-packed summers programs ever – combining martial arts, gymnastics, acrobatics, stunt training, and the performing arts. Together with producers Rick and Andee Nathanson they formed Pallas Management, a production/talent management company that cast the feature film, Shanghai Story for China's Academy Award nominated director, Ye Ying. Pallas then edited a documentary on Camp Chat International and developed a television series and feature film called "Kata" for Michael and McKenzie's first major motion picture starring roles. Chaturantabut Enterprises, Inc.
Mike Chat is known as the Tony Hawk of martial arts, 7-time world forms and weapons champion and former blue power ranger, mike chat is the founder of XMA, Xtreme Martial Arts.
He has over 1300 licensed facilities worldwide, and he is responsible for training over 100 world champions as well as stunt doubles for Brad Pitt, George Clooney, Matt Damon, Keanu Reeves and Hollywood superstars Taylor Launter (Twilight Saga), Jaden Smith (Karate Kid) Willow Smith and Grammy artists Usher, the Black Eyed Peas, and more.
XMA's signature moves and stunt professionals can be seen in today's hottest films like The Dark Knight Rises, X-MEN, TRON Legacy, Spiderman, GI Joe, and The Matrix Trilogy.
Mike Chat is currently developing a scripted XMA based children's television show with Emmy Award winning producer John Brenkus of Base Productions and Director Jeff Nodelman.
To contact Mike Chat and XMA World Headquarters visit their listing on the Martial Arts Schools and Businesses Directory by clicking on the image on the left.