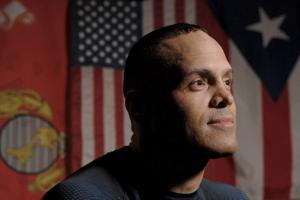 For Elias Rivera, it began in the Bronx of the 1970's. "There were a lot of gangs," he said. "But I was my own. I always hung out with the nerds." He quickly earned the reputation for being able to take care of himself and his friends — a kid whose style of self-defense was worth watching.
"I'd walk out of school and they'd say, 'Hey, we have a fight for you,'" he remembers. "It might've been in the playground across the street, could have been anybody, anywhere."
If he surmised that his opponent was just a street brawler, he'd smile.
"That's it?" he'd say. "I knew I had the fight."
Then and there, Rivera says, he "found his calling."
Like his sport, mixed martial arts, Rivera has come a long way. The combatants are far more refined, their skills more sophisticated, and at 42 Rivera is still competing. He will next take on Tim Kennedy in the International Fight League's Grand Prix at Mohegan Sun on Saturday.
"My journey is not over," said Rivera, as 10 of his students were working at his gym in Southington.
This event, in which five championship belts will be decided, is expected to sell out the Mohegan Sun Arena, at prices ranging from $65 to $250.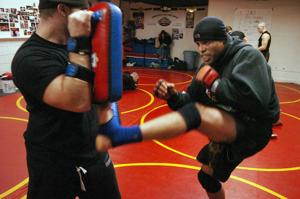 Over the last decade or so, ultimate fighting, or mixed martial arts — which combines the skills of judo, boxing, karate, Muay Thai, kickboxing, tae kwon do, jujitsu and wrestling — has become one of the most popular sports on the landscape. Though some still perceive it as a street fight, an appeal to the basest of instincts, it is in fact a sport that requires varied skills, intense training and the ability to adjust tactics quickly.
"You know, [the majority] of fighters in the [Ultimate Fighting Championship] have college degrees," says Andrew Calandrelli, an Albertus Magnus grad who owns a gym in North Haven and is training for what he hopes will be a breakthrough fight in Massachusetts next month. "You don't have to throw a punch to win a fight."
Last month, a 35-year-old fighter, Sam Vazquez, died of a stroke after being injured in a sanctioned fight, the first known fatality in mixed martial arts. Serious injuries, Calandrelli and Rivera say, are rare. Calandrelli says the most serious injury he has ever had from ultimate fighting is a cut above his eyebrow. Rivera has had a broken nose. Boxing incurs more blows to the head.
"People still don't understand it," said Bas Rutten, one of ultimate fighting's pioneers and biggest names. "They refer to it as 'cage fighting.' They shouldn't call it that. It shouldn't be marketed that way."
Rivera and Calandrelli, who won't give his age, hooked onto the sport in the early to mid-1990s, a time when Rutten was fighting seriously.
"I remember after a fight in Japan I was walking down a street and people were mobbing me," Rutten said. "I said in seven or eight years, this is going to be the biggest thing. I was off by about four years."
In 2005, "The Ultimate Fighter" reality show on Spike TV helped popularize the sport, humanizing participants and creating a greater understanding of what's involved.
"It's not a fad, it's here to stay," said Josh Gross, executive editor of Sherdog.com, a mixed martial arts website that draws 2 million visitors a month. "The reality show changed everything. … I think the perception issues the sport had are past now."
The sport draws a variety of athletes. Many are former high school or college wrestlers, some make the transition from boxing, others from the martial arts.
"Brazilian jujitsu is fun and it's the best kind of self-defense there us," Calandrelli said. "A lot of people get hooked on that."
Calandrelli trains six days a week, twice a week in New York at the Renzo Gracie Academy, run by one of the best-known names in the sport. He also spars at Ring One in New Haven to sharpen his boxing skills. This week, he went three three-minute rounds with Ricky Dawson, an up-and-coming boxer there.
"I just want one fight in the UFC," said Calandrelli, who hopes fights with UFC veterans will get him that chance.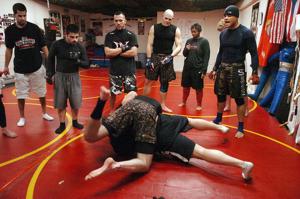 At local shows, fighters can earn from $1,000 to $10,000. A major event, such as in the UFC, would pay several times that.
Early influences on Rivera were Bruce Lee and Randy Couture, an early ultimate fighting star.
"Bruce Lee did not have a closed mind," Rivera said. "He didn't say, 'This is my style, this is the right way to do it.' He was open to new styles all the time. In a way he was one of the first mixed martial artists."
As Rivera arrived at his gym one evening last week, his students were already hard at work for assistant coach Frank Latina. Among the drills: leaning over a medicine ball and hitting it with the elbows, clasping an opponent's neck and lifting the knees up toward his chest, and common wrestling moves. "I think wrestling has found a home here," Latina said.
"We don't train fighters so they can then go fight on the street," said Rivera, who also works at a local furniture store. "They have to have the discipline."
As in all sports, the competitor's heart and determination are big factors that cannot be quantified. Because there are so many skills involved, it is almost impossible to predict how a match will go. When a fighter is taken down, it could actually play to his strengths.
"A lot of guys are strong and quick and they're great boxers," Calandrelli said, "but they could lose because they have no 'ground game.' Anybody can beat anyone on a given day."
Said Rivera, "In boxing, when you're taken down, they stop the fight. Or if fighters tie up, they break it up. Here, no matter what position you're in, there is always a way to get out of it."
Adds Rutten: "A lot of fans still don't understand it. When fighters go down, they boo."
Many see ultimate fighting as a replacement for boxing, but those involved believe there is room for both. The key will be for ultimate fighting to avoid boxing's biggest mistake; the more competing organizations there are, the less chance of presenting the fights that people most want to see.
Inclusion in the Olympics is an ultimate goal for ultimate fighters. Rutten notes that a pankration, a form of mixed martial arts, was a popular event in the earliest Olympiads. Historians trace its Olympic origins as far back as 648 B.C.
"Wouldn't that be something?" Rutten said. "To bring back a sport from the first Olympics?"
Contact Dom Amore at damore@courant.com