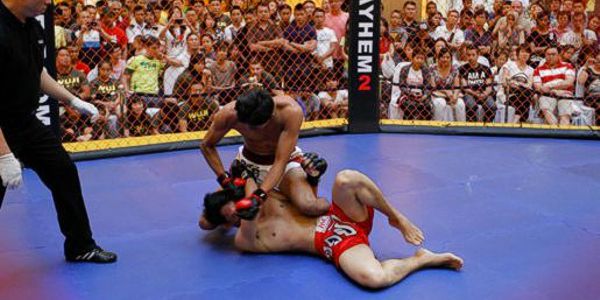 The bell rings, and Malaysian national san da team member Raymond Tiew flies out of his corner, ready to do battle. His opponent, Kong Ravy is a Khmer Bokator fighter, probably the first Cambodian to ever fight in Malaysia. Ravy throws a flying knee technique, better than any Tony Jaa movie, because it was real. The knee lands with enough force to knock Raymond out, but years of fight training have given the young Malaysian just enough instinct to slip about half the force of the blow. He is hurt, but he remains standing. Ravy delivers a shin kick to Raymond's thigh with such force, that Raymond still bears the black-and-blue marks a month later.
San da fighters are experts at grabbing kicks. Eventually, Raymond plucks one of Ravy's kicks right out of the air, and takes Ravy to the ground. He pounds Ravy on the ground right up until the bell sounds. Raymond was declared the winner, but every spectator understood that there were two winners in that fight, and any clean fight.
Fighting in a cage or in a competition you are not fighting your opponent. There is no anger. At the end of the day, you are fighting yourself. You are fighting to overcome your own fears and deficiencies and to test your skills. Seen from that point of view, your opponent is your helper, not your adversary.
A steel cage in a shopping mall is not exactly a scene from ancient Rome but like the gladiators of olden times, 64 MMA fighters met at Sunway Pyramid on September 11, to fight in Malaysia's first, large-scale MMA tournament, Mayhem II, sponsored by Muayfit of Petaling Jaya. During the course of the twelve-hour event, thousands of spectators stopped by to watch. A month later, on October 15, the cage was set up in Overtime Bistro in Mont Kiara. This time the Muayfit event was called Fight Night I. Twelve pairs of fighters fought their hearts out to the shouts of encouragement from a young, upwardly mobile crowd.
Talking to the fighters and fans it seems that MMA in Malaysia is the sport of the young, a new generation, fluent in English, internet savvy, and open to people of all races, colors, and religions. Living out the spirit of Satu Malaysia (One Malaysia). Among the fighters and fans at both events were Malays, Chinese, Indians, Sikhs, and foreigners who live in Malaysia. There were fighters from US, UK, Pakistan, Kazakistan, Uzbekistan, Sudan, Turkmenistan, and three Cambodians from my Bokator Academy in Phnom Penh.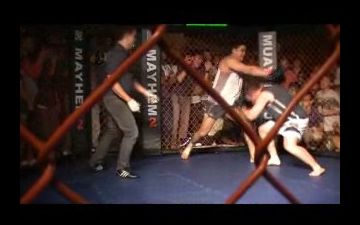 One of the most popular fighters on the burgeoning Malaysian MMA circuit is twenty-year old Allamurad, from Turkmenistan. He was the overall winner in both Mayhem I and Mayhem II and also won his fight at Fight Night I. With a record of nine wins and zero losses, he is now the most experienced and most successful MMA fighter on the new circuit.
Allamurad came to Malaysia to complete his university studies, now because of the opportunities afforded him by Muayfit events, he has also begun his career as an MMA fighter, the completion of a life-long dream.
"I like MMA better than muay Thai because I can use my wrestling skills." Says Allamurad. "I also like being in Malaysia, so fun! I have a lot of friends here." Malaysia has given Allamurad chances that his home country couldn't have. "In my country maybe I could be competing in sambo (Russian submission wrestling) but MMA is difficult to find fights."
I told Allamurad, Turkmenistan people have a reputation for being tough. He just laughed. "People in my country are really tough." His laugh basically said, "Hit me with a table. I don't care."
"But now in Malaysia the people are getting tougher." He continued. "From Mayhem I, to Mayhem II, to Fight Night I, the level has increased a lot."
Mayhem III (Scheduled for February, 2012) will in addition to amateur and semi-pro, include a professional division.
As testament to how much the level has increased in just a few months, Allamurad said, "The Mayhem I runner up got knocked out in Fight Night." To be the runner up in Mayhem I meant this guy had won four fights in a single day. Now, he was knocked out. "The level is going up, and new guys are coming in."
I also fight on the circuit. In Mayhem II I had one win and one loss. I won my fight in Fight Night I. Training and fighting in Malaysia has allowed me to make a lot of friends and meet a lot of bright, optimistic young people who give me hope about the future of Malaysia.
So far, the experience of training and fighting MMA has only been positive. There seems to be no bad blood between fighters or rivalries between gyms. Everyone knows each other and helps each other. The organizers have also worked hard to keep gambling out.
Paul Teo, owner of Muayfit and promoter of Mayhem and Fight Night said, "I like MMA Malaysia because it brings together all the races. It fosters unity, bridging racial and religious gaps."
One of the disadvantages to training in Malaysia is that we don't yet have a solid MMA gym. So, people like Allamurad, Ryamond and I train at two or three gyms to cover all of the skills necessary for MMA, namely Muay Thai, boxing, grappling, Brazilian Jiu Jitsu, San Da, and conditioning.
I originally met Allamurad at Alex's Boxing gym and later at Muayfit. But we both also follow our separate training circuits at various gyms which help us with MMA training.
"I currently train with Muayfit MMA coach Peter Davis and BJJ coach Samir from France." Said Allamurad.
Raymond trains primarily at the Shaolin Goh Chor, Five Ancestors san da club, in Puchong, with his Sifu Alex Loh. He also trains with Allamurad at Peter Davis MMA gym and at Muayfit.
I train primarily with the Combat Wing Chun MMA team in Kota Damansara, and fight for them in competitions (unless the Khmer fighters are here, then I fight for Team Cambodia). But I also train at Muayfit. Allamurad and I both visit Raymond and train with him at the san da club from time to time.
"We don't have a real MMA center yet. We also don't have a good MMA instructor or trainer yet." said Raymond. What he meant was that in other countries, you would try and get all of your training under a single roof and with all of the trainers coordinating with each other. My boxing coach, for example, is still Paddy Carson, at Paddy's Fight Club, and I train with him once a month or so, when I am in Phnom Penh. Has no contact with my other trainers. The same is true so far for most of the trainers in Malaysia, while the athletes train at two or three gyms, the Sifus don't get to meet each other so much, because they are too busy training people.
All of this moving around may keep the overall fighting level lower, but it has done wonders for friendship and social interaction between fighters. When the fights are on you never know who to cheer for because we all know each other and have trained together at the same gyms. And of course, going from gym to gym, reshuffling students and masters has made race mixing inevitable, which is really a blessing. Malay, Chinese, and Indians are working together. And for us foreigners, there is probably no other sport or activity in Malaysia where we can participate as full members.
Sam Chan, a very popular MMA fighter on our burgeoning circuit, won his Fight Night fight in ten seconds. Sam said, "I like Malaysian MMA because we can all have a chance to fight like UFC. If we build up Malaysian MMA it could actually attract more fighters from other countries to fight, which would build up Malaysia's name."
"Another problem with training in Malaysia is we don't have full equipment for stamina training. In America or Singapore they have every piece of equipment to train every part of the body." Continued Raymond.
When MMA first started, with the Ultimate Fighting Championships (UFC) in USA in 1993, it really was a contest between different martial arts. The point of the event was to test if judo could beat karate, or kung fu could beat boxing. The sport quickly developed, however and the bulk of the fighters adopted a very similar MMA style of fighting, which was a combination of Brazilian Jiu Jitsu and Muay Thai. Critics of the sport have complained that the word "mixed" should be taken from the title because everyone fights the same.
As Raymond pointed out, "In Malaysia we are still in the mixed martial arts but the standard is not high enough to go for international competition."
In many of the fights in Malaysia you can still see distinct martial arts styles.
"I think in America is boxing style but here is silat style, muay Thai, wing chun, Shaolin," agreed Allamurad.
Yeow Chet, former professional Muay Thai fighter with over 90 fights and one of the few Malaysians to ever fight professional MMA in Europe is working as a coach, to help the sport develop in Malaysia. "MMA has just been newly introduced into Malaysia within these few months. Surprisingly there're so many people in Malaysia interested in this sport, despite the lack of exposure to it other than the INTERNET(YOUTUBE). It is rapidly growing. More and more gyms are slowly converting into MMA gyms. I'm happy to see that there're people who strongly support this game financially and physically ( fighters/ Contestants ) (promoters and sponsors), MMA fighter Keanu Subba, half Nepali and half Chinese, born in USA has lived nearly his whole life in Malaysia. I think that the sport is still in its infant stages here in Malaysia, but in time as more people start to watch and understand the sport it will grow and hopefully we will see some talent come."
MMA fan Eulver Raymund Tan Presto pointed out that not everyone in Malaysia is excited about the MMA boom. "It's something new to them. Some old generation Malaysians may not like it."
One of my sponsors, a Malay business man, said to me, "This is not martial arts. This is gusti (wrestling). I prefer to see boxing, much more exciting."
A Malay Silat Guru told me, "This is not free fighting. It is wrestling with boxing." The Guru and some older Malays were concerned that people would get angry at the fights and want to fight in the parking lot or get revenge later.
Luckily, until now, everyone seems to be treating MMA Malaysia as a community.
"So far, the youngsters portray excellent sportsmanship which is good for the MMA sport here to blossom and at the same time building a strong relationship between each and every single training center." Said Yeow Chet.
What is the future of MMA in Malaysia? I personally hope it will grow and grow. Yeow Chet is probably the fighter with most overseas experience, and this was his message to the Malaysia MMA community.
"I sincerely hope that Malaysian MMA scene would continue to grow as there is much room for improvement. Malaysians have yet to experience what the real professional MMA scene is. It's been long on going in the United Stated etc. As an ex professional MMA fighter, I would hope to see Malaysians going out to the international scene and also for overseas fighters to come fight in our local league. In fact we have quite a few local Malaysians who fought overseas without us knowing, due to the lack of publicity 5 to 6 years back."
"Lastly, Malaysian young fighters should remain humble, as they are still new. Always remember the saying "there's always a mountain higher" meaning there's always a better fighter outside. You can't beat everyone in this world. We're still in the amateur ground compared to overseas. SO TRAIN HARD, FIGHT HARD AND REMOVE ALL EGOS TO PROGRESS FURTHER!"
Antonio Graceffo is self-funded and needs donation to continue his writing and video work. To support the project you can donate through the paypal link on his website, www.speakingadventure.com
Brooklyn Monk, Antonio Graceffo is a martial arts and adventure author living in Asia. He writes for WorldWideDojo.com and USAdojo.com. He is the author of the books, "Warrior Odyssey" and "The Monk from Brooklyn." He is also the host of the web TV show, "Martial Arts Odyssey," which traces his ongoing journey through Asia, learning martial arts in various countries.
Warrior Odyssey, the book chronicling Antonio Graceffo's first six years in Asia is available at amazon.com. The book contains stories about the war in Burma and the Shan State Army. Warrior Odyssey "is available" on Amazon.com
Website
www.speakingadventure.com
Twitter
http://twitter.com/Brooklynmonk
Facebook
Brooklyn Monk
Brooklyn Monk on YOUTUBE
http://www.youtube.com/user/brooklynmonk1
Brooklyn Monk in 3D
Brooklyn Monk in Asia Podcast (anti-travel humor)
https://www.podomatic.com/podcasts/brooklynmonk