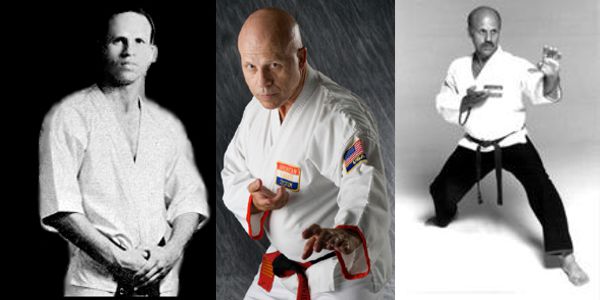 I first met Ernie Lieb at a karate tournament in South Bend, Indiana in November of 1972.  His easygoing personality and obvious love for the arts were readily apparent.  I'd already been studying the martial arts for nearly 13 years. I had attained my 1st Dan in Chung Do Kwan while stationed in Texas, and my 2nd Dan in Tang Soo Do Moo Duk Kwan during an assignment in Spain. Upon returning to the States in October of 1970 I began training again with my original instructor, whose teacher had joined him from Korea. I enjoyed the training but was disenchanted because Mr. Kim wanted me to learn a new set of Hyungs (kata) in order to prepare for testing to 3rd Dan. Having already learned one set for 1st Dan, and another for 2nd, I was not the least bit thrilled with the proposition of having to learn a third set for my next rank.
In the process of talking with Mr. Lieb I learned the kata he used in his system were virtually the same ones I had originally learned while working towards my 1st Dan. I also learned Ernie was somewhat of a legend in the martial arts community as one of the best fighters in the States.  He was undefeated as a middleweight. Add to that he was the first non-Korean to win a national championship in Korea, and you get the picture. The following year Black Belt Magazine named him Man of the Year. With all of his greatness, skills and abilities, Ernie was as down to earth as anyone I have ever met. To me this was even more impressive since a great many of the top competitors carried around quite an ego with them.  That wasn't the case with this immigrant from Germany.
Ernest Lieb was born in Berlin Germany on April 14, 1940. This was the time in history when Hitler's forces were dominating the European landscape with an ease many thought impossible. His Father worked as a policeman during the war, though his profession was that of a painter. His mother worked as a hat maker and cook. The Lieb's ancestors were feared land barons during the 16th Century in Germany. With the end of the war and the occupation of Berlin by the Allies, Ernie's older brother Herbert took many chances risking his life and safety to steal food for the family. The hardships that resulted during the post war years resulted in the realization the Lieb family needed to seek a better life elsewhere.
The Liebs came to the United States in 1952, eventually settling in Muskegon, Michigan in 1956. It was during this time frame Ernie began the fulfillment of a lifelong dream to study the martial arts. Though this was the beginning of his career in the martial arts, no one knew the heights his skills would take him in the years to come.
My initial experiences during brief visits to Muskegon for training with Mr. Lieb after becoming a member in 1973 were of an amazing teacher. Ernie's patience with students of all levels, and his ability to explain how techniques were accomplished, drew hopeful trainees from all parts of western Michigan. He demonstrated a loyalty to his student and friends few could fault.
I relocated from South Bend, Indiana, to southern Texas where my wife Janie was from.  There I began my undergraduate studies in Criminal Justice, worked fulltime as a police officer, and continued training and teaching karate. I stayed in touch with my teacher and mentor in Michigan, visiting whenever time and money permitted. I continued to increase in rank within the American Karate System (AKS) and to promote the style wherever I was.  This included Germany and England once I graduated from the University of Texas – Pan American and was commissioned a second Lieutenant in the Air Force.  During my second tour to Germany I enlisted the assistance of my number one student Rob Debelak.  Rob had taken over the karate club I had started in northern Germany, eventually marrying one of my original German students. When I explained to Rob my plans about running two tournaments at his location in the Hessisch-Oldendorf area, and a third at my base in Weisbaden in order to raise enough money to bring Ernie to Germany, he was on board and immediately enthusiastic about the endeavor.  This started upon my return to Germany in December of 1985 from where I had been stationed in England.
My desire to make this happen for my friend and teacher was simple. Over the years he had been more interested in training me and ensuring I improved and continued to rise in the ranks of the AKS.  He didn't ask for money. He only asked for dedication, loyalty and sincerity. If Rob and I were able to pull this off it would have enabled me to return a small part of what he'd given me over the previous 14 years.
By the summer of 1987 we had accomplished running the two tournaments at Rob's location and purchased the tickets to bring Mr. Lieb back to his homeland. I picked him up at the Frankfurt airport in November and we drove to Berlin to visit his family.  Though a stranger to them, I was treated like a long lost relative. For Ernie it had been some 35 years since he had left war torn Berlin with his family.  He was returning as a pioneer in American Karate with a legacy few of us had yet to come to appreciate.
Over the years Ernie went through highs and lows both in the martial arts and in his personal life; as many of us do. Though he might have been down because of an issue or problem involving his beloved AKS, he didn't stay there long. I sometimes ask myself what it was that motivated so many of us to do what we did. Why did we become and remain members of the AKS?  Why did we labor in our training efforts and sweat through hours of testing for rank in this organization? For those of us who've been around a while the answer is summed up in a name – Ernie Lieb. Throughout the thirty-four years I knew and studied under Ernie I knew a passionate martial artist, as well as a dedicated friend.  His abilities as a fighter were legendary and instilled the desire in others to learn.  He earned the respect of other martial artists because of his passion and skill that help to establish our respected organization. Yet with all of his greatness he was a down to earth man who relished being in a karate Gi and teaching the least of us.  He was never overbearing and always ready with a joke. These are the memories I cherish about my friend and teacher.
On the afternoon of October 4th, 2006 (my 59th birthday), I gave the following eulogy representing the entire membership of the AKS.
Good Afternoon,
My name is Mike Sullenger. For the past several years I've had the good fortune to be one of Ernie's assistant chief instructors. He was my teacher, my mentor, and my friend for more than 33 years. Though my heart is heavy with his lose, I want to celebrate his life and what he gave to us. To some it was his friendship. To others it was knowledge and skill in the martial arts. Each of us has a story we could tell of this man who touched our hearts in so many ways.
Since his passing I have received countless e-mail and phone calls from people I've never met who knew of Ernie and what he gave the martial arts world. I think its sad we sometimes don't realize the greatness of the person until they're gone. To the martial arts world he was much more.
Ernie was a true pioneer in the martial arts. He used the word "american' in front of ji do kwan during a time when doing so brought you grief from others who thought it was blasphemy. Today you can hardly open a phone book in many cities without finding some instructor advertising his "american" such and such style of martial arts. I wonder how many of these people know it was ernie who paved the way? He started an organization in 1964 to bring martial artists together to share and learn from one another, instead of senseless fighting to prove who's style was best. The american karate association lives on today fulfilling that part of his dream. In august of 1973 myself along with twelve other head instructors joined with Ernie to form the american karate system at our first summer camp.
Those who met him when he was competing came away with a profound sence of his mastery of the arts. One friend of mine who was stationed with me in germany had seen ernie compete at a george mattheson tournement in boston in november of 1966. He told me ernie got into the finals and stepped into the ring with their east coast champion julio lassalle. Everyone expected ernie – the smaller guy- would be vanquished in no time. To their collective amazement he beat lassalle 3 to 0 in less than half a minute. My friend dom maldonoado said he "caught the eye of the man who'd just scored on lassalle. In that instant I knew I was fortunate enough to be in the presence of a truly great master."
My years with Ernie were always from afar. As a member of the air force I was never close by. Yet we were always in touch with each other. Since retiring in june of 1993 I have endeavored to work with Ernie to continue building his dream. The aks today is taught on two continents. Thanks to the help of my senior student Rob Debelak we were able to sow the seeds that established the AKS in Germany more than two decades ago. With god's help and that of my fellow aks brothers and sisters I will continue to keep his dream and legacy alive.
Had I not written the above comments down to read them, I would not have been able to get through that service without breaking down into tears.  For those of you interested in learning more about the founder of the AKS and one of America's true martial arts pioneers, I invite you to visit the AKS web site at American Karate System.  I'm also honored to be able to say the senior black belts of the AKS have been united in our collective desires to ensure Mr. Lieb's dream and legacy live on.
Respectively yours in Budo,
Mike Sullenger, 9th Dan
AKS Chief Instructor