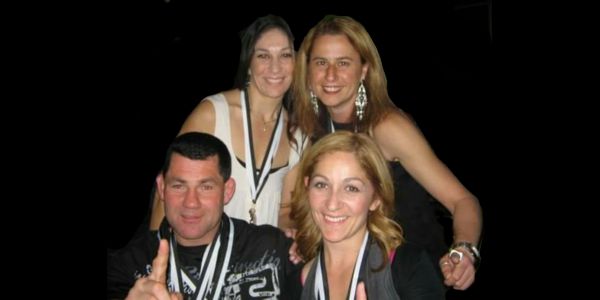 By Vickie Simos ~ I was in need of some perspective after a somewhat mundane and routine existence, so I decided to give up my job and head overseas for a training holiday.
After being involved in the Martial Arts for almost half my life, I wanted to see what the other Martial Schools were like, and to see if they were teaching martial arts in the same way as how I was taught.
And to see if there were there other styles that I wanted to learn as well?
In preparation for a journey like this there is an unwritten law stating that you must first get permission from your Sensei or Master to visit the other schools, in my case it was Grand Master Vince Palumbo, because he is my instructor.
Secondly, even though you receive the nod from your instructor, you must also gain approval from the other Senseis or Masters that you would like to train with.
And once this is all done, then the sky is the limit!
My adventure began last year November 20th, 2008 with Grand Master Vince Palumbo and Professor Leo Arruda who travelled with Grand Master Christopher Nasilowski to Cebu City in the Philippines.
So I traveled with these gentlemen to Cebu, and we trained with the legendary man of stickfighting in the Philippines named Supreme Grand Master Cacoy Canete 12th Dan.
While they trained in Cebu for 5 days, I was blessed to stay an extra 4 days after they had left back for Australia.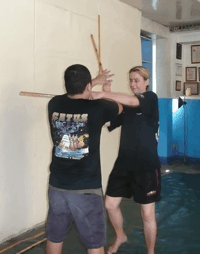 Now for those who don't know about the art of Cacoy Doce Pares Eskrima, it is the leading stickfighting art in Cebu City of the Philippines, and this style was born as the brain child of Supreme Grand Master Ciriaco Cacoy Canete.
There are three ways you can practice this art, one is in the combative form such as an effective system for self defence, and the other is in its pure martial art form, and then finally there is the sport form which is called 'Filipino Full Contact Stickfighting'.
All three versions are very effective in their own right!
So for 9 days morning and night, I had the opportunity to train and learn from the best in their field, and all my training was done under the watchful eye of SGM Cacoy Canete.
What an experience!!
And to make it more memorable, the Supreme Grand Master invited me into his home after training, and he treated me as if I was part of the family while we sat and ate dinner together.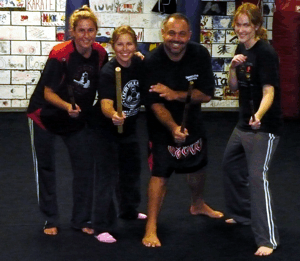 The next part of my journey took me to Los Angeles where I had the opportunity to train with Master Dino Haynes at his school "Warriors Heart Karate Academy".
This school teaches everything from Karate to Kickboxing, and it pulls no punches, in fact I found very many comparisons between Grand Master Vince Palumbo and the Chief Instructor Master Haynes's teaching styles. Not only did I get to participate with the training, but I also got to teach, so I am very thankful to him and his students for being open to the experience of exchanging knowledge.
However short a visit, I also had the opportunity to visit the "House of Champions" in Van Nuys, and I trained with the founder Shihan Mark Parra.
While I did not get to train there as much as I would have liked to, I must say that this school is very important because it has a connection to the school where I train back in South Australia called the "International Combative Martial Arts Academy". This is Grand Master Vince Palumbo's Academy!
I went from Los Angeles to New York, but I did not get too much training in the martial arts while I was there, although I did train in a fitness gym while I was there, and they even asked me to teach a boxing class there too.
So it really was a great experience nonetheless, spending most of my training time at "Sunrise Gym" which is about an 1 hour out of New York City, and I was fortunate to train with Rosetta Mortati – Body Builder, Actress, Photographer.
I was lucky because everything you learn with fitness drills can be useful, especially as a Personal Trainer, so all of these experiences should not be taken for granted.
After a 19 hour flight I had reached my next destination was the beautiful Christchurch in New Zealand, and thanks to Master Leigh Jenkins and his students who went above and beyond to make sure that I had a good time with quality training, it was another very good experience.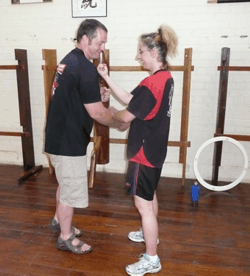 The "NZ Wing Chun School" run by Master Leigh Jenkins or MJ as we mutually decided to call him, because he thought Master made him sound too old, and he is the leading instructor at that Wing Chun School.
While the primary focus at the school is Wing Chun Kung Fu, Master Leigh also has a Master level in Cacoy Doce Pares Eskrima, so we were both able to exchange some
knowledge with eachother…don't know how helpful I was though??
Last but certainly not least, my final destination took me to Wollongong in the state of New South Wales which is in Australia, and this is also where you'll find the very famous "Reflex Martial Arts Centre" owned by the very energetic husband and wife team Master Dominic Lavalle and Master Rosanna Lavalle.
Both have competed in Kickboxing and boxing tournaments and therefore understand the training required for this type of competition.
The kind of classes you would find at this school is Boxing, Kickboxing, Jiu Jitsu,
Women's Kick Boxing, Stickfighting, Combative Classes, and Kids classes.
The difference however compared to other schools is the fact that a lot of these classes are taught by a female, which ultimately brings a whole new element to Martial Arts.
So for those females who feel intimated, have low self confidence or low self esteem do yourself a favour try it out you have nothing to lose but everything to gain.
Unfortunately this is where my journey ended and I have to say that I learned so many valuable lessons, not only in the way of Martial Arts, but with the meeting new people, making good friends, and learning how to run a successful martial arts business.
However don't be misled, this all comes from hard work, dedication and persistence, which are the key ingredients required in making the above named Masters the people they are today, true champions!
So in conclusion I'd like to give thanks to Superior Grand Master Cacoy Canete, Master Dino Haynes, Rosetta Mortati, Master Leigh Jenkins, and to the two very nice people by the name of Master Dominic and Master Rosanna Lavalle.
And last but certainly not least, Grand Master Vince Palumbo, who without, none of this trip would have been possible.
Regards from Sempai Vickie Simos (Australia)