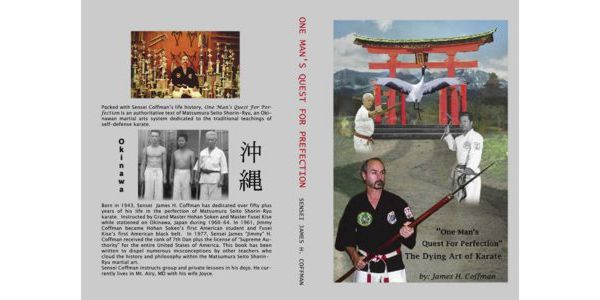 "The way you train, the way you will carry yourself in a fight. If you don't experience pain in your training nor deliver pain to your opponent, you will never learn the True Essence of Martial Arts". This book by Kyoshi James Coffman is a "Must Read".
Packed with Sensei Coffman's life history, One Man's Quest for Perfection – The Dying Art of Karate is an authoritative text of Matsumura Seito Shorin-Ryu, and Okinawan martial arts system dedicated to the traditional teachings of self-defense karate.
Born in 1943, Sensei James H. Coffman has dedicated over fifty plus years of his life in the perfection of Matsumura Seito Shorin-Ryu karate. Instructed by Grand Master Hohan Soken and Master Fusei Kise while stationed on Okinawa, Japan during 1960-64. In 1961, Jimmy Coffman received the rank of 7th Dan plus the license of "Supreme Authority" for the entire United States of America. This book has been written to dispel numerous misconceptions by other teachers who cloud the history and philosophy within the Matsumura Seito Shorin-Ryu martial art.
Sensei Coffman instructs group and private lessons in his dojo. He currently lives in Mt. Airy, MD with his wife Joyce.
Whether you are interested in who he is or how he earned his coveted master level, this book and DVD provide the answers and a visual "experience" with Sensei Coffman that others only dream of! Don't believe me? Listen to the experts and others who are enjoying this book:
"Okinawan Martial Art history and culture is in danger of being lost forever, says Kyoshi James Coffman in his fascinating historical new book, "One Man's Quest for Perfection": The Dying Art of Karate. This soon-to-be MA Classic is a must reading for every Okinanwan stylist regardless of rank who's passionate about preserving the "Old Ways" of Karate-do as taught on Okinawa.
Coffman's authoritative masterpiece is about his life story (50+ years) on being the first American student (1961) of the late Grand Master Hohan Soken's Matsumura Seito system of Shorin-ryu karate.
Coffman, Senei shares his philosophy, vast how-to techniques/knowledge and actual history while studying on Okinawa with the Grandmaster and his number one disciple.
This book belongs in every Okinawan stylist's Martial Arts Library."
Andrew S. Linick, Ph.D., Hanshi, 10th Dan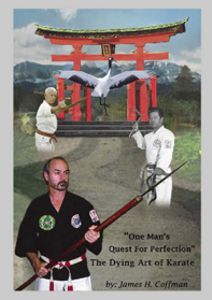 You know, I don't recommend very many books—maybe this is my third? I met this Sensei in the 60's & 70's a couple of times. I doubt he even would know me if he fell over me and that okay. Sensei Coffman studied the Old Way of Shorinji-Ryu. We had different instructors, and we both studied with Kise Sensei.
It comes with a DVD, that ws very good, and I have read 5 chapters. It is one of those books that you don't want to put down. I would say, not reading any more than I have—it is worth the money.
Rev. Dr. Ken, Jesus is my Lord, Ask Jesus to save you!
To my very dear friend Jimmy,
It was so refreshing to talk to you again after so long. I welcomed your letter and I can't help but reminisced the old days in Okie. You're so right about karate being so weak today. I know that your karate is evolving and is better than all those in Okinawa after visiting there last year. You were and always will be the epitome of a true karate sensei. Keep it up.
With affection, gratitude and high esteem,
Your good friend, Roy Suenaka 5/25/99, Chas. S.C.
To Jim Coffman, Kyoshi,
Extraordinary martial artist and friend-
Don't let the flame die.
Highest regards, Bill Hayes
Sensei Coffman,
Your book arrived this morning and I thoroughly enjoyed reading it and watching the enclosed video. I know that I will be re-reading it several more times before too long; restudying the video, too. Smaller than a flea in karate, I can nevertheless incorporate much of what I read and saw today into my simple practice of KinShin Kan basics. Both your book and video addressed several questions that I have long had about real Okinawan karate do. Thanks for replying to my inquiries and for your wonderful book. I certainly hope that your way will be passed onto someone worthy of it when you elect to retire. ~ Eric Werner Loveland, CO
Hi Sensei. Just forwarding this e-mail from one of my students who attended and observed my performance at a Karate Tournament today in Marlboro, Mass. I felt strong and motivated after completing your book. I must say that your book makes Kise's book look like a 1st grade reader book. Everyone is amazed and inspired by your book. Congradulations on a successful publication. I am blessed and extremely proud to have met you in Clairemont, NH and chose to follow you and no one else. You impressed me then and still today. You are a modern day Musashi. ~ Domo Arigato, Your humble student, Al Gagne
This is defiantly a great book for anyone who has any interest in the martial arts; I received this book, started reading and soon found that it really is a hard book to put down. I'm not a big book reader but I finished it in 2 sittings. Sensei Coffman seems to take you right there along with him to Okinawa of the early 60's learning the old training ways from O Sensei Hohan Soken and Fusei Kise (Two of Okinawa's legendary Masters). The DVD is also very informative; I give the set "FIVE STARS". ~ maulervaughan
Hi Sensei. I will be mailing out a check today for 10 more books. I sold the last one yesterday. There are more people that want the book and the DVD is a Bonus hit. Everyone one is impressed. They agree that your book should be made into a movie.
Thanks, Al Gagne
At last the long awaited book of Sensei Coffman is now ready for delivery.  For those that are interested in purchasing a copy.  The cost is Regular price $35.95 + $6.95 S&H =  $42.90 per copy which includes the book, DVD  and the  S&H. Maryland residents please add $2.16   for Md Tax. Please make checks payable to: James H. Coffman @ 2361 Braddock Road Mount Airy, Maryland 21771. There is a 10% discount for 5 to 9 books, and 15% for 10 or more. Email Sensei Coffman at smoka-usa.com if you have questions.
---