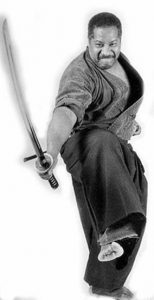 Rico Guy (Corinthians Asheman Guy) was born in 1943. Both his Father and his Grandfather were Jewish rabbis. At the age of 11, Rico Guy began studying martial arts with Grandmaster Billy Davis, Jiu jitsu master from Staten Island. Rico wore and old suit coat rather than a gi top and his obi (belt) was a men's necktie. A couple of years later, GM Davis brought him to Sensei Conrad where he began the study of Ishin Ryu karate.
After a few years Rico began his studies with Bill DeMonte and later, Chris DeBaise, studying Japanese Goju Karate along which included sparing, katas, and weaponry. Louie Delgado and Chuck Merriman were also students there. Rico and Louie Delgado, along with Owen Watson practiced Goju-ryu Karate at the "University Of The Streets" on 7th St, East Village in Manhattan. They wanted to upgrade their ranking system so they invited Frank Ruiz, a substantially rated Black Belt under Peter Urban. The four discussed opening a Goju dojo. Ruiz was teaching goju in the Bronx at the Nisei Judo school. They decided to borrow the name of "Nisei" from that school. The new school would be called Nisei Goju.
Owen Watson, Louie Delgado and Rico Guy were hardcore fighters, but they agreed to teach the katas, since katas were not Frank Ruiz's forte. Besides the original 4, Rico Guy, Louie Delgado, Owen Watson and Frank Ruiz, many interesting martial artists came to learn at Nisei Goju including Ron Van Clief, Aaron Banks, Chuck Azulu, Malachi Lee, Skipper Ingram, Tony Zuzio, and Tom Lapuppet to name a few. The dojo's good reputation began to spread.
At the height of the school's success, Rico Guy and Tony Zuzio left to open their Green Beret Goju School. From there, Rico was invited to teach at Yoshiteru Otani's Japan Cultural Center. He was the Master teacher for karate and also became a student of Kendo and Iaido and Shorinji Kempo.
Hanshi Rico Guy received dan ranking in all those arts and became the 1st black American male to receive Dan ranking in Kendo. After several years, Rico Guy went on to open his own school, US Budo Kai Kan in New York City, NY. He and his highly trained Black Belts teach Rico Guy's Goju Karate, Iaido, Kendo, and the art he developed, Go Kempo-Jitsu. This wonderful school is the longest running school in New York City.