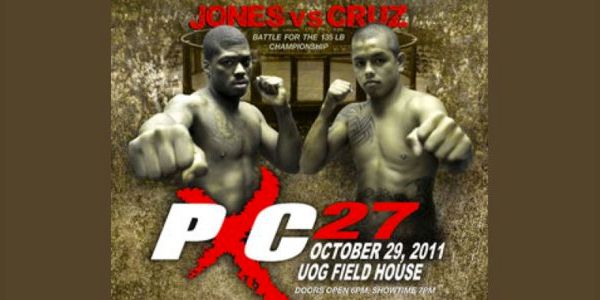 Mangilao, Guam October 17, 2011 – Pacific Xtreme Combat Shoots Out the Lights With Its Biggest Event Ever. Live October 29th at the University of Guam Field House.
After huge rating success with its first two Philippine cards, Pacific Xtreme Combat will return to its home base of Guam with the blockbuster event PXC 27 which will feature a stacked card and two title fights.
"PXC 27 is the culmination of all of our company's hard work through the years. It will serve as a premier showcase for our company by providing the best quality match-ups. PXC 27 will feature two championship fights; a 145-pound tussle between Baby Joe Taimanglo (Guam's most recognized fighter) and Harris Sarmiento the current PXC 155 pound champ, plus Justin Cruz will be defending his bantamweight title against the young and impressive Trevin Jones," says PXC Matchmaker Eli Monge.
In addition to the two title fights the card will showcase a who's who of the best fighters from the Pacific Rim region.
"We are really laying it all out there for the people of Guam," says Eli, "The caliber of the fighters on this card is incredible. We have Ferrid Kheder who has defeated some UFC veterans in the past, going against Korean Top Team member and UFC hopeful Lim Hyun Gyu. We also have J.J. Ambrose, who is an alumnus of The Ultimate Fighter, and is coming back to take on a strong international opponent.
To show our continuing support for the grass roots of the sport we are going to start the night off with 3 or 4 solid amateur fights, showcasing some of the rising stars in mixed martial arts, then we have the return of Ryan Bigler who is one of Guam's best MMA fighters ever. He'll take on tough Saipan's Keli Manglona — a man who has been turning heads in the MMA scene in Vegas. This is sure to be a great fight and could be a preview of a future 170-pound championship fight!"
The Pacific Rim is one of the hottest places in the world for mixed martial arts and PXC is leading the way, growing the sport in that region. In JUNE PXC expanded its long time successful Guam promotion by signing a major television deal with TV 5 in Manila. The first two shows were huge ratings successes and opened eyes as to the potential of the sport in the Philippines. PXC will not let success or rapid expansion detract from its original mission, which is to bring high quality mixed martial arts events to and support the sports growth on the island of Guam.
"We have been doing shows on Guam for a while and we have recently made a huge move into the Philippines," says Eli, "However with this card we're showing our fans on Guam we remember our roots by making PXC 27 the best card on the Island to date."
###