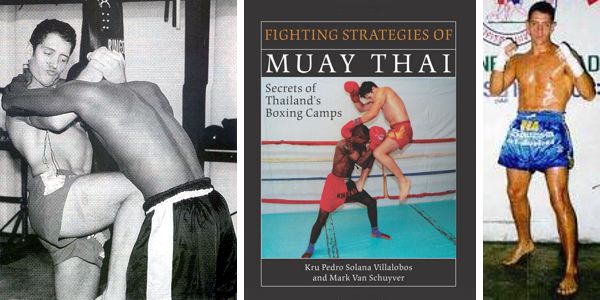 I've been studying martial arts for most of my life. When I was 6 years old, I started training in Judo, and since then I've studied a number of different arts.
I first started to learn Muay Thai in Spain when I was 17 years old and fought a number of times. I then moved to the USA some years later, age 24, and continued my Muay Thai training with Ajarn Surachai Sirusute for nearly 6 years. At the same time I began learning Wing Chun, taught by Sifu Francis Fong, again for nearly 6 years.
During my time in the USA, I was also privileged to learn Brazilian Jiu-Jitsu and spent a varying amount of time learning from people like the Machado brothers, Royce Gracie, Eddie Camden, Jacare Cavalcante, Ricardo Murgel, along with Shoot Wrestling Champion Eric Paulson. All this happened over a period of nearly 4 years.
During this time I continued to fight professionally in Muay Thai and Mixed Martial Arts. After winning the U.S.A. Professional ISKA Middleweight title, and S.F.O. (Submission Fighting Open) Lightweight title a number of times as an undefeated fighter, I decided to train in Thailand.
Living in Thailand, I trained in Sport Muay Thai, visiting some 45 camps in Thailand over a period of 12 months, experiencing and learning the many and varied styles of the art. I fought several times in stadiums such as Ratchadamnoem in Bangkok and Chaweng in Koh Samui. Following that I spent 6 months learning Krabi-Krabong at the Buddhai Swan Institute of Swordsmanship with the Mesamarn family.
It was at this point that I returned to the USA to open the Thailand Arts Institute in Atlanta, Georgia. At that time I continued to fight professionally whilst teaching some 70 students at the institute.
I finally moved to Thailand permanently in 2002. At this time I decided to became a monk to cleanse the bad karma I accumulated from fighting and damaging people.
Following my period in the monkhood I studied Ancient Muay Thai, specifically the Chaiya-style, with Ajarn Lek (Kridakorn Sodprasert) in Bangkok. Then I fought again, once in Laoagainst the Lao Muay Thai champion, and another three times in Thailand, winning all of these fights by knockout. After this I decided to move away from the competitive arena and dedicate myself to achieving a greater level of understanding of Ancient Muay Thai.
I moved to Chiang Mai in the north of Thailand and opened the Muay Thai Sangha school. Through continual development, meditation and help from other teachers a new style of Muay Thai began to evolve, I call it Muay Thai Sangha.
Through the years these are some of my more important achievements;
1st Degree Black Belt Instructor in Kickboxing (FEKB – Ajarn Eugenio Fraile).
Muay Thai Instructor (Muay Thai Association of USA – Ajarn Surachai Sirusute).
Black Belt & Instructor in Wing Chun (Wing Chun Association of USA – Sifu Francis Fong).
8th Degree Gold Sash Ajarn in Krabi-Krabong (Buddhai Swan Institute of Swordsmanship – Kruu Sila Mesamarn).
Instructor in Traditional Reflexology and Pressure Point Thai Massage (Wat Pho Medical School, Bangkok).
Instructor in Deep Nerve Touch Massage with Herbs (Ajarn Mamma Lek).
Instructor in Advanced Energy Sen Massage (Ajarn Poo/Ong Dam).
Joined the Monkhood Order at Wat Phra Dhammakaya in Bangkok, Thailand.
Authorized Instructor in Ancient Muay Chaiya (Baanchangthai, Bangkok – Ajarn Kridakorn Sodprasert).
Blue Belt in Brazilian Jiu-Jitsu under Royce Gracie (1998).
Blue Belt in Brazilian Jiu-Jitsu under Jacare Cavalcante (2001).
Author of the Muay Thai book "Fighting Strategies of Muay Thai" (Paladin Press – September 2002).
Author of the Krabi-Krabong book "Krabi-Krabong: Thailand's Art of Weapons Fighting " (Paladin Press – April 2007).
Author of many articles for Martial Arts magazines such as "Black Belt Magazine", "Inside Kung Fu Magazine", "Revista Cinturon Negro", "Siam Combat Magazine" and others.
In 1998 – ISKA Super-Middlewight USA Professional Muay Thai Champion.
In 1998 – SFO (Submission Fighting Open) Lightweight Champion, title successfully defended three times, and still undefeated.
In 1998, ranked #4 in the world by ISKA (International Sport Kickboxing Association) at Super-Middleweight in the Professional Muay Thai division.
In 1999 – Battle of Koh Samui (Thailand) Middleweight Champion.
In 2000 – Brazilian Jiu-Jitsu Jacare Cavalcante Open Lightweight Champion.
In 2000, ranked #2 in the world by IKF (International Kickboxing Federation) at Middleweight in the Professional Muay Thai division.