This new edition of Jeff Cooper's classic Principles of Personal Defense – with a fitting tribute by firearms expert Louis Awerbuck and all-new drawings by renowned illustrator Paul Kirchner – presents Jeff's timeless theory of individual defensive behavior clearly, concisely and practically. All free people who aspire to stay that way should read, study and share the wisdom found within these pages. Considered by many to be one of the greatest books on combat mindset and proper defensive mental conditioning ever written, it deserves a place of honor in every library.
Review
"It is a classic, timeless work, encapsulated in a clear, concise, and succinct form………….it should be read, studied, and then periodically re-read and re-studied. No matter how many times you read it, you will always find one more pearl of wisdom that you missed during the last read." –Louis Awerbuck –This text refers to an out of print or unavailable edition of this title.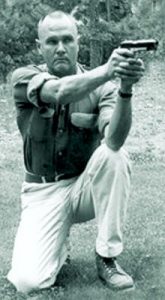 About the Author
The late Jeff Cooper was one of the true pioneers of weaponcraft in the US. His numerous accomplishments include founder of Gunsite Ranch, editor at large of Guns & Ammo magazine, winner of the Outstanding American Handgunner award in 1995, Rangemaster Emeritus of the US Practical Shooting Assn. and long-time member of the board of directors of the National Rifle Association.
Louis Awerbuck is the owner/director of the Yavapai Firearms Academy, a small-arms training operation based in Prescott, Arizona. He served as Chief Rangemaster at the American Pistol Institute and is an adjunct instructor for the U.S. Department of Energy's Central Training Academy.
Biography
Jeff Cooper was born in Los Angeles, California, in 1920. He was educated at Stanford University and took his advanced degree from the University of California. He was commissioned in the Marine Corps in 1941 and served throughout World War II in the Pacific, achieving the rank of Major. Recalled to active duty for the Korean War, he moved up one rank to Lieutenant Colonel before leaving the service.
Cooper became a shottist at the age of eleven. In 1958 he originated the sport of practical pistol competition. From this activity he formulated the Modern Technique of the Pistol, now generally observed throughout the world. For the next thirty years he was active in teaching the new method throughout the Western World.
In 1976 Jeff Cooper founded the International Practical Shooting Confederation. In 1977 he founded the American Pistol Institute at Gunsite in Arizona, where he lived until his death in 2006.
He served as editor-at-large of Guns and Ammo magazine, for which he wrote a monthly column. After having served many years as a director of the National Rifle Association of America, he was elected to the Executive Council.
Jeff Cooper spent a long and active life reading, shooting, hunting, fighting and teaching. Internationally respected as the "Gunner's Guru," Jeff Cooper is a philosopher, moralist, and political commentator — a true modern Renaissance man. It is to the benefit of his many readers that he developed the passion at an early age to write it all down.