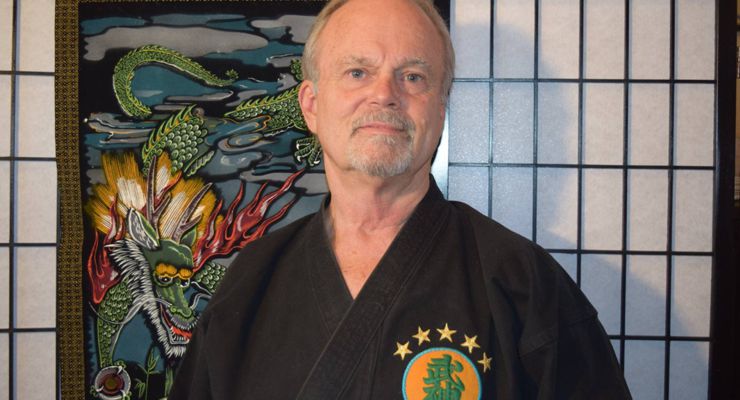 Grandmaster Richard Van Donk was born in Stockton, California on July 15, 1950. Warrior names: Kofukuryu (Happy Dragon), Mr. Happy by Soke Hatsumi. Spiritual Name: Satchitananda (Satji for short) meaning is Sat (Truth) Chit (Consciousness) Ananda (Bliss)
Richard Van Donk considers himself to be a perpetual student of life. Always questing the Divine within everything and everyone. This journey of self-discovery has brought Richard all over the world to discover everlasting Truth, Consciousness and Bliss. On his path to wisdom and spiritual growth, he went to every holy, sacred site he could and found the wisest teacher, guru, mystic, priest, priestess, or shaman to share with him their knowledge.
Richard Van Donk spent time visiting such sacred places and people as the Pyramids and Nile temples in Egypt, Machu Picchu in Peru, Satgurus and Temples all over India, the Dali Lama, the holy lands of Israel, Stonehenge, Glastonbury, and Avebury in England, Ephesus, Delphi, and Istanbul in Turkey, Mt. Shasta, California, American Indian holy sites, Mikkyo Temples in Japan, Hunas of Hawaii, Central American ancient civilizations of Palenque, Teotihuacan, and several others deep in the jungles of Mexico, etc., searching and studying aspects of spirituality. Richard is now studying Mikkyo (and kuji kiri) with a master teacher in Japan and Hamsa Kriya Yoga from a Himalayan Nath Yogi (now at Acharya teacher level). His core teachings are embodied in Uni-DynamicsTM "The Science of being One."
Richard Van Donk started formal martial arts training at the age of 17, informal at age 11. Grandmaster Richard Van Donk is the Founder and Director of Bushindo University and the International Bujinkan Dojo Association (Ninjutsu) operating worldwide in over 120 countries with its International Dojo Headquarters in Middletown, (Northern) California, U.S.A.
Richard is one of the highest ranking Bujinkan Ninjutsu Shidoshi (Instructors) outside of Japan (10th Dan in Ninjutsu/15th Dan in Budo Taijutsu from Grandmaster Masaaki Hatsumi) and an internationally acclaimed Eskrima Grandmaster (personal student and inheriting Grandmaster of the late DeCuerdas Grandmaster, Gilbert Tenio). Also he has been awarded black belt levels or above in Karate, Jujitsu, Tae Kwon Do, Muso Tenshin Ryu Iaijutsu (yondan), Aikido, and Enshin Ryu Iaido, and Batto Jutsu (from Grandmaster Kenshinsai Machida). In 1996 and 1997 the World Head of Family Sokeship Council awarded Master Van Donk with its most prestigious award of Grandmaster of the Year for his contributions to martial arts. He has been inducted into many Master and Grandmaster councils. You can reach Richard through the following sites: www.ninjutsu.com or www.bushindo.com. For online courses and teachings go to www.BushindoUniversity.com.