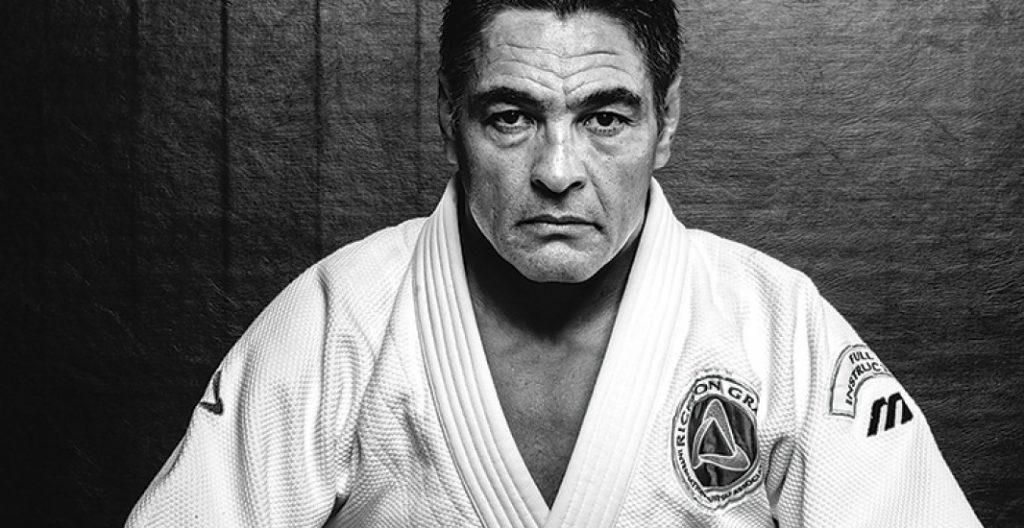 Rickson Gracie (pronounced Hickson), son of Helio Gracie, was born into a Jiu Jitsu family on November 21, 1958. At six years old he began competing; at fifteen he started to teach the art; and at eighteen he received his Black Belt. At twenty Rickson won his first awe-inspiring victory against the famous 230-pound Brazilian brawler Zulu who until that time had an undefeated record with 140 victories! Rickson Gracie gained immediate national acclaim as the top free-style fighter, leaving his mark on the history of Jiu Jitsu and the Gracie challenge. Five years later Zulu requested a rematch and lost to Rickson again, in Maracanazinho before an audience of 20,000 spectators.
Rickson Gracie is a 7th Degree Black Belt Open Class Champion of the Gracie Family, whose technique is considered to be the finest expression of Jiu Jitsu in the world. His innate talent and early mastery of the art have resulted in an impeccable undefeated record in more than 400 fights, Jiu Jitsu tournaments, free-style wrestling, Sambo, open weight free-style competitions, and no holds barred challenge matches. Rickson is a two time Brazilian Champion in free-style wrestling, a Gold Medal Winner of Sambo, and for the last sixteen years he has been the World Jiu Jitsu Champion in the middle-heavyweight and open weight divisions. He conquered Japan's elite fighting in a tournament, the Japan Open Vale Tudo, winning both in 1994 and 1995. At this time, Rickson was acknowledged by the Japanese for possessing the Samurai Spirit.
In the 1997 Pride 1 Vale Tudo match in Japan's Tokyo Dome (before 47,860 spectators), Gracie defeated Japan's top ranked fighter, Nobuhiko Takada, in 4:47 of the first round. A year later, to the day, in the 1998 Pride 4 Vale Tudo match, Rickson defended his title. In the most awaited rematch in martial arts history, drawing an overwhelming 50,000 spectators to Japan's Tokyo Dome, Rickson defeated Takata once again. At Colosseum 2000, held at the Tokyo Dome, broadcast to 30 million TV Tokyo viewers (the highest viewed television program for its time slot), Rickson fought Japan's number one fighter, Masakatsu Funaki. He defeated his opponent with a rear naked choke in 11:46 of the first round.
Rickson Gracie has proven himself as accomplished a teacher as he is a competitor. He has been teaching his martial arts style for over 20 years and his array of students have included FBI Agents, SWAT Teams, Navy Seals, military personnel, martial artists of various styles, athletes and actors. His highly practical self-defense style is widely recognized as the superior martial art, for real-life situations.
Rickson Gracie established the Rickson Gracie International Jiu Jitsu Association in 1996 in order to help unify the community of Jiu Jitsu. Through the Association, the traditional, technical and philosophical aspects of Jiu Jitsu are able to be shared with people around the world. Rickson presently competes in invitational tournaments and teaches on Special Tours and seminars as well as at the Rickson Gracie Jiu Jitsu Center in West Los Angeles. Rickson's students credit his teachings with the achievement of great self confidence, heightened awareness, stress reduction, youthful vitality, increased physical energy, balance improvement and inner peace.
A modern day legend, Rickson Gracie has gained international acclaim for his leadership in disseminating the art and philosophy of Gracie Jiu Jitsu. He espouses strong family values and a healthy life-style. He is the epitome of discipline, determination and sportsmanship.
Gracie Jiu Jitsu continues to spread worldwide due to its continued success as the premier "reality based" self-defense system!