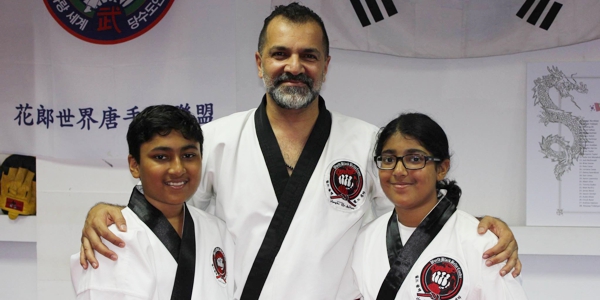 Master Rio Altaie is a 4th degree (Dan) Black Belt in Tang Soo Do, 2nd degree in Hapkido and has been certified by Grand Master Hwang Kee, the founder of Korean Tang Soo Do in Seoul, Korea.
Mr. Altaie has been certified as a self-defense instructor by Carlson Gracie Jr. and in Cardio Kick Boxing by NAPMA. He has been a practitioner for over fifteen years and also holds ranks in Tae Kwon Do and Jiu-Jitsu.
Mr. Altaie also is the founder and chief certifying official of the bureau of Arbitrators, Referees and Judges (BARJ). During his time as a teacher and a student, he has learned what makes a successful martial art program: a fun, non-threatening environment with an emphasis on positive character traits and good, strong self-defense techniques. Mr. Altaie is delighted to share his knowledge and love of martial arts, and looks forward to working with you!
Born on September 29, 1966 in Baghdad, Iraq, Asia. Started martial arts at 16 years of age, and after coming to the United States in 1985 started training in Tang Soo Do under the instruction of Mr. Mike Bissle, Kim Bissle and Booby Burbigde, in Monterey, CA. After moving to L.A. in 1987, Mr. Altaie trained and obtained his Red belt in Tae Kwan Do. Then he went back to Tang Soo Do at the Glendale YMCA under Mr. Distefano and Mr. Troy, then transferred to the Eagle Rock Studio undr Master Terry McMeekin where he earned his Black Belt in 1989 from the American Tang Soo Do Alliance with Master Dennis Ichikawa.
After achieving his 1st Dan in Tang Soo Do, Mr. Altaie got involved in Hapkido at CSULA with Mr. Mark Baily where he earned his blue belt. At the same time he headed the Glendale YMCA program. After Mr. Altaie tested for his 2nd Dan Master McMeekin offered him to manage the Eagle Rock studio. Three years after that, the two bought out Tarzana Karate, the first studio of the ATSDA. By that time Mr. Altaie was already a 3rd Dan Black Belt.
In 1995 four members of the alliance (Mr. Ercolono, Mr. Silva and Miss Von Monahoff) headed by Mr. Altaie traveled to Seoul, Korea, to train in original Tang Soo Do and to get certified by Grand Master Hwang Kee, the founder of the style. Mr. Altaie also trained in Hapkido and Tae Kwan Do with Korean Masters.
In 1996 he took over the Tarzana Karate program as Chief Instructor and got more involved with Kickboxing and Jiu-Jitsu. Some of the kickboxers he worked with are Don the Dragon Wilson, Pete Sugar foot Cunningham and Kathy Long, with the Machado Brothers and Carlson Gracie Jr. in Jiu-Jitsu.
Tarzana Karate was established in 1974 by Sixth Dan Black Belt Master Dennis Ichikawa, who trained under Master Chuck Norris. In 1995 Master Terry McMeekin (Master Ichikawas' highest-ranking student) took over Tarzana Karate. Eventually Master Rio Altaie became chief instructor in 1996.
Tarzana Karate was a Member of:
International Tang Soo Moo Duk Association
International Brazilian Jiu-Jitsu Federation
International Combat Hapkido Federation
Original Headquarters of the American Tang Soo Do Alliance
In 1998 Mr. Altaie tested for his 2nd Dan in Hapkido with the ICHF under Grand Master John Pilligrini after working with great Masters in Hapkido that included Dr. Il-Young Kim, the president of the Hapkido-Federation. The same year Mr. Altaie finally met with Mr. Chuck Norris in Chicago during the "Kick Drugs out of America" tribute.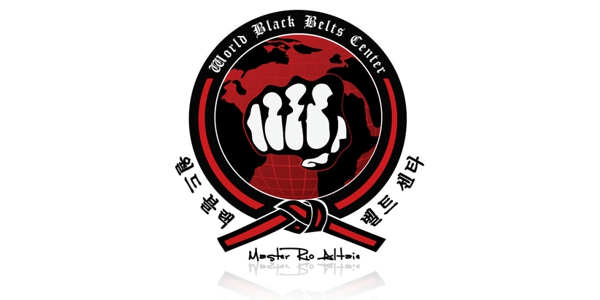 Currently, Rio Altaie is the founder of the World Black Belts Center; the first Martial Arts Center to introduce Tang Soo Do, DaiDo Juku, JiuJitsu and MMA to Dubai. World Black Belts Center also offers Brazilian Jiu-Jitsu, Mixed Martial Arts, Hapkido, Power Yoga, kickboxing and Arnis. Classes are available for men, women and children.
Rio Altaie operates closely with the most prominent mixed martial arts promotions in the region. He works as part of the commission of Desert Force, Quest Fighting Championship, and DFC (Dubai Fighting Championship). In addition, the Iraqi/American martial arts Master hosts his own MMA TV Show "MMA All Out" aired on Physique TV, as well as provides live Arabic commentary for Asia's largest MMA promotion, ONE Championship.
Achievements
4th Dan in Tang Soo Do 2nd Dan in Hapkido
Certified Self Defense Instructor in Brazilian Jiu-Jitsu by Carlson Gracie Jr.
Certified by Grand Master Hwang Kee President of Tang Soo Do Moo Duk Kwan
Certified by Chuck Norris founder of American Tang Soo Do
Certified by Don "The Dragon" Wilson
Certified by NAPMA Cardio Kickboxing
Certified Instructor in Combat Hapkido by GM Pilligrini President of the ICHF
Certified by Dr. Il-Young Kim President of the Hapkido Federation
Certified Referee for the referees, judges and arbitators association (BARJ)
Certified also by: Jhoon Rhee, Kathy Long, Bill Wallace, Eric Lee and Larry Lam among others
Other Achievements
BS in Electrical Engineering
BS in Computer Science
AA in Theater Arts
Co-Captain of Team ASE with Mr. Jason Flame
Co-Author of Tang Soo Do Manual for Beginners with Mr. Frankie McConnell
Advanced Open Water Scuba Diver
Certified Sky Diver
To contact Rio Altaie and World Black Belts Center visit their listing on the Martial Arts Schools and Businesses Directory by clicking on the image on the left.