Shotokan Myths, the Forbidden Answers to the Mysteries of Shotokan Karate was written by Kousaku Yokota
About the Book
Yokota Sensei new book debunks some Shotokan Myths. He discusses and corrects the many myths and misconceptions about karate, especially those deemed ridiculous, but are stilled believed by those less knowledgeable. Some of these myths may be controversial, but Yokota Sensei brings them into the open so people can review them and be aware of the fallacies surrounding the myths.
Most of the ideas and concepts discussed are based on the knowledge and wisdom Yokota Sensei gained from his two instructors, Master Jun Sugano and Master Tetsuhiko Asai, as well as his personal research and investigation. He hopes that through this exposition, people will appreciate karate even more.
About the Author
Yokota Sensei has extensive martial arts experience. Not only does he have over 40 years of Shotokan Karate experience, he has also studied other styles of Karate such as Goju-Ryu and Kyokushinkai, Judo, and Ki. He has experience with weapons as well, and has studied the ways of Nunchaku and Sai to deepen and supplement his knowledge and experience in Karate-do.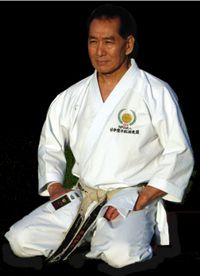 Yokota Sensei started his martial arts training in 1960 when he was just 13 years old. He began his training in Judo by taking lessons at the Hyogo Prefecture Police station. At this Judo dojo, there was a student who also practiced Karate he was practicing Judo to further improve his fighting skills. This practitioner impressed Yokota Sensei so much that even though he had been training in Judo for two years, Yokota Sensei switched his martial arts training to Karate. He joined the JKA affiliated Kobe YMCA Karate Club.
In 1973, Yokota Sensei moved to Philadelphia, PA and became a full-time instructor at the ISKF headquarters as well as a personal assistant to Master Okazaki, 10th dan, ISKF Chairman. Yokota Sensei was one of the top competitors in the East Coast Regional tournaments in the 1970s. He returned to his hometown Kobe in 1981 to complete his instructor's training under the late Master Sugano, 9th dan, JKA Vice Chairman. As soon as he returned to Japan, he entered the Prefecture tournament and became the champion that year, and again in the following year. He also represented his prefecture in the JKA All National Championship in Tokyo in 1981 and 1982.
After completing the JKA instructor's training, Yokota Sensei moved to the San Francisco Bay Area in 1983 to teach in Mountain View. He attained Go-dan (5th dan) from JKA in 1994. Yokota Sensei received Roku-dan (6th dan) from Master Asai, Chief Instructor JKS. Sensei Yokota is 8th dan by WJKA (World Japan Karate Association) and WUKO (World Unite Karate Organization). He is currently Technical Director and a member of Shihankai of WJKA. He is also Chief Instructor at his dojo, Byakkokan in San Jose California.
---