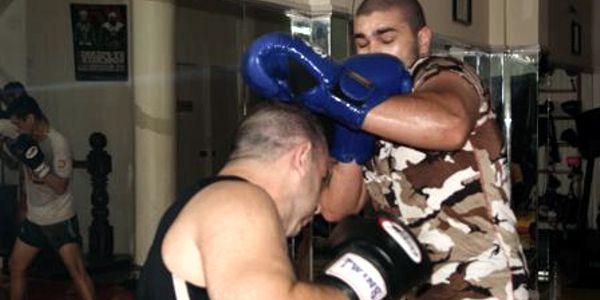 On day six of training, with two K-1 Fight Factory instructors pushing me, I broke my personal record, 10 sets of Randy Couture speed weightlifting routine, each in just under a minute. On the first day, my average had been two minutes.
These are the kinds of insane results you can get training three times a day, in a scientifically-designed, well-thought-out training regime. In the first seven days I lost 2kgs of fat, but the real transformation was in both endurance and fighting ability. Sparring was always the last exercise of the day, and on the evening of the day I broke my Couture record, I sparred five rounds of English boxing and four of grappling.
I'm preparing for an MMA fight in Malaysia, called Mayhem 2, to be held, September 10,11, sponsored by Muayfit. I could have chosen any country to prepare in, but I chose Cambodia, and David Minetti, owner of K-1 agreed to put Team Mineti on the task of getting me, the Booklyn Monk, fit for his fight. Of course, there is no guarantee I'll win, but I'm certain I won't be breathing hard.
The first day I walked in, it looked like I had an impossible task ahead of me.
"You're so fat." Said Alvaro Lealdela Torre, the lead grappling instructor at K-1 Fight Factory, Phnom Penh. "And you want to fight in 30 days." He asked if there was anything else he should know. So, I told him, "I'm 44 years old. This is my first MMA fight, oh, and I don't know how to grapple."
Alvaro shook his head. "Two months would be better." He finally said. "We can do it, but we can't start gradually. We have no time for that. We start hard training tomorrow."
The schedule Alvaro made for me was heavy on cardio and also on strength. Although I am 10 kgs overweight, I am still 87 kgs of muscle, so you wouldn't normally see strength training as a priority. But, the way they explained it to me, strength for MMA training is about developing explosive power. Which is very different than long, static weight lifting sessions I was used to. All of the strength training was done with timed weight lifting exercises, with one minute rest between sets. The sets had to be done as fast as possible. And when you are doing them, it definitely feels like a fight.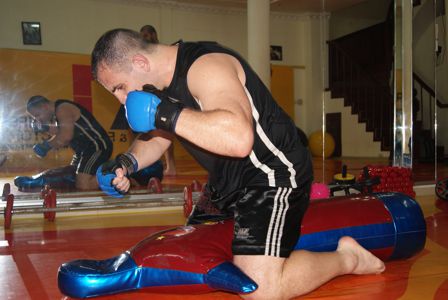 Although this is my first MMA fight, I have had boxing fights in the past. In a fight, you get so tired, but you still have to keep throwing hands. Also you have to move out of the way of punches. I have had the experience of being so tired that it was less effort to get hit than to move. And as any good trainer will tell you, it is when you are out of breath, on your last legs, that the knockout comes. The same punch, thrown in the first round might not even ring your bell.
In MMA, you can get equally as tired as in boxing, but you may find yourself exhausted, panting for breath, with a huge 90 kg guy sitting on your chest, punching you in the face. That's when you need the cardio and explosive power to escape, or you will simply give up, tap or get knocked out.
Preparing for a boxing fight, you do a lot of boxing and running. And it all looks like boxing. But preparing for an MMA fight is a lot more like going to boot camp. Probably 80% of the training is fitness and strength, rather than fighting. Each exercise is designed to push you beyond your limit. I frequently collapse in the gym. Then, after a minute's rest, or no rest, they tell me to get up and do the next exercise.
In a typical morning session, I have to do wind sprints on the exercise bicycle for 45 minutes. This is followed by hundreds of ab reps. Then I go home, rest, and come back in the evening for boxing and MMA. Each session starts with more abs and more cardio exercises. At the end of the very long training day, I have sparring. Often, before we start, I am already beyond the limit of what any sane person would do. I can barely stand, and I am just starting the sparring rounds. When the boxing sparring is over, then we have grappling. Every muscle screams. Everything burns. You just want to quit, or beg the trainers to let you out early. But in your heart, you know that if you quit in training, you will quit in the fight.
So, you push on. You finish the session.
Last night, after five rounds of boxing and four of grappling, I couldn't stand. I just lay on my back, in a puddle of sweat, while the coach stood over me and told me what I had done wrong. Then he said, "Just one more thing." He sat on my chest, punched me in the face, and explained how I should have escaped. I was so tired the explanation was going in one ear and out the other. "And another thing," He began, showing me how I should have used my leg to lift my opponent's leg and flip him off of me. And another thing, and another, and another".
When I left the gym, I looked at my watch, only eleven hours till I had to be back for my next session of bicycle sprints.
And all of this was achieved in just over a week.