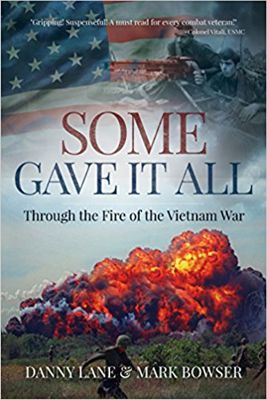 Some Gave it All: Through the Fire of the Vietnam War is based on an incredible true story, of a young Marine who must fight an unbelievable battle in the abyss of Vietnam. Get a front row seat to the intense action and watch as these young men draw on every ounce of courage and willingness to sacrifice to endure to the end.
Experience the ferocity of battle; the deep bonds of brotherhood; and the stinging sweat of fear that hangs persistently over the jungle canopy. Imagine lying in a foxhole when a "Broken Arrow" goes into effect and enemy sappers overtake your position, forcing you to fight the enemy hand to hand.
This is the gripping story of Marine Corporal Danny Lane, and other young Marines, that stood faithfully with God and the Marine Corps during agonizing times that no one should have to endure.
And when the war was over there was no hero's welcome home, instead Danny and the other survivors came home to a country that wouldn't honor them or their sacrifice.
"War is Hell" but for some, surviving is worse!

Editorial Reviews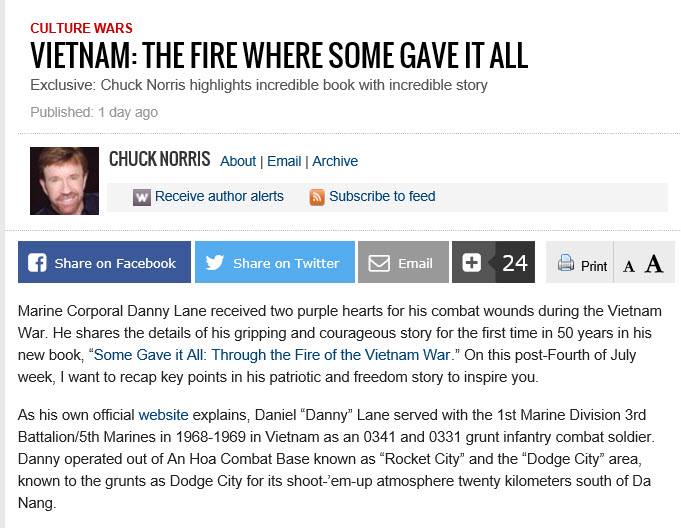 "Some Gave it Allis a must read for every red blooded American!"
~ Colonel Phil Torres,U. S. Marine Corps
"Some Gave it All is a must read for anyone who wants the real skinny on the brotherhood of combat…you will find yourself mesmerized and brought into the action like never before."
~ John Ligato, Marine, FBI Special Agent (Ret.), author of the John Booker Series
"Gripping! Suspenseful…the more I read, the more the storyline came to life and the more immersed I became!"
~ Colonel Steven B. Vitali, USMC (Ret.)
"Some Gave it All… brutally powerful, inspiring depiction of sacrifice, honor and faith…It reads like an action movie"
~ Art Camacho, Award Winning Motion Picture Director
"This book reads like the draft for a blockbuster Hollywood movie, packed with action and adventure. The reader has a front-row seat to follow Lane and his comrades into the intense life of all-but endless combat that these young men endured." (Read Entire Review)
~ David Wilson, Vietnam Veterans of America Book Review Editor
About the Author
Danny Lane is a highly decorated United States Marine. He was awarded two Purple Hearts, the Marine Combat Action Medal and other commendations for his service in Vietnam. He is a retired police officer, martial arts master in the Chuck Norris System, bodyguard, private investigator, writer and co-author of Spy Combat Tactics with CIA Officer Jason Hanson.