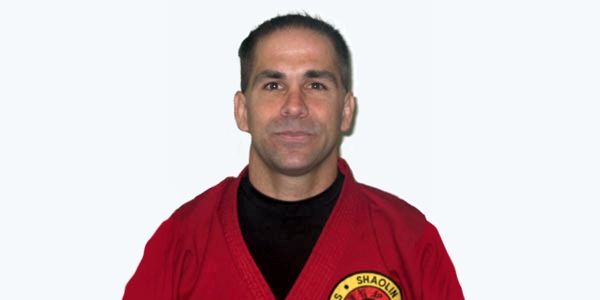 Master Tom Ingargiola is a 8th Degree Black Belt, in the art of Shaolin Kempo Karate. Which comes through the lineage of the following martial art Masters:
Eizon Busatsu Kosho (Founder 1235 Ad Japan)
James Mitose (21st Descendant)
William Chow
Nicholas Cerio
Frederick Villari
Stephen Demasco
Leo Michaud
Samuel B. Biancuzzo
Feliciano P. Ferreira
Master Tom Ingargiola is always training and refining his skills under the guidance of Professor F. P. "Kimo" Ferreira (known as the bridge between USA Kempo and Japan) – for more information on Professor Kimo click here Master Ingargiola is the East Coast Director for Professor Kimo's KAI. On Professor Kimo's most recent visit (Jan. 2004) he named Mr. Ingargiola Co-Inheritor of his System, under the auspice of his KAI and with official Samurai blessing. He also promoted Thomas Campbell to the rank of"6th Degree Black Belt Master". Master Ingargiola often cross trains with various Masters throughout the country, such as: Mr. Oleg Taktarov (Encisco,CA) for submission fighting, Chris Cardona (Nassau County, NY) for boxing, Joseph Rebelo (New Beford,MA) for weapons.
Master Ingargiola has been Teaching the Martial Arts for over 20 years, at his West Babylon, NY location which also serves as the Long Island Headquarters for Shaolin Self Defense Centers; with a dozen locations across the country. His Shaolin Kempo Karate System is a unique blend of traditional material and reactionary activities, which has been designed to give a well rounded experience. The curriculum is designed to constantly challenge the students physical and mental abilities, by using written tests along with the physical aspects for achieving New Belt Ranks. The System is highly regarded and sought after due to it's high standards and thorough Curriculum, many Black Belts and Instructors from various styles have sought to be trained by Master Ingargiola for this reason.
His many accomplishments include a series of Belt Rank Videos based upon his Shaolin Kempo Karate System, these videos are available from any Shaolin Self Defense Center, or directly through our website and his Annual OPEN tournament held every November at the West Babylon High School which includes:Continuous Sparring, Self Defense, Weaponry, Kata and Breaking.
Mr. Ingargiola developed a device for helping learn focus and proper striking technique, called "The Strike Master", He was also instrumental in developing a newchild alarm system, called: "Kidd-pro-tek", to help locate missing or abducted children. He also helped develop a computer program (TIA System). For running a martial art school, creating a paperless office system.
In 1998, he has competed in full contact kickboxing matches; with a record of 9 wins, 1 loss, 1 draw, many of these matches appeared on cable-TV channels and as well as ESPN. He has had write-ups in several national Martial Art Magazines.
In 1999, Master Ingargiola was inducted into the "United Martial Artist Hall of Fame" for his contributions to the art of "Shaolin Kempo Karate" and was also placed on their evaluation board to evaluate future inductee's. Master Ingargiola extended his record to 12 wins 2 loses and 1 draw during 1999 on November 19, 1999 at "Superfights IX" He ended his professional competing with an outstanding challenge. He agreed to fight in 2 matches back to back. The first fight was a 4 round full-contact kickboxing bout and the second match was a 8 minute submission grappling bout. Master Ingargiola won both of these matches, to a standing ovation from the sold out arena.
On November 19, 1999 he won the "Professional UKBA Welterweight NYS" Title Belt and the "Lightweight Grappling Submission" Championship. Competing in these 2 matches back to back with "no break" was a first in the Martial Arts World.
Since retiring from competing professionally, Master Ingargiola still keeps his skills
honed with daily training and keeps up on his progress of Shaolin Kempo Karate. During the year 2000, he helped produce three amateur world title holders in three different weight classes in full contact kickboxing. His students continue to fight throughout the country in kickboxing, submission, muay-thai, regular boxing, point fighting and sabaki as well as traditional katas, breaking, weaponry and self defense. During the first half of 2001, his students have gained several local and national titles in a wide array of events. Everlast Inc. even helped sponsor 2 fighters (Thomas Campbell and Robert Campbell) to go to Greece for some World unification bouts. On June 9th, 2001, Sensei Kadir, a personal student of Master Tom Ingargiola's for over a decade won the USA EXTREME FULL CONTACT CHAMPIONSHIP. This is basically a bare-knuckle anything goes competition. In one day he fought four bouts with four knockouts. The current school record is 164 wins 54 loses and 10 draws, Our Nickname in the full contact circles is SHAOLIN SHORT NOTICE as well over 70% of our bouts have been accepted on very short notice, sometimes only a week other times only a day or two, we have even gone down to the 1/2 day and the hour mark!