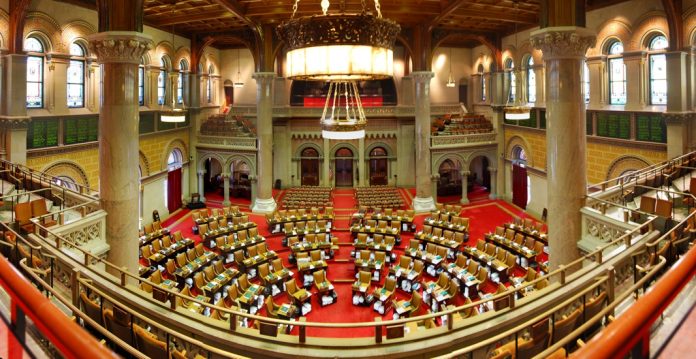 NEW YORK — The biggest fight for the mixed martial arts industry will not take place in any arena this year.
Instead, it'll be in Albany, as lobbyists and industry executives try to persuade the Legislature to legalize the popular sport in New York state.
Victory for the Ultimate Fighting Championship, the sport's biggest name, means staging a lucrative fight in Madison Square Garden, one of the most important venues in the country in a key market.
"Let me say how important New York is to our company," said Lawrence Epstein, UFC's general counsel. "New York is the world media center. When you do events in New York you get more attention."
Mixed martial arts is currently banned in New York. UFC failed to get it overturned last year. Similar debates have been playing out around the country, as the sport has surged in popularity: UFC officials also are making a push to allow MMA in Wisconsin, South Carolina and Massachusetts. In all, 37 states have passed rules regulating MMA.
But the Las Vegas-based company finds itself locked in a cage match with a feisty and highly regarded New York assemblyman who has called the sport "barbaric."
"What the people from Ultimate Fighting will tell you is that 'We've changed the rules and it's no longer this brutal, no-holds-barred sport that it was in the past,"' Assemblyman Bob Reilly said. "That's far from the whole story. What they don't tell you is what is allowed. Kicking to the head. Kneeing them. Sitting on top of them and repeatedly punching them in the head and face. They don't tell you those things."
New York lawmakers have not been kind to UFC. The Assembly approved legislation in 2007 that would have allowed MMA but it died in the Senate. UFC tried in 2008. The bill had the votes, but it did not make it out of the Assembly Committee on Tourism, Arts & Sports Development.
This year, UFC has regrouped, rolling out a pricey study that says hosting fights in Buffalo or Manhattan would produce millions of dollars for the cities at a time when the state's economy is staggering under the weight of recession. The fast-growing UFC has retained an influential lobbying firm and deployed top executives to explain the sport to legislators.
Among their arguments: It's not as dangerous as critics claim, and is no longer the sport that Sen. John McCain once called "human cockfighting." UFC officials even cite a medical study that says MMA is safer than boxing.
"The sport has clearly evolved over the years," said Marc Ratner, UFC's vice president of regulatory and governmental affairs, who will be making a trip to Albany again this year.
"It's all about education," Ratner said. "There are some legislators who still believe it's 1995."
Ratner, once Nevada's highly respected athletic commissioner, helped thrust the UFC into the mainstream when he decided the sport had to be regulated while he was with the commission. The commission approved the sport in 2001.
But New York is clearly a huge prize.
"We're confident that we made a great case and we educated legislators," Epstein said. "The political process is always one that is difficult to prognosticate."
As UFC officials make the case, they might have one sympathetic ear — Melvina Lathan, the state's new athletic commissioner.
Gov. David Paterson appointed Lathan in July. She is friends with Ratner and used to judge boxing in Nevada when he was the commissioner. In an interview, Lathan said she enjoys MMA even though she's a boxing purist. She says it has a "bad rap."
"The rules of the game are such you get very few injuries," Lathan said. "It's time to move on I think. It is no longer human cockfighting. … If it's given to us to regulate, I'd love to do it."
It's unclear whether UFC has the votes to get the bill passed, but Reilly doesn't care. He sits on the tourism committee and intends to stand in the way. He's an unlikely foe and a principled one, according to those who know him.
Before last June's vote, the Albany-area Democrat gave a brief speech denouncing the sport. Ever since, he has been tagged as the bill's opposition leader, even though the Assembly has a Democratic majority.
"I got into this accidentally," said Reilly, a former cross-country coach at Siena College. "This is not my issue in life. I'm very interested in agriculture."
Reilly said he'd think about allowing MMA if there were rule changes, such as if the fighters wore headgear and relied on scoring system similar to the one in amateur boxing.
But UFC objects to that. Fans likely wouldn't pay to see a tame UFC bout. Matches typically are bloody struggles in which fighters can submit, get knocked out or win on points.
In the end, the future of MMA in New York seems uncertain. The chief sponsor, Assemblyman Steven Englebright, appears reluctant to put the full weight of his position as tourism committee chairman behind the legislation.
"I am not exactly what you call neutral since I am sponsoring the bill," he said. "I am leaning toward it. If I didn't think it had promise I wouldn't have sponsored the legislation. I am also cautious because it is a new sport."
Englebright said he was looking at revenue implications for New York during these dire economic times. He said he made changes to last year's bill, including increasing the state's share of gate revenue from 3 percent to 10 percent. The bill will have a three-year sunset clause, giving the state a chance to study the sport.
"It will not help New York if, in fact, people are hurt and New York is viewed as a state that has made a mistake," he said. "Again, I am not in a hurry to try to push this through until it has been properly vetted."
Tuesday, January 20, 2009
Assocoated Press